Skiing is a year-round obsession in our home–we love to ski! While my son and I take a more seasonal approach to the sport, my husband starts planning the next year even before the annual Spring Fling closes out the winter season.
Downtime in the offseason finds him assessing gear, scheduling a boot fitting, and taking advantage of deeply discounted equipment. As a teenager, my daughter attended ski camp in the summer and fall. Now, she lives out of her car in the winter so that she can be on the ski mountain as soon as it opens.
And we all get a jumpstart on the season by planning Thanksgiving vacations at ski resorts that open early. What is it about skiing that inspires our love and devotion?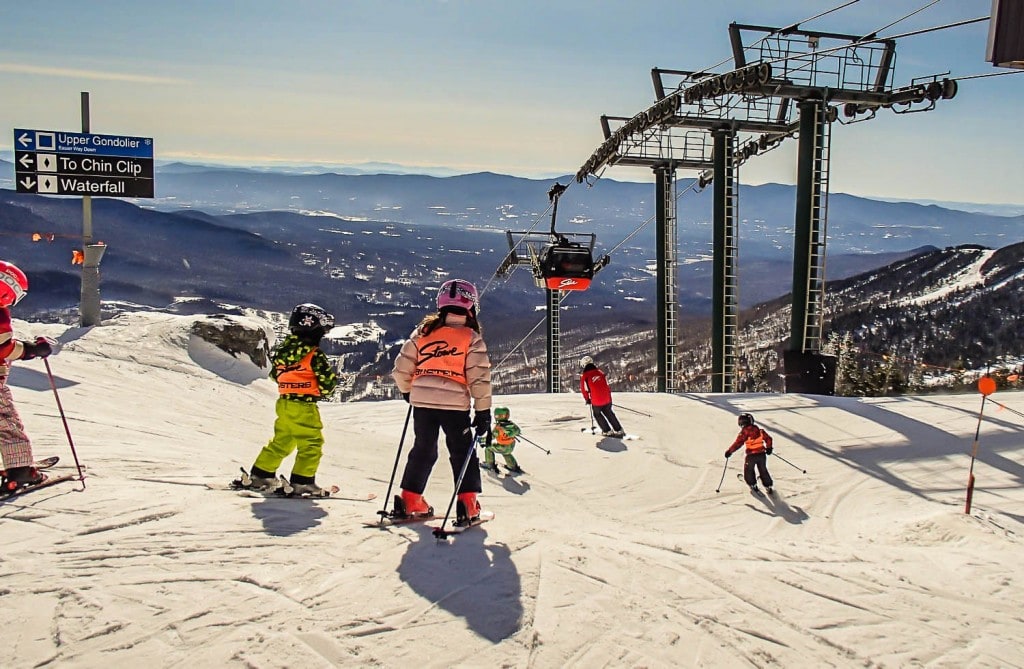 Why We Love To Ski with Kids
1.) Outdoor Adventure – Skiing tempts us outdoors even in the most inclement weather conditions.
2.) Winter Fun – Although skiing is the lure, we enjoy all the fun winter activities found at ski resorts such as ziplines, coasters, ice skating, tubing, snow forts, and so much more.
3.) Health Benefits – Six hours of skiing can burn up to 3000 calories, building muscles and improving cardiovascular systems.
4.) Healthy Kids – Skiing offers all the benefits of any outdoor adventure with kids; promoting capable, confident children.
5.) Freedom – By the time our kids reached middle school, they skied well enough that we could let them go out on their own with a buddy. At that age, a little independence is heady stuff, and not just for the kids. Meanwhile, I skied with my husband, with friends, or on my own.
6.) Bonding – Even though we enjoy the freedom to ski apart, we still have lots of opportunities to be together on ski days. We meet up in the lodge or over meals, and we get lots of quality time driving to and from the ski mountain.
7.) Exhilaration – As my son puts it, "It's freaking exhilarating to race down the side of a mountain." And even though my speed is considerably slower, I know what he means. On a good ski run, there's a big grin on my face as I zoom down with the sun on my face and nothing holding me back.
8.) Slope side Treats – Because you burn so many calories skiing, it's easy to rationalize treats on the mountain. We're big fans of waffle huts, creperies, and other foods of questionable nutritional value.
9.) Ski Events – Whether it's a race, concert, parade, or insane competition, we love the variety of entertainment found at ski mountains.
10.) Fun with Friends – Because we have season passes to a nearby mountain, we often run into friends on the slopes. And since my husband volunteers as a ski patrol while our kids are on the ski team, we've befriended the community. As a result, we enjoy the social aspect of skiing where there's always someone available to join us on a run, or for a pint of beer after.
What about you, what do you love about skiing?
Ready to Ski? Here are a few more posts to inspire you.