Long before ski race teams meet for the first time on the slopes, young competitors prep for the season. Throughout the year, elite ski racers follow a weight training and exercise regimen to maintain top form.
In the weeks preceding opening day at their home ski resort, teams schedule the ski boot fitting. But what sets the best skiers apart are skills developed at ski camps during the summer and holiday travel season.
What Is Ski Camp Like?
For two years, my daughter attended the Mt Hood Summer Ski Camp near Portland, Oregon. Kayla started racing a little late relative to her peers – in middle school, when many begin at age 8 (or even younger) – so she was at a comparative disadvantage. In her first year on the Jiminy Peak Race Team, she surprised everyone with how well she did, mostly through sheer determination and effort. But it wasn't until she returned from her first summer ski camp that she really saw the results.
Here is Kayla's account of the summer ski camp experience at Mt. Hood:
I have been going to summer ski racing camp for 2 years, and it has improved my skiing abilities tremendously. Every athlete should know that it is important to train off-season. Going to Mt. Hood in Oregon to ski in the summer has helped me to ski a whole lot better during the winter. Ski Camp helps kids of all ages and abilities become better ski racers.
When I went, there were not only high schoolers but also several little kids and one adult. A benefit of training with our coach is that he has been working at Mt. Hood for a long time, so he is usually able to get two lanes to practice on. This way he could set up a different course for the younger kids and the older kids.
Each day we wake up extremely early in the morning to have breakfast and get in the van that we take to the mountain. Often our group was one of the first ones on the mountain and the last to leave. We always start the day with our warm-up drills. The camp provided "batons" made of a chopped-up ski gate that we used to do different drills while skiing.
Some of the drills that helped me the most were: swiss, level shoulders, and slopey. Each drill targets different things you need to work on, for example, in level shoulders, you must keep the baton flat and up in front of you. This helps you to quiet your upper body and face downhill so it's your legs doing the skiing.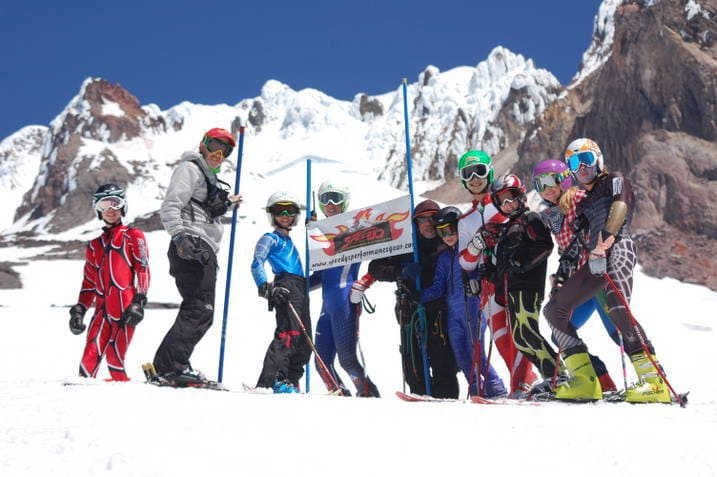 After we finish with drills, we help to set up the course and salt it. We train gates for the rest of the morning, but the coaches will mix in smaller gates called "stubbys" and brushes depending on what the team needs to be working on. For half the camp we trained GS, and for the other half we trained SL.
Before lunch, we pack up and head back to the lodge to eat, rest, tune skis, and watch videos that the coaches recorded during the sessions. I find it helpful to watch the videos because you can easily see your mistakes on screen and the coaches can talk to you about what you need to work on.
After we get back from a morning of skiing we will either go swimming at Lake Trillium, go on a hike, or go into Government Camp to shop (or drink their famous huckleberry shakes.) Our coaches stay at the lodge with us and drive and supervise the afternoon activities.
The one thing that I have been doing at these summer skiing camp sessions that has helped me the most is keeping a journal. While the coaches will mail you a report on what you improved and need to work on, I found it useful to write it down myself. By keeping track of what I need to work on, I have something to refer to next winter when I have forgotten what I learned.
Our coach also gives us a goal sheet to fill out at the beginning of the camp and review at the end. Naturally, my friend Krissy wrote "get a nice goggle tan" on her goal sheet. When I watch the videos of me ski racing from the beginning and end of the ski camp, and even from the end of one winter to the start of the next, it is super gratifying to see all the improvements I've made. Ski camp has definitely helped me a lot to make these improvements.
Where to Find Ski Camps
Ski camp programs typically run during school breaks, in summer, or during the holiday travel season, although some ski resorts also offer winter sessions to introduce youngsters to ski racing. Figuring out the right program for your child can be tricky as you need to consider what kind of ski racing they want to do – alpine or competitive snowboarding. Your best bet is to speak to your child's coach to see where the team is planning to attend ski camp.
To help you sort out what's available, I'm compiling a list of ski camps that will be updated as needed. If you know of any ski camp programs that I've missed, please share!
Ski Camps
ARC – USA – Summer training camp in El Colorado, Chile, and Thanksgiving Week camp at Stowe, VT.
Gould Academy Competition Program – Year-round conditioning, Winter Term, and Pre-season training camps in Alpine, Freestyle, Nordic, and Snowboarding offered at Sunday River, Maine.
Mt. Hood – Year-round ski camp for alpine, freeski, snowboard available at 3-day Fall Sessions, Thanksgiving Break, and Winter, Spring, or Summer camps. Ski camps also available for families or teams.
National Alpine Ski Camp – Summer ski camps on Mt. Hood in Oregon during June, July and August, and also a Thanksgiving ski camp at the end of November at Copper Mountain in Colorado.
Peak Performance Ski Camps – Collegiate Camp at Mount Hood, Fall Training Camp at Copper, Junior Spring Camps in Colorado, Summer Camps at Mount Hood for Juniors and Seniors.
U.S. Elite Camps – Camp programs offered at Mt. Hood (OR) in summer and Copper Mountain (CO) during the Thanksgiving Break.
Tichy Racing – Fall Camp at Copper, Christmas Camp at Timberline, OR, and summer programs at Mount Hood.
Win Alpine Ski Team – Year-round ski racing club that hosts training camps located all over the world.
You Might Like: