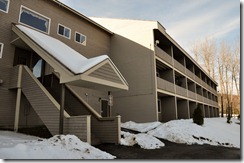 A slopeside condo at Sunday River Ski Resort offers budget lodging with the perks of a luxurious splurge.
To tell the truth, I've always envied those privileged folks with their slopeside condos. "How easy it must be to ski in and out of your home," I thought while schlepping all our gear from a distant parking spot.
"How grand it must be to relax in your own living room, long before the more ski-obsessed members of the family are ready to quit for the day," I imagined while sitting in a loud and crowded lodge. "And how delightful to have a fresh pot of coffee and snacks waiting for me anytime I choose," I lamented while shelling out an arm-and-a-leg to pay for overpriced cafeteria fare.
This Thanksgiving weekend, I got to experience the good life myself in a Sunrise Condominium at Sunday River Ski Resort.
Since my husband planned this trip, I was a little afraid of what I would find. Dave will happily bunk down anywhere, but he'll never spend good money on luxury accommodations that could be better spend on ski gear. So I knew that we weren't going to be staying in one of the high-end options, and I worried about what we would get at the Boyne Star Rating 2 level.
Sunday River describes its 2 Stars rating as: "Accommodations with modestly enhanced room design, amenities, comfort and service. A step above minimal lodging requirements with a modestly improved sense of style. Note: Accommodations may show signs of use."
It turned out that I needn't have worried after all.
Our ski condo isn't luxurious, but it is comfortable and downright home-like. And it has several features that makes budget accommodations a worthwhile splurge.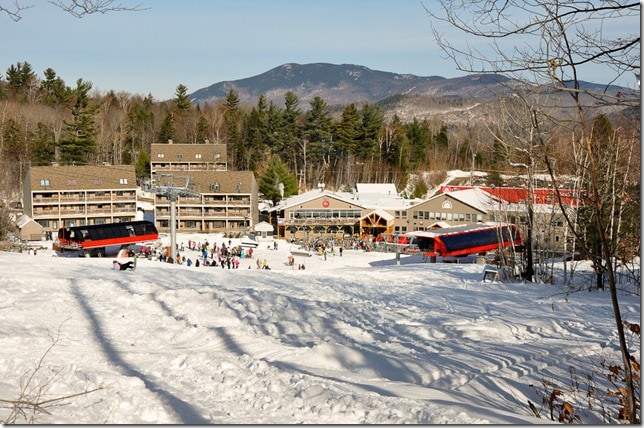 1. Slopeside Condo – Location, location, location. Sunrise Condominiums is perched right above South Ridge Lodge, so that we could ski directly to a lift which placed us on trails that connect all eight mountains. And that's not all. In addition to the Mountain Grocer, sports shop, and Zipline welcome center, South Ridge Lodge also houses Foggy Goggles, where the après ski party brings on live entertainment, rum punch "Goggle Grog," and Maine's own Lobster Roll and lobster mac 'n' cheese.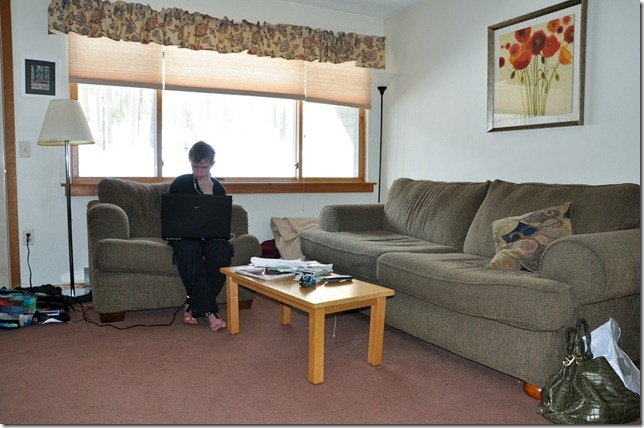 2. Home Comforts – Our one bedroom condo provided more than enough room for my immediate family and my mother-in-law. The layout is split between two floors. Four can sleep downstairs in the queen-size bed and double bunk beds, with room for two more on the pullout sofa. After a couple of days, the condo wasn't nearly as clean and tidy as when we arrived, but considering how messy my family can be, it wasn't too bad. Mostly, this was because there was plenty of room to spread out, and sufficient closets and hooks to put away most of the mess – although some family members prefer to use floor space for storage. And, by the way, let me mention two other much appreciated home comforts – the full-cable-service TV and the the basement Laundry Room.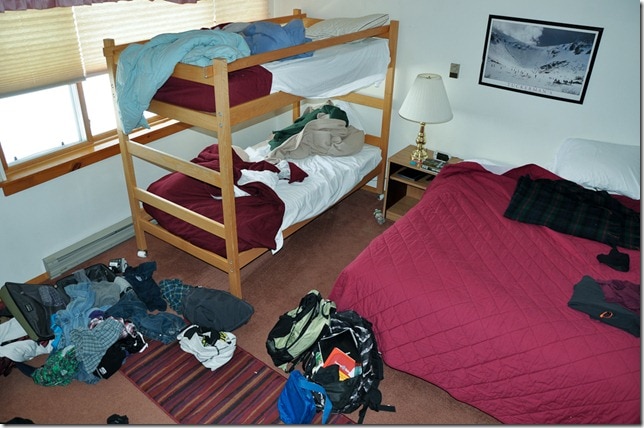 3. Kitchen Savings – The best reason for a family to stay at a ski condo is the money you save by preparing meals at home. Not that we did much cooking. On the first day of our stay, my husband found the Good Food Store where in addition to a dazzling selection of gourmet fare, they stock the best Chicken Pot Pie that I have ever tasted. The Blueberry Pie and Moroccan Chicken aren't bad either. We did all of our shopping here, stocking up on enough heat-and-serve meals that our only dining out was at the Thanksgiving Feast and at Foggy Goggles' Après Ski Party.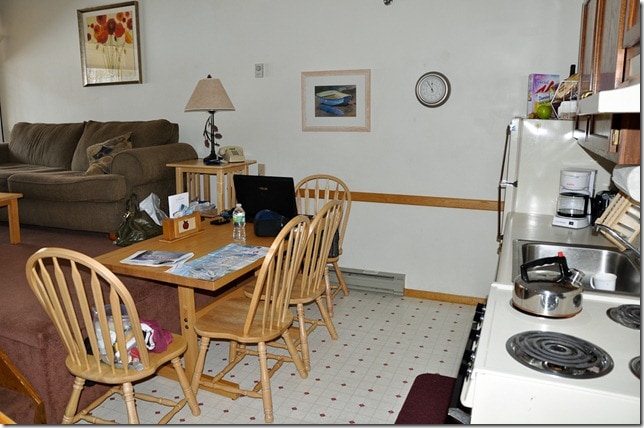 4. Ski Amenities – Sunrise ski condos make it easy to go from bedroom slippers to ski boots. Running the length of the basement level is a locker room where we stored our skis, but condo owners have full closets so that they never have to bring any of their ski gear upstairs. My husband was particularly entranced by the tuning table (although he didn't get to use it as my daughter has now banned him from tuning her skis.)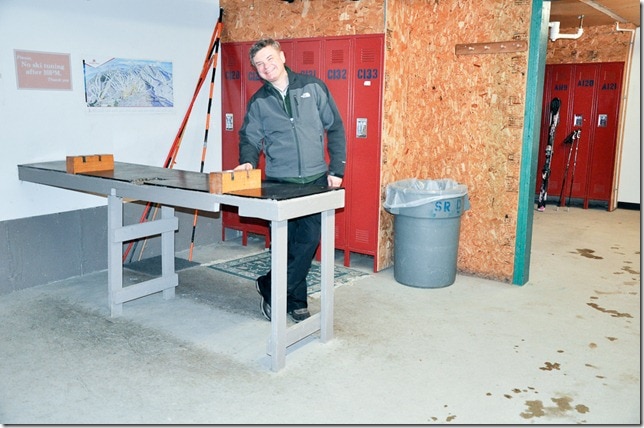 5. Condo Perks – As if the location, locker room, and home comforts wasn't enough, our ski condo had a couple of other perks. My mother-in-law, who is still recovering from hip replacement surgery, raved about the firm sofa bed. But I think the best part of the ski vacation for her was the indoor pool and hot tub, where she was able to get some exercise within view of the winter wonderland.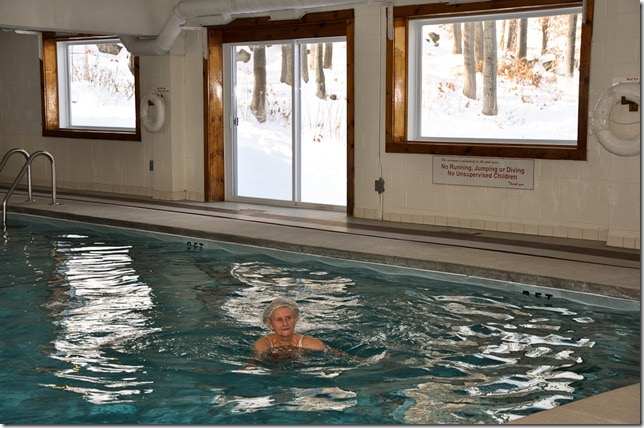 6. Ski & Stay – The rest of the family appreciated that the budget lodging package includes lift tickets. Given how much it costs just for a 5-day lift ticket, the Ski & Stay deal is like getting lodging thrown in for free!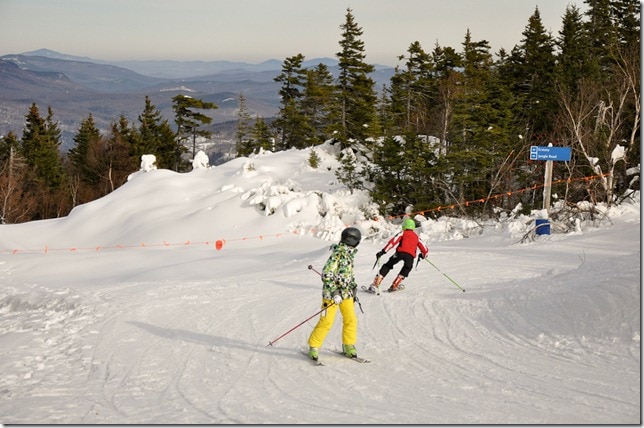 Disclosure – Special thanks to Sunday River for extending our stay so that we can really get to know this family-friendly ski resort!
Holiday Travel to Sunday River Ski Resort: