Nestled in the heart of Vermont's Green Mountains, Okemo Mountain Resort is a premier winter destination for skiers and snowboarders. With over 650 skiable acres, 121 trails, and a summit elevation of 3,344 feet, Okemo offers a variety of terrain for all levels of skiers, from beginners to experts. But Okemo is more than just a ski resort – it's a winter wonderland that offers something for everyone, from stunning natural beauty to world-class dining and shopping.
Okemo's history as a ski destination dates back to the 1950s, when it was first developed as a ski area. Today, Okemo is known as one of the best ski resorts in the northeast, with a reputation for exceptional snow quality and a wide range of terrain. From the gentle slopes of Easy Street to the challenging black diamond runs of Jackson Gore, Okemo has something for every skier.
But skiing is just the beginning of what Okemo has to offer. For those who want to experience the beauty of the mountains without hitting the slopes, there are plenty of other activities to enjoy. Snowshoeing, ice skating, tubing, and snowmobiling are just a few of the options available. And for those who want to take a break from the cold, there are plenty of indoor activities to enjoy as well, including spas, art galleries, and boutique shopping.
One of the highlights of a visit to Okemo is the village itself. With its charming New England architecture and pedestrian-friendly streets, Okemo Village is the perfect place to relax after a day on the slopes. Visitors can stroll through the village, stopping in at local shops and restaurants, or take in a movie at the cinema. And when it's time for a meal, Okemo offers a range of dining options, from cozy cafes to upscale restaurants.
For those who want to extend their stay, Okemo has a range of lodging options, from cozy condos to luxurious hotels. The Jackson Gore Inn, located at the base of the mountain, offers ski-in/ski-out access and a range of amenities, including a spa, fitness center, and fine dining restaurant.
In conclusion, Okemo Mountain Resort is a winter wonderland in the heart of the Green Mountains that offers something for everyone. Whether you're an expert skier or just looking for a cozy winter getaway, Okemo has it all – exceptional skiing, stunning natural beauty, and a charming New England village. So pack your bags, grab your skis, and get ready for an unforgettable winter adventure in Okemo, Vermont.
The Waffle Cabin Is Reason Enough To Ski Okemo
When recalling my first visit to Okemo, all I can remember is my introduction to the Waffle Cabin. The Waffle Cabin® can now be found at ski resorts throughout New England, but that's where I encountered my first one. At the time, I was familiar with many a mountaintop cafe, but I had never seen a ski-thru dessert stand.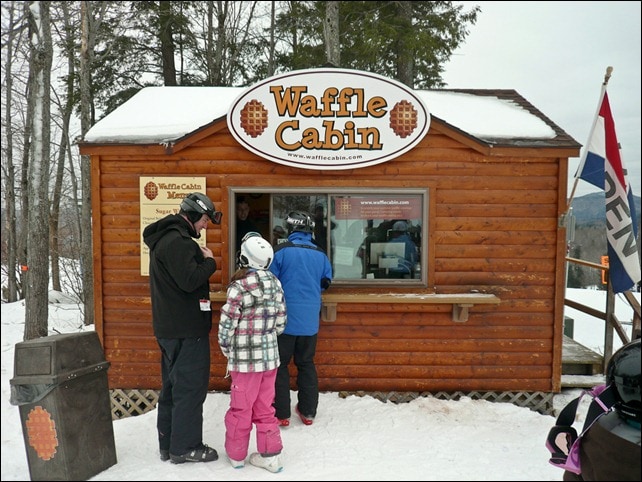 Located at the bottom of the Black Ridge triple chairlift, the heavenly scent of waffles slathered in chocolate draws you in. And knowing that you have worked off a few calories on ski runs, who could resist? The secret ingredient in the Belgium Waffles is pearl sugar, but even armed with that knowledge, there is no way to replicate the recipe for a delicious family adventure.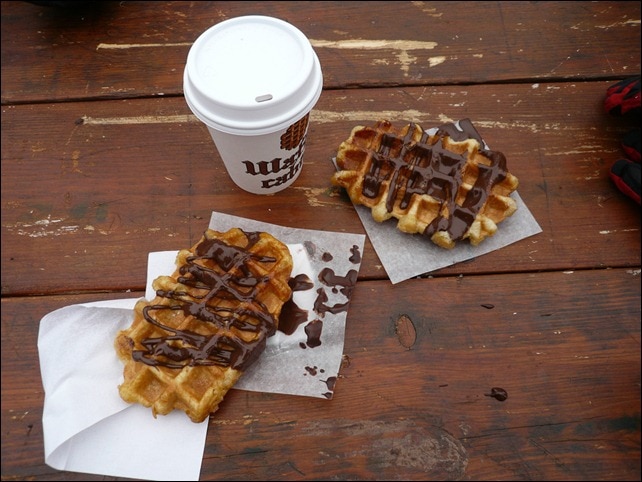 You Might Like: