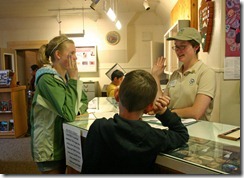 When many students are on Spring Break, more than 100 national parks across the country will waive entrance fees in celebration of National Park Week on April 20-28, 2013.
With free admission and special events, it's a great time to introduce kids to New York's historical, cultural, and natural wealth through the National Park's Junior Ranger Program.
The Junior Ranger Program is a self-guided activity found at many national parks. Typically, families can pick up a packet at the visitor's center which they can follow at their own pace. The topics and activities will vary by park, but they are created to be appealing to children, offering a way to get to know the park in a way that is fun and accessible to young minds.
When a child finishes the activity guide, they share their answers with a park ranger who then proceeds to formally swear in the Junior Ranger. Afterwards, they receive an official official Junior Ranger badge or patch and Junior Ranger certificate.
Be aware that sometimes these swearing in ceremonies can get intense as rangers improvise on the basic oath! We've had park rangers announce the kids' names over the loudspeaker, and there was one memorable incident where my son balked at being asked to swear to keep his room clean.
Take your children to a national park not just because it's a fun thing to do with kids, but also to introduce them to America's greatest treasures.
Junior Ranger Oath
Here's the Junior Ranger oath: I, _________________________, Pledge to be a good Junior Ranger, to learn about national parks and protect them from harm. I will help others have fun learning about the history of the Park, and appreciate the plants and animals that live there. I will do my part to obey the Park rules and act in a safe manner.
National Park Free Days in 2012:
January 21, 2013 – Martin Luther King, Jr. Day
April 22-26, 2013  – National Park Week
August 25, 2013 – National Park Service Day
September 28, 2013 – National Public Lands Day
November 9-11, 2012 – Veterans Day Weekend
Find a Junior Ranger Program
To find any Junior Ranger Program across the US, go to The RangerZone where you will see an online database of Junior Ranger Programs, as well as teacher resources and WebRangers, a site for kids that offers 50 online games to help kids discover what to expect at the park.
Note that although you can find the Junior Ranger program at most national parks throughout the year, not all parks will be open for the season during National Parks Week. For an interactive map displaying all national parks in New York, click here.
Junior Ranger Programs in New York (Open on Junior Ranger Day – April 23, 2011):
You Might Like: