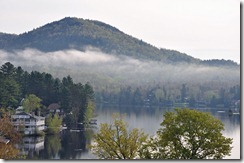 Do you have a special place that you return to again, and again?
For my family, that special place is Lake Placid, NY, a picturesque resort town nestled in the heart of the Adirondack Mountains. We return at least once a year, and often more than that, to experience all that this magical setting has to offer throughout the seasons.
Sometimes, we come for a day. At 2.5 hours for the drive from Albany, it's a long but worthwhile day trip. But when time and budget allows, we stay as long as we can at the High Peaks Resort.
Recently, as we neared the end of the school year, we were all on edge. Too many evenings spent running around, and too many weekends catching up on chores, had taken their toll. We needed an attitude-adjusting family vacation.
A weekend getaway at the High Peaks Resort was just what we were looking for: a family adventure mini-vacation that was big on thrills and short on chores.
Planning an Adirondack Adventure with Kids
Perhaps one of the best aspects of the guest experience at High Peaks is that it's effortless. There's a lot of work that goes into researching and planning adventure travel. Finding reputable guides and organizing all the logistics can be nerve-wracking.
When you book a stay at High Peaks, all of these arrangements are taken care of for you. Guests select from a list of things to do in Lake Placid, and based on interests and ability, the concierge customizes their personal Adirondack experience.
For our family, I explained that we were interested in the birding experience and rock climbing with the kids in the Adirondacks (more on that in a later post,) with plenty of time left over for some serious R&R.
A High Peaks Stay
Rest and relaxation was easy to come by at the High Peaks resort. Even late on a stormy Friday night, we were greeted by a warm smile at the front desk. And when we settled into our room, the day-to-day stresses began to ease away as we discovered the comforts and luxuries of our room.
The room, with its fancy TV, plump bed, and sumptuous leather chair-and-a-half, was lovely.
But it couldn't compare to the Zen style gorgeousness of the bathroom. It's hard to do justice to its serene beauty without a super-wide-angle lens to capture both the utilitarian sink and the walk-in shower with stone-covered walls and rainfall shower heads. Here is my best shot: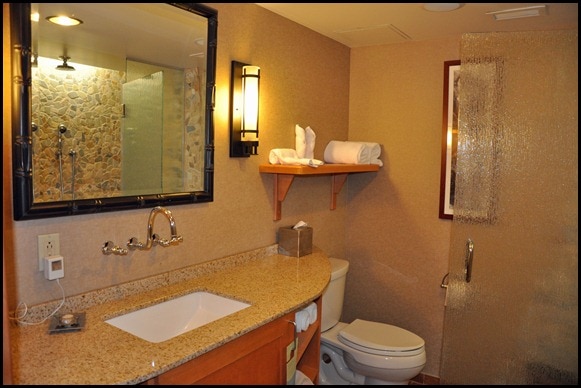 In the morning, we discovered the view. And what a view! Early in the day, we watched the fog lift off Mirror Lake, revealing the high peaks of the Adirondack Mountains.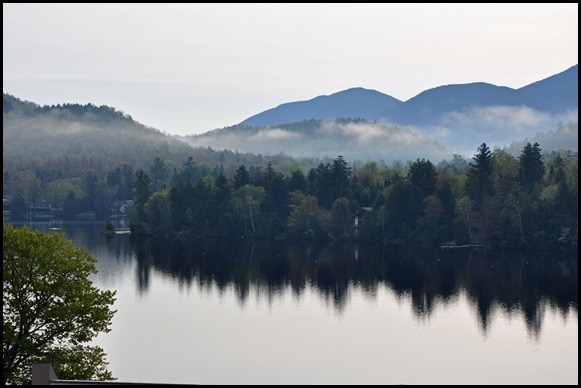 My son admired the view, and promptly claimed one of the balcony seats.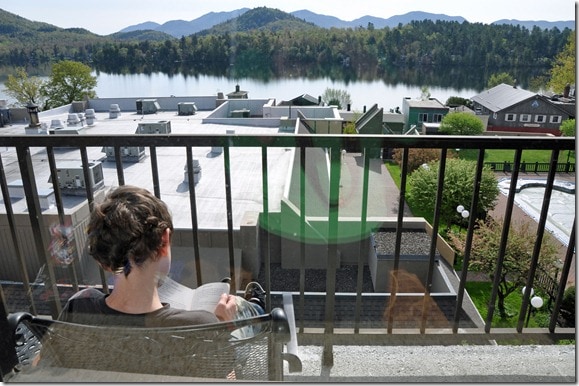 And I noted that although the pool wasn't open for the season yet, families were already enjoying the surrounding lawn as one dad played tag with a toddler. (You'll have to imagine it as this photo cuts off the pair.)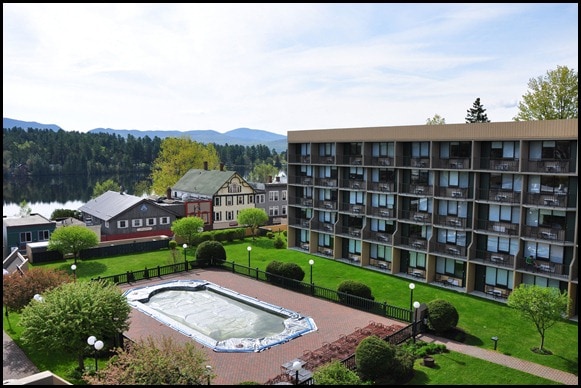 Breakfast with Dancing Bears
Before heading out on our adventures, we enjoyed hearty breakfasts at the onsite restaurant, Dancing Bears. Our portions were sufficiently ample to satisfy bear cubs, but what really impressed me was the service.
On our first morning, we had arranged to go bird watching with a naturalist, and we were to meet him at the park at 8a .m., a good 40 minute drive away from our hotel. Since the restaurant doesn't start serving until 7 a.m., this didn't leave much time for a leisurely meal. I feared that we would be able to breakfast at all.
However, the waitress made sure that our plates came out in record time, and we had plenty of time to dine and dash.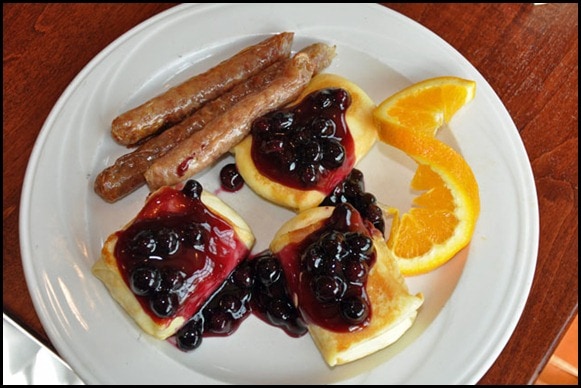 The second morning, we weren't in a hurry. Our meals still arrived in record time, but now there was time enough to savor the homemade blintzes and the smoked salmon omelets. Oh, and there was more than enough time for a little silliness.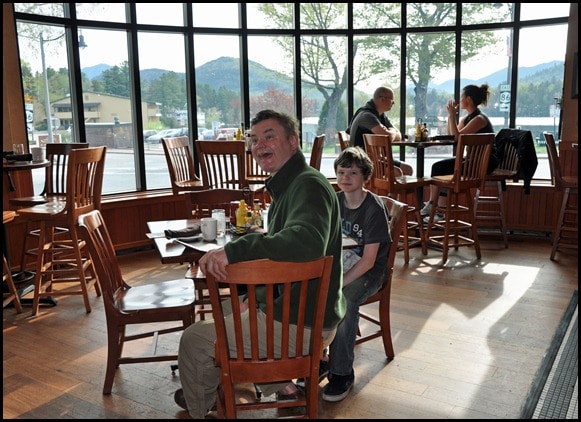 Kayaking On Mirror Lake
We could easily have forgone the planned adventures, as there was plenty to do within walking distance. Window shopping in the village easily consumes a few hours.
And, with access to the resort's kayaks, one can spend many happy hours exploring Mirror Lake and getting a lakeside view of all the splendid homes.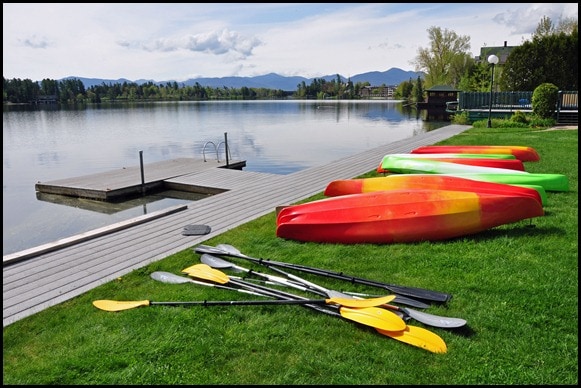 Which is what we did on a lazy Sunday morning.
Complimentary stay provided by High Peaks Resort. Opinions expressed are entirely my own.
Stay tuned for more Adirondack adventures as we continue this series.