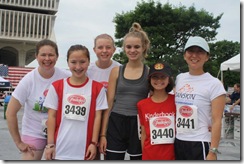 It's been years since my last road race, and I had no intention of starting up again with the Freihofer's 32nd Run for Women 5K.  I gave up running a long time ago, thinking that my knees have been good to me so far, and wanting to keep it that way.
My fourteen-year-old daughter has no such worries.  She hadn't done a thing to train for this run, but at her age, she imagines that she is invincible.
I would've been happy to skip it altogether, but she pleaded that all her friends were doing it so in a moment of weakness, I gave in.  We signed her up, and since I didn't want to sit around waiting for her, I signed up too.
That was either the dumbest or the smartest thing I ever did.  It was dumb because a 45-year-old body doesn't recover from that kind of impact easily.  It was smart because I realized that I'm not to old to run.  Not at all.  There were many women, much older than I and in various shapes and sizes, who ran this race.  Some for the first time, but many who run it every year.
Running is a great sport for the whole family, with a whole community devoted to inspiring runners.  Area running clubs welcome kids to races, fun training runs, and social events throughout the year.
Running Clubs In The Capital Region
Albany Running Exchange – With members ranging in age from 7 to 73, this group offers activities and events that appeal to a wide spectrum, from the Hairy Gorilla Half Marathon to the No Kids Allowed 5K.  My teen wants to try out the weekly summer trail run series at area parks, and ARE's Inaugural Run & Tube Day.
Hudson Mohawk Road Runners Club – The area's largest running organization, HMRRC has been around since the early 70's.  Dedicated to promoting the sport of distance running through education and training to promote running as a part of a healthy lifestyle, the club organizes nearly 30 running events each year.
Races That Caught My Eye
5th Annual Community Resource Father's Day 5K run – Sunday, June 20, 2010, The Crossings of Colonie, NY.
Stars & Stripes 5K Twilight Run – Saturday, July 3rd, 2010, Valatie, NY.
ARE's Inaugural Run & Tube Day – Saturday, July 17, 2010, Lake Luzerne, NY.
Run for the Roses – Sunday, August 8, 2010, Grafton Lakes State Park, NY.
The Dunkin' Run – Sunday, September 12, 2010, Albany, NY.
Race For Hope – Saturday, September 18, 2010, Slingerlands, NY.
Hairy Gorilla Half Marathon & Squirrelly Six Mile – Sunday, October 31, 2010, Thacher State Park, NY.
Got any other races that kids (of all ages) might like?  I'd love to hear about them!