The promise of a sweet reward can motivate even the most reluctant young sightseers; and luckily, there are many tempting New York City treats. I asked Larissa Horn, the Teen Concierge at the Omni Berkshire Place on Manhattan's Upper East Side, to recommend the most popular New York City desserts. She gave me a number of great suggestions which I supplemented with my own exhaustive investigative reporting and a little crowd sourcing.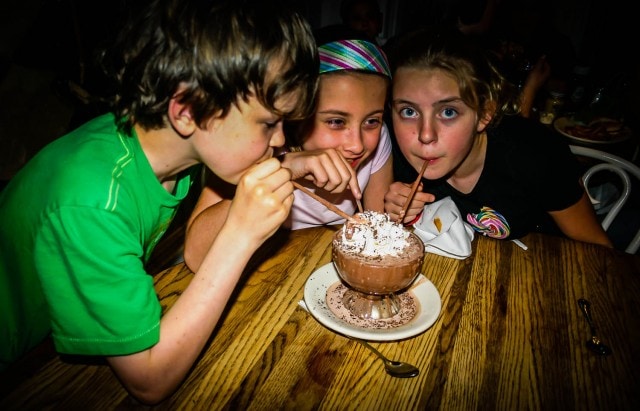 Best New York City Treats
1.) Serendipity 3 –  You haven't lived until you've sampled Frozen Hot Chocolate; too big for one, ask for extra straws. Pink Ice, the Monet Salad, and a number of Sundaes are worthy of devotion too. Just for giggles ask about the Guinness World Record setting Golden Opulence Sundae, only $1000 with 48 hour notice. No reservations, expect to wait in line. You might have to explore nearby Dylan's Candy Bar while you wait.  225 East 60th Street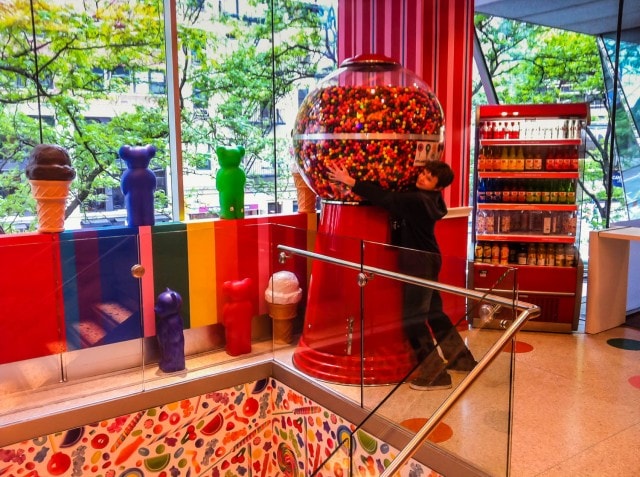 2.) Dylan's Candy Bar – Doesn't matter how often we go into the city, my teenagers always ask to stop at Dylan's. With three floors of colorful candy displays, what's not to love? Every time we visit, we explore the shop from top to bottom (love to see the Nostalgic Candy display!) before filling up on our favorites at the Bulk Candy dispensers. It's just sweeter this way. 1011 Third Ave at 60th St.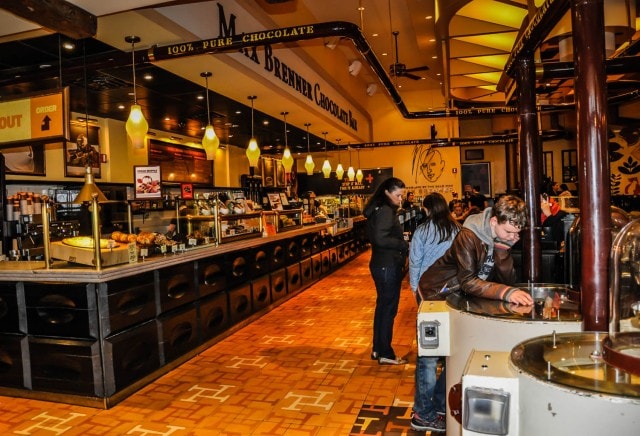 3.) Max Brenner  –  Larissa says, "Max Brenner is fun. It's all in the presentation. Of course it's important that it taste good, but having a nice presentation of dessert is always fun. Max Brenner is really great with that."  We like to imagine that the exposed pipes really do carry molten chocolate across the room, but even if that's not the case, the menu oozes the precious liquid–including the crowd-pleasing Chocolate Chunks Pizza. 841 Broadway  New York, NY 10003.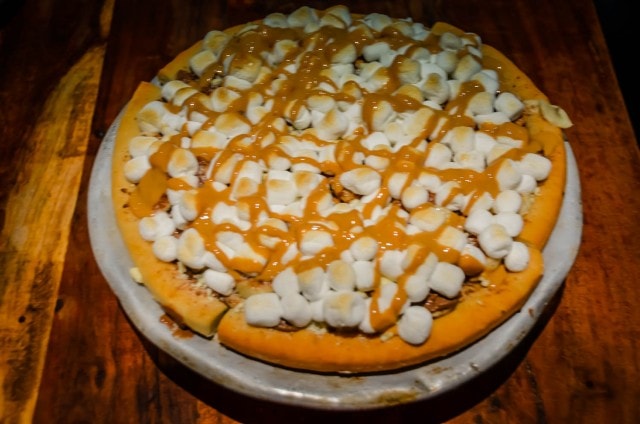 4.) Wafels & Dinges – Larissa adds, "I have a lot of friends who are into food trucks. One that I love is Waffles & Dinges. It's Belgium waffles & they add toppings like Nutella and graham cracker spread. They're fun and they're on Twitter & every day you can do something to get a free topping. They have a lot of different locations, including Central Park."
5.) The cupcake trend is still alive and well in the city. Larissa recommends no less than three cupcake bakeries: Magnolia Bakery (made famous by Sex and the City,) Crumbs Bake Shop, and Little Cupcake Bake Shop.
6.) Rice to Riches – Possibly the most unusual dessert place, Larissa suggests Rice to Riches in SoHo because it's all about "rice pudding in a variety of  flavors served in a funky setting. 37 Spring St (between Mott St & Mulberry St) New York, NY 10012.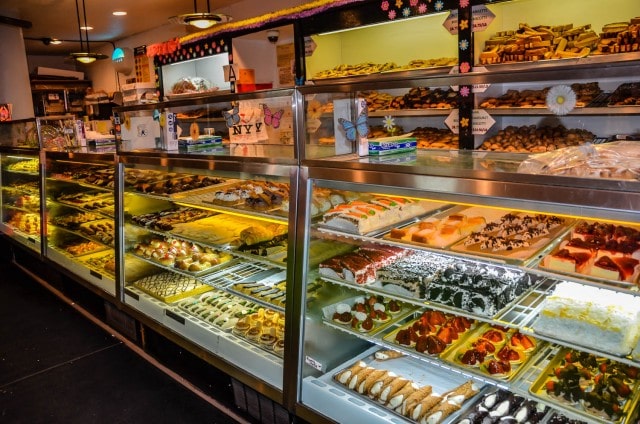 7.) La Bella Ferrara – Whenever I take my family to Chinatown or Little Italy, we always pick up dessert at La Bella Ferrara. Although the glass display features a plethora of delectable pastries, we always order the same item–classic cannoli.   108 Mulberry St (between Canal St & Hester St) New York, NY 10013.
8.) The Big Gay Ice Cream Shop – According to Albany Kid contributor Gina Martin, "the genius of the Big Gay Ice Cream team is in the choice of toppings – from sea salt to sriracha to pumpkin butter." Read the entire review here. 7th street between 1st Avenue and Avenue A.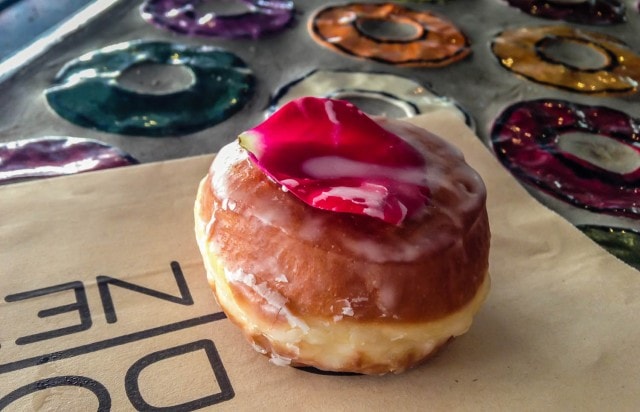 9.) Doughnut Plant – Pretty as it is tasty, who can resist a Rose Doughnut? Filled with a rose water pudding and dipped in a rose water glaze, an edible rose petal isn't strictly necessary for the flavor (but it's what makes it divine.) Every doughnut on the menu is just as imaginative, and just as yummy. Personal faves include the Tres Leche (authentic "three milks" cake, delivered in our round cake doughnut) and the Blackout (chocolate cake doughnut, filled with chocolate pudding, dipped in chocolate glaze and sprinkled with chocolate cake crumbs.) Two locations: 379 Grand St, New York, NY and 220 W 23rd St, New York, NY.
10.) Burdick Chocolate Shop – Chocolate for a discerning clientele, the single source hot chocolate menu is an education in itself. Burdick also wins the prize for most adorable sweets; their chocolate mice and penguins are almost too cute to eat. Almost. 5 E 20th St, Manhattan, NY 10003.
11.) MarieBelle – An oasis of tranquility and fine chocolate. Thick, rich, and wickedly strong hot chocolate drinks are best sipped slowly, accompanied by something light and savory in the crystal chandelier splendor of the Cacao Bar and Tea Salon. Splurge on a selection of signature art ganache–chocolates, each vibrant tableau comes with a colorful story. 484 Broome St (btwn. W Broadway & Wooster), New York, NY 10013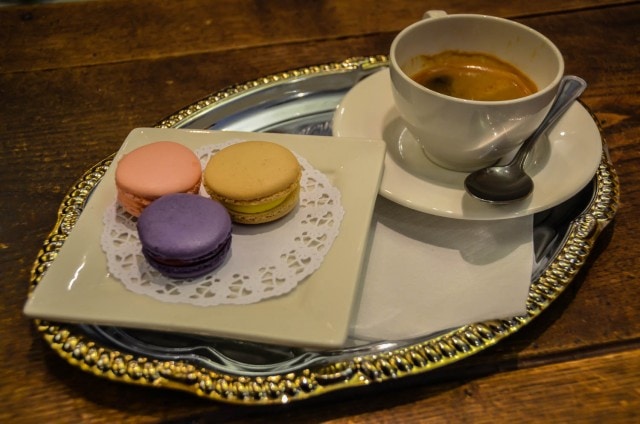 12.) Another dessert trend with staying power, macarons are the quintessentially elegant and oh là là French dessert that can now be found all over the city. Connoisseurs insist that Manhattan's best macarons are those shipped in from France to La Maison du Chocolate or Ladurée, but I was deliciously satisfied with the petite jewels baked in-house at La Maison du Macaron. 132 West 23rd Street, New York, NY.

13.  Cake Boss Cafe – As you might expect, this bakery carries a lot of cake. But it also features a more-than-life-size statue with enormous nostrils–an item often pointed out by young models and their parental paparazzi. Down the street from the Shake Shack (8th & 44th), we recommend dropping in for dessert after the hamburger & shake. 625 8th Avenue, New York, NY 10018
14. Fat Witch Bakery – At the top of my NYC sweets bucket list is what I'm told are the to-die-for brownies at Fat Witch Bakery. I like that there's at least a couple of new-to-me sweets left to try, gives me something to look forward to on my next visit.  75 Ninth Avenue, New York, N.Y. 10011.
15. __________ Fill in the blank. What irresistible New York City treat have I left off the list?
New York City Travel Tips
Planning a visit to New York City with kids?  Check out our New York City Guide which includes New York City with Kids: Fun and Educational Things To Do, Family-friendly Hotels and Restaurants, and More!, a collection of posts by family travel experts.