You have cat people and you have dog people, but in New York State, we have cat and dog towns. Or, at least we used to.
Back in the day, in the summer of 2008, two towns along the Hudson River went head to head, competing for the best city strolls: Catskill had the cat statues, and Hudson had the dogs. Personally, I'm a dog person and I greatly enjoyed seeing those imaginative dog sculptures, but I haven't seen them since.
Did the cat people win? That would be my guess given the dearth of dog sculptures in subsequent years, and the annual return of the Catskill cats in the annual Cat-n-Around Catskill summer-long celebration in Catskill, New York.
When we visited the little town among the Catskill Mountains, we saw Saturday Night Feline In a workshop on Main Street. It was mounted on a base before heading out for installation. I didn't get to see where this cat ended up, but I wouldn't be surprised to find both these guys dancing in the street à la John Travolta.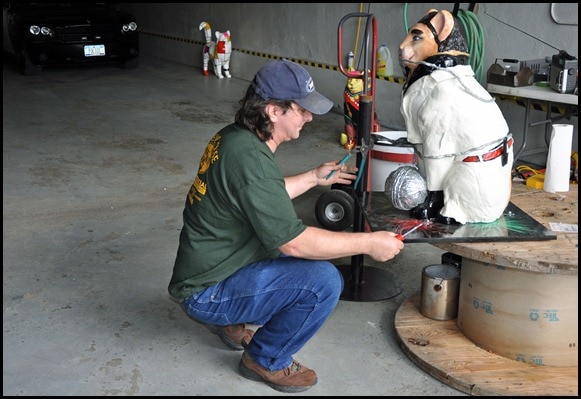 Catskill Cats are Works of Art
Every one of these cats is an incredible work of art, transformed from their original blank white fiberglass "canvass" by talented local artists. But I'm most intrigued by the stories behind the cats art.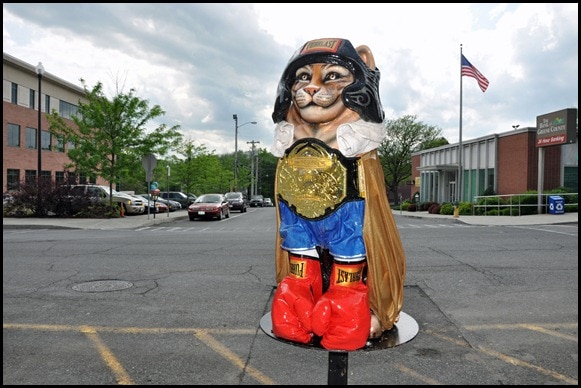 I'm told that this prizefighter cat is a nod to a longtime local club that trained champion boxers such as Mike Tyson. That's all I've heard, please spill the details if you know more!
In any case, our kids didn't need to know much about the cats art to find them plenty amusing as they were.
All they needed to know was that there were cool cars…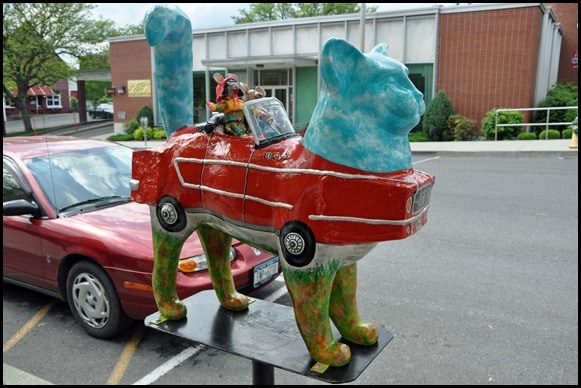 … a knight in shining armor tilting at windmills…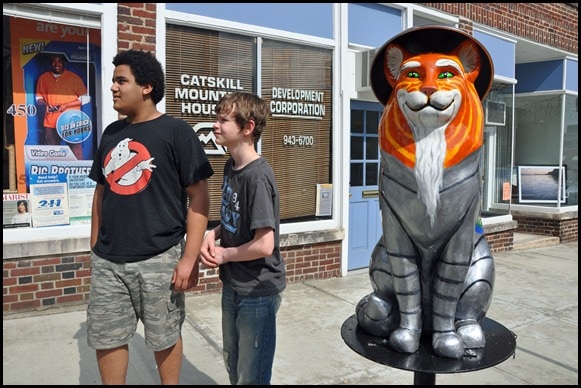 …and a good dose of silliness for all.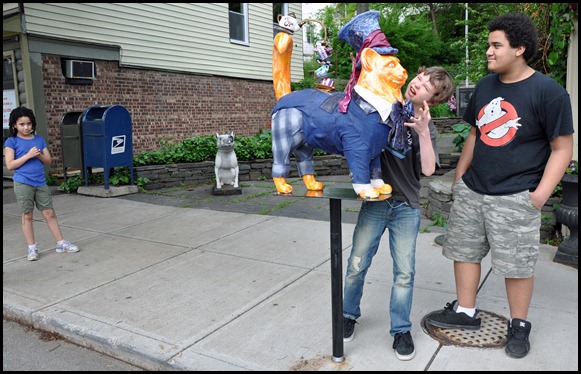 Go See It!
This fun annual event runs from Memorial Day weekend through Labor Day, culminating with a Meow Auction in early September.