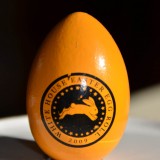 On Easter Monday this April 10, 2023, the hottest ticket in the Northeast will be for the official White House Easter Egg Roll in Washington, D.C. when more than 30,000 people will swarm the presidential lawns in search of fun games, the Easter Bunny, and the coveted wooden Easter egg.
What most folks don't realize is that the Easter Egg hunt begins long before spring thaws.
When Is The White House Easter Egg Roll?
The White House Easter Egg Roll is an annual event held on the White House's South Lawn on the Monday after Easter. Traditionally, the event includes a variety of activities such as egg rolling races, storytelling, musical performances, and the opportunity to meet the President and First Lady.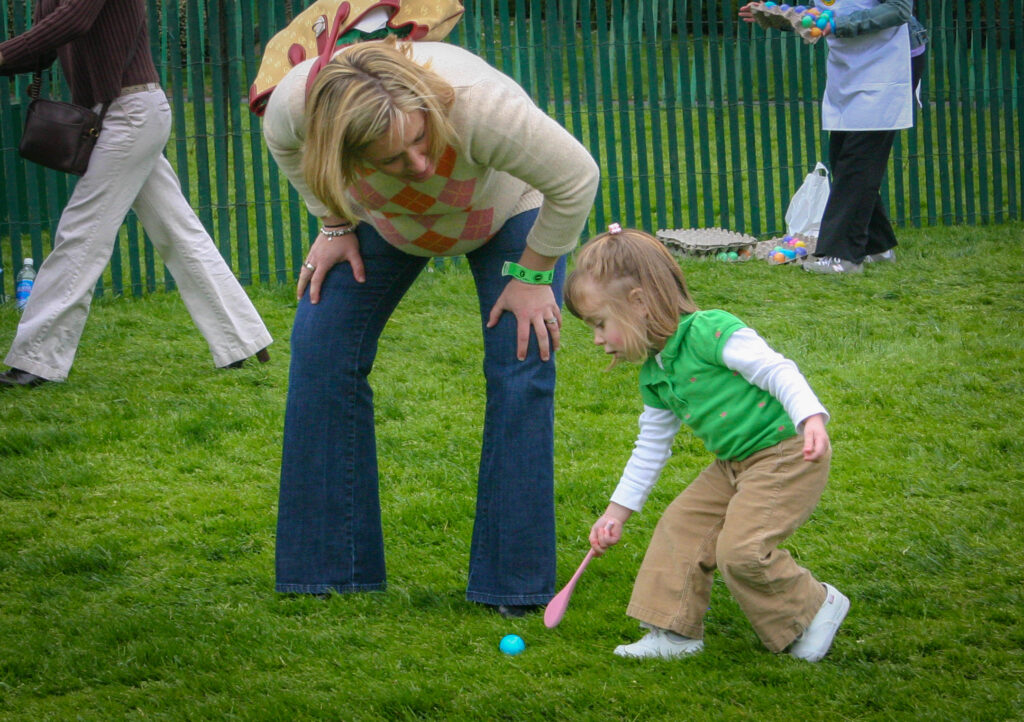 History of the White House Easter Egg Roll
The White House Easter Egg Roll is a long-standing tradition that dates back to 1878, during the presidency of Rutherford B. Hayes. At the time, children in Washington, D.C. were accustomed to playing egg-rolling games on Capitol Hill, but after complaints of damaged grounds, President Hayes invited local children to play on the White House lawn instead.
Over the years, the event has grown in popularity and evolved to include a variety of activities, such as musical performances, storytelling, and games. Presidents and their families have also put their own unique spin on the event.
During World War II, the event was put on hold due to food and supply shortages, and in the 1950s and 1960s, the event was scaled back due to concerns about the grounds being damaged by large crowds. However, in 1969, First Lady Pat Nixon reintroduced the tradition and expanded the activities to include live entertainment and celebrity guests.
Today, the White House Easter Egg Roll remains a beloved tradition for many Americans and a unique opportunity to celebrate the holiday in the nation's capital. While the event has evolved over the years, the spirit of fun and community remains at its core.
What To Expect At The White House Easter Egg Roll
In recent years, this special event has also included an emphasis on healthy living, with activities such as yoga and sports clinics. At the 2023 White House Easter on April 10th, 2023, First Lady Jill Biden will again make the day a Physical Eggucation themed event.
There will be a slew of costumed characters in attendance for photo ops, as well as Sesame Street actors. Several marching bands are scheduled to parade through capitol grounds. At the Physical Eggucation Zone, kids will find a fun obstacle as well as some of their favorite schoolyard activities.
And the White House's South Lawn will feature School House Activity Area, a Reading Nook, a Snack Time Tent, and a Field Trip to the Farm spot.
Scoring White House Egg Roll Tickets
Competition is fierce in our nation's capital, and never more so than when kids are involved. Parents line up at dawn to secure a spot for their child in the class play. Online registration for popular summer camps such as those at the National Zoo opens and closes within hours in early winter.
But the year that we sought White House Egg Roll tickets we were hit with a double whammy: the popularity of newly elected President Obama, and the launch of a new online egg roll lottery system.
The process starts with stalking the White House Easter Egg Roll site for the announcement of the online lottery, usually in early March.
In 2009, it was announced that the egg roll tickets would be available online on Thursday, March 26, 2009, but we didn't know if that meant at midnight or at the start of business hours. So my friend and I loaded the online registration site (now on Recreation.gov,) fingers poised for action just before midnight, and waited. At midnight, we hit refresh, and again, and again. After a while, I went to sleep, hoping that tickets wouldn't be available until business hours.
At 7 AM, before I'd even had a shot of coffee, I was back at it, poking the refresh button, and sending status updates to my friend via email.
I missed the actual opening of the ticket competition because I dared to get a cup of coffee, but I was back at the refresh button at 8:04 AM. That's when I discovered that I would have to sign up for a Frontgate Solutions account. Precious moments were lost in registering and verifying, getting timed out by an overtasked server, before I was back at the ticketing page.
Oh, the frustration! For every move forward, there were many more where I got the gray dysfunctional server warning. Elation as I secured tickets for six, and agony as the server died at the verification point. I even tried to select fewer tickets, thinking I'll just dump a child. It wasn't pretty.
I turned to my friends on Twitter to see if anyone knew what was going on, was anyone getting tickets? Using Twitter Search, I found three tweets from triumphant competitors and many more from the befuddled masses.
And then, at 2:20 PM, just when I was giving up all hope, and my refresh pokes were getting weaker and further apart, it happened.
The ticket section page was back on screen, and my request went through quickly, without a hitch. I had six tickets to the White House Easter Egg Roll, enough to share with my less fortunate friend and our children.
What Happened At The Easter Egg Roll At The White House
There's a reason that you're required to bring a child 12 years of age, or younger, to the White House Egg Roll. This is a young kids' event.
Kiddie games, storytime on the South Lawn, and even the egg roll itself hold way more appeal for the 8-and-younger crowd than they did for our tweens. Not that we were disappointed. We were there for a glimpse of the First Family.
My daughter packed a T-shirt and Sharpie pen just in case we ran into President Obama, as she was sure she could persuade our super cool president to give her an autograph.
We arrived on time for a late afternoon entry, one of 5 possible time slots, with the event running from 8 am-5 pm. Despite the assigned time slots, the lines were horrendous.
By the time we got to the end of the line onto the White House lawn, we had just an hour to explore the activities and still get to the exit in time to receive one of the free commemorative wooden eggs. So we danced, made a few crafts, signed quilts for American soldiers, posed for photos, and kept on searching for the Obamas.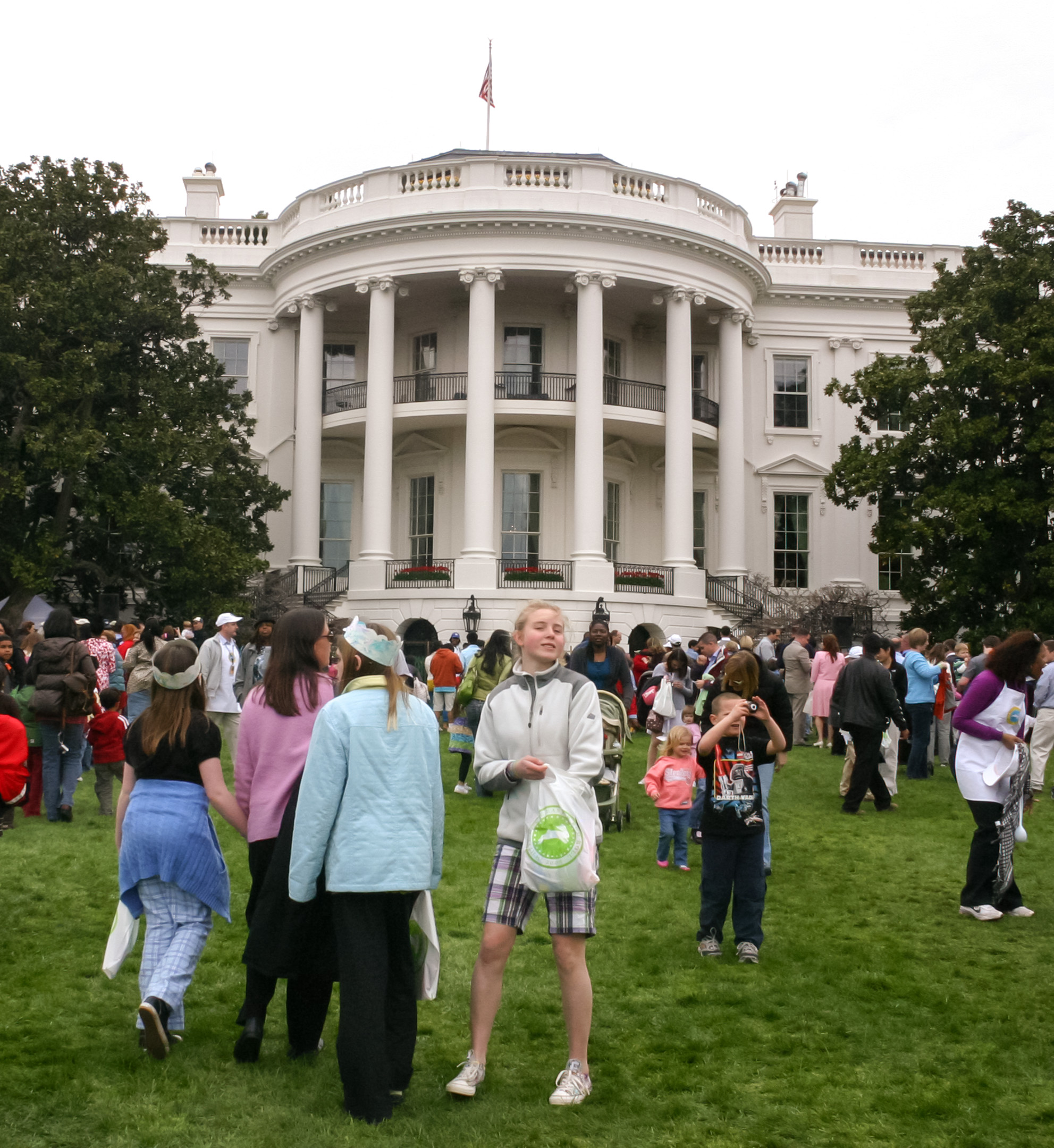 At one point, the kids were convinced that the President had donned ninja attire and was perched on the White House roof. They were just as awed to discover that the mysterious man was probably a secret service agent.
We never did see any of the Obamas, but my kids haven't given up hope.
Exploring Washington, D.C. with kids, we planned to carry the T-shirt and Sharpie pen, just in case.
Family Fun in Washington, D.C.: