Do You Have What It Takes to Score White House Egg Roll Tickets?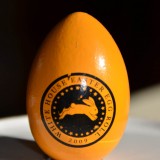 On Easter Monday this April 1, 2013, the hottest ticket in the Northeast will be for the annual White House Egg Roll in Washington, D.C. when more than 30,000 people will swarm the presidential lawns in search of fun games, the Easter Bunny, and the coveted wooden Easter egg. What most folks don't realize is that the Easter hunts begin long before spring thaws.
Scoring White House Egg Roll Tickets
Competition is fierce in our nation's capital, and never more so than when kids are involved. Parents line up at dawn to secure a spot for their child in the class play. Online registration for popular summer camps such those at the National Zoo open and close within hours in early winter. But the year that we sought White House Egg Roll tickets we were hit with a double whammy: the popularity of newly elected President Obama, and the launch of a new online egg roll lottery system.
The process starts with stalking the White House Easter Egg Roll site for the announcement of the online lottery, usually in early March. In 2009, it was announced that the egg roll tickets would be available online on Thursday, March 26, 2009, but we didn't know if that meant at midnight or at the start of business hours. So my friend and I loaded the White House Easter Egg Roll site, fingers poised for action just before midnight, and waited.  At midnight, we hit refresh, and again, and again.  After awhile, I went to sleep, hoping that tickets wouldn't be available until business hours.