Where can I find cross country skiing near me?
Winter is a magical time of year in upstate New York, with snow-covered landscapes and crisp, clear skies providing the perfect backdrop for outdoor activities. One of the best ways to experience the beauty of winter is through cross-country skiing. It's a fun and affordable activity that the whole family can enjoy, and with so many great trails and facilities near Albany NY there's no reason not to give it a try.
In this article, we'll explore some of the best Nordic skiing destinations in (and near) the Capital District and share tips for making the most of your winter adventure. Whether you're a seasoned skier or trying it for the first time, there's something for everyone in the snowy wonderland of upstate New York.
Cross-Country Skiing Equipment
Skate and Classic Skiing
Cross-country skiing is a fun and rewarding activity that can be enjoyed by people of all ages and fitness levels. However, to get the most out of your skiing experience, it's important to have the right equipment.
Skis: Cross-country skis are designed to glide across snow-covered terrain, and they come in a variety of lengths, widths, and styles. Classic skis are longer and thinner, with a grip zone underfoot for traction, while skate skis are shorter and wider, with a smoother base for faster gliding. When selecting skis, it's important to consider your skiing ability, terrain, and the type of skiing you plan to do.
Bindings: Cross-country ski bindings are the mechanisms that attach your boots to your skis. There are two types of bindings: NNN (New Nordic Norm) and SNS (Salomon Nordic System). Make sure that your boots match the type of binding on your skis.
Where To Buy Cross Country Ski Boots Near Me?
If you're looking to buy cross-country boots near Albany, NY, there are a few options available to you. Some local outdoor retailers, such as Eastern Mountain Sports and Dick's Sporting Goods, carry a selection of cross-country ski equipment, including boots.
Additionally, ski and snowboard shops such as Steiner's Ski and Bike are a good spot to try (in season,) and offer the added advantage of offering custom fitting.
Online retailers such as REI and Backcountry.com also offer a variety of cross country ski boots, and often provide free shipping and returns. It's always a good idea to call ahead to check availability and sizing options before heading to a store.
Cross Country Skiing Near Me in the Capital Region
If you have your own equipment you can find a cross-country trail at a state park or county parks all around the Capital District. But if you want equipment rentals, lessons, and warm huts you'll want to go to a cross-country ski center. Fortunately, there are several Nordic centers in the Capital Regions, and quite a few within a short drive.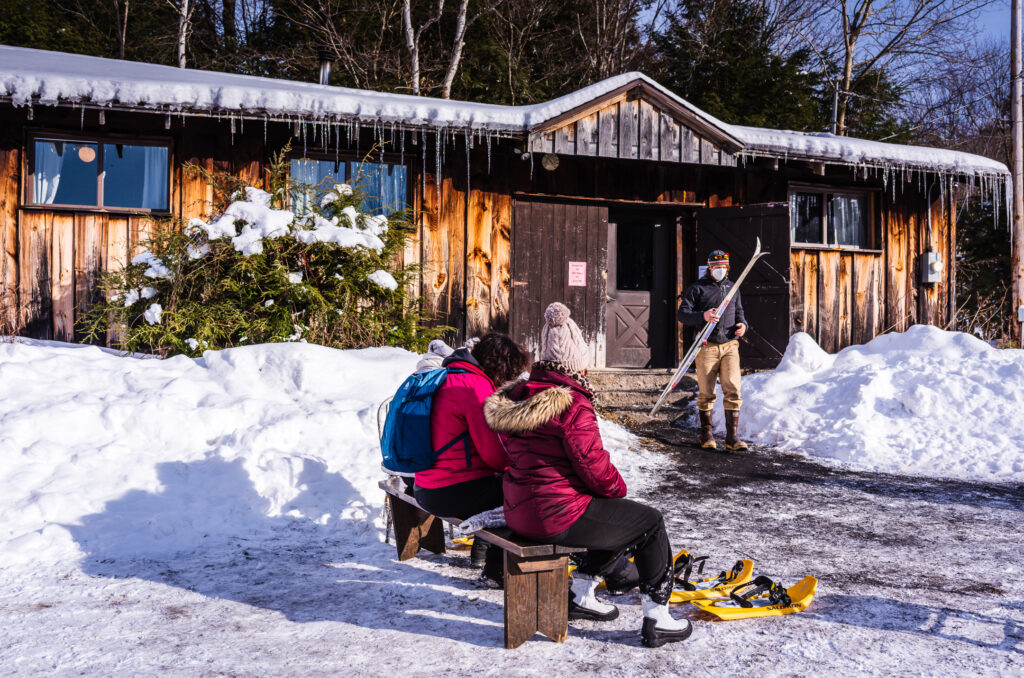 Pineridge Cross-Country Ski Area – Petersburg NY
Pineridge Cross Country Ski Area is a picturesque winter sports destination located in Rennselaer County, between the Berkshire and Taconic Mountains. It offers over 35 kilometers of groomed trails, 15K ungroomed snowshoe trails, and 20K skating trails, and 5K backcountry trails. Ski and snowshoe rentals are available on-site, and for those looking to improve their technique, Pineridge offers private and group lessons for skiers of all levels.
Whether you're a seasoned skier or trying it for the first time, Pineridge Cross Country Ski Area is a fantastic destination for a winter adventure. With its beautiful trails, stunning views, and welcoming atmosphere, it's no wonder why it's a favorite among locals and visitors alike.
Cross Country Skiing In The Adirondacks
Cross-Country Skiing Near Albany NY
The Capital Area Ski Touring Association (CASTA) put together a fantastic list of all the cross-country ski trails within a 2-1/2 hour drive of Albany, find it on this link: Cross Country Ski Trails.