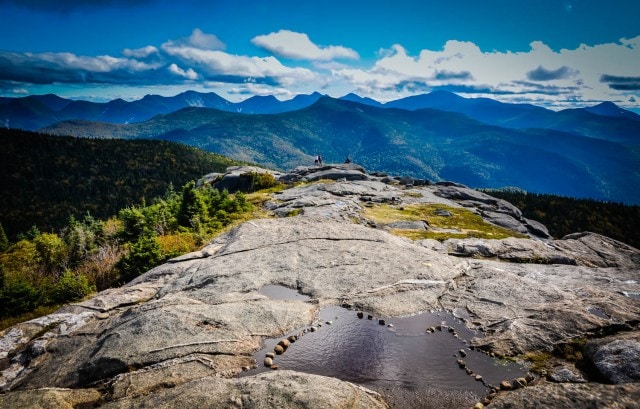 Earning entry into the Adirondack High Peaks Forty-Sixers club has long been on my bucket list, and considering the proximity of the 46 mountain peaks, there was no good reason not to give a go. Last weekend, I finally embarked on what will likely be a very long term quest when I took on Cascade Mountain, reputedly the easiest of the summits, with my family.
According to a listing of the 46 Adirondack High Peaks, where even the highest–Mount Marcy at 5344′–offers no risk of altitude sickness, the 4.8 mile roundtrip, 1940′ ascent of Cascade Mountain rates a "2" out of 7 on a ranking of all the trails, making it a good place to start out as an aspiring 46er. Not that I was in any shape to tackle even the easiest of mountain peaks. A summer spent driving across the USA, even on an epic Lincoln Highway road trip, does not build stamina. Muscles long forgotten screamed in protest as I trudged up the the mountain with my husband, while our kids left us far in the dust.
It took us the full, typical five hours for the hike, with only a short break to down a sandwich at a scenic overlook. I'm sure my husband could have done the trip in much less time, though I'm not entirely confident that he could have kept up with our teens. They made the summit in just one hour, a third of our ascent time, completing the entire trek–even with long breaks–in under two hours.
The only time we were actually together on the hike was that short interlude at the overlook when we ran into our nimble-footed offspring along their descent. And still, I would qualify this as a very successful family outing. Now that our eldest child is in her senior year of high school, I'm grateful for any opportunity to spend a weekend together.  It was wonderful to see the siblings teaming up, euphoric to actually attain the summit, and we all came away with a sense of accomplishment. That Cascade Mountain hike wasn't easy; it was amazing.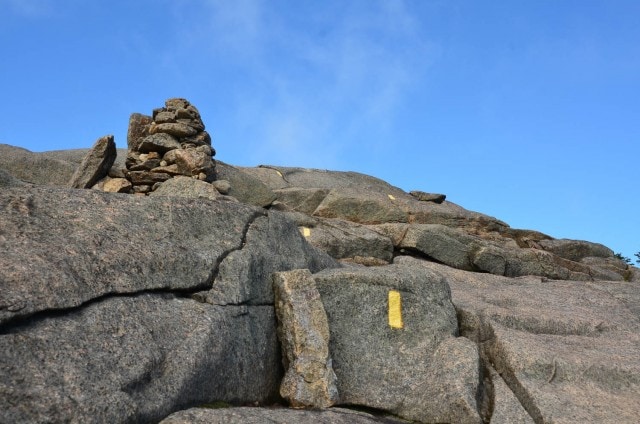 Cascade Mountain Trail Smarts
The first challenge of this hike is finding parking at the trailhead which is located past the Long Lakes along Route 73, near Keene Valley, NY. Not being entirely certain where that might be, we stopped at the Mountaineer (a remarkably well-stocked sporting goods store) for directions. This is also a good place to pick up trail maps and a High Peaks journal.
Sign in on the register at the trailhead, and sign out upon return. Keep in mind that there are no restroom facilities, and this is a carry in, carry out kind of place. Dress in layers because no matter how pleasant the weather at the base, it can be windy and downright frigid at the top. Also, sturdy boots with good ankle support can be a lifesaver when navigating the rocky and sometimes muddy trail. For more safety tips, see Hiking Safety Rules That Save Lives.
Travel Tip – If you're up for a longer hike, you can bag Porter Mountain too. At 0.3 miles from the Cascade Mountain summit there's a turnoff toward the Porter Mountain summit for an additional 0.7 miles.
"Carry-A-Rock To Cascade – Help build cairns and trails by picking up a rock at the trailhead and taking it to the top.
To learn more about the Adirondack Forty-Sixers, visit www.adk46r.org.
Planning a trip in and near Lake Placid, NY?  See our Adirondacks Guide.
Looking for more hikes? See: