Baby animals, cider donuts and trail mix
We've been going out to Indian Ladder Farm's Baby Animal Days since we had a baby to bring. Our photos albums are filled with pictures of kids and little farm animals. In one, a small Lucy gingerly holds out one finger, petting a baby chick. Years later, she is holding Elliot as he does the same.
This year, we drove out to the Voorheesville farm after school. The sky was warm and bright blue. Going to Baby Animal Days is still a tradition, but doesn't elicit the same excitement as it did 8 years ago. Lucy is in 7th grade, and there was no screaming, no running around the house when I announced we'd be going. Still, she wanted to go and asked a friend. Somehow each kid ended up with a friend in tow, so we were a big group. There was the promise of the baby farm animal-filled barn, yes, but also Indian Ladder's crisp, sweet cider donuts.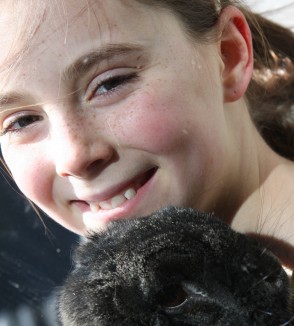 First, we bought a dozen donuts. They aren't producing cider til the fall, so kids drank from their water bottles and I sipped hot coffee. We sat at a picnic table, savored our donuts and soaked up the sun. The boys raced off to the big toy-filled sand area before the sugar was wiped from their faces. I packed up a few snack items, because donuts are great, but an afternoon outing requires more than just sugar in little bellies. We also had a bag of honey-wheat pretzels and Zoe's favorite trail mix.
We spent a fair amount of time in the "baby barn", petting, oohing and aahing the sweet, soft animals. The baby goat tried to eat my jeans and the ducks were everyone's favorite. They were cute and had personality. Each child chose one as theirs, and named it.
There is plenty of space to run and be free at Indian Ladder Farms. For the last hour of our visit, that's what they did. I sat at the picnic tables, gabbing with an old friend I ran into. The kids stopped at the table now and again, for a pretzel or a handful of this trail mix.
Zoe's Favorite – Honey Roasted Trail Mix

1 c. raw almonds
1 c. unsweetened coconut flakes (not the sweetened shreds – find in the health food aisle of most groceries)
1 c. dried cranberries
1 c. raw pumpkin seeds
1 c. raw cashews
1/2 c. sunflower seeds

3 T. honey
1 t. sea salt

Preheat oven to 325°. Spread the ingredients out on a baking sheet. Microwave the honey for 15 seconds, and drizzle over all. Toss the salt over the honey, mix well, and bake for 12 minutes, stirring once halfway through. Store in an airtight container.
Baby Animal Days – through May 20
http://www.indianladderfarms.com
You Might Like: