An Escape for the Whole Family – Great Escape Lodge and Indoor Water Park
An indoor water park inside an Adirondack themed lodge with huge rooms and just over an hour drive away is a great weekend family getaway in Upstate New York.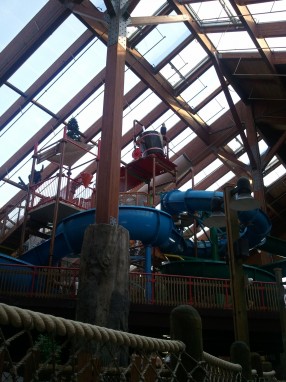 Six Flags Great Escape Lodge
If you're looking for a great getaway with the kids check out the Adirondack themed Great Escape Lodge just south of Lake George Village.  Guests enter the Lodge through a post and beam styled great room, complete with life size wood carved bears and Adirondack furnishings.  As you check in the kids will immediately be drawn to the windows that overlook the indoor water park right off the lobby.  You may even see Scooby Doo or one of the Timbertown Characters walking around greeting guests!
The hotel features large Adirondack themed guest suites compete with microwave, mini-fridge and coffee makers.  Even the standard units – the Traditional Suites – have spacious sitting areas that provide a little privacy from those sleeping.  This was a treat for mom and dad as we brought along a laptop and headphones and were able to watch a movie once the kids fell asleep.   On our latest overnight stay, we traveled with relatives and wanted one central area for the kids to play at night.  We splurged on the Deluxe Suite which is larger and includes a kitchen area and table.  If you have a number of kids and are thinking about ordering in for some meals, consider upgrading.  New for 2012 are the Klub Moose Adirondack Cabin suites which offer the kids their own cabin – complete with a TV and entertainment unit – right in the room!  We hope to check out the Cabin suites on our next visit.  The Great Escape Lodge definitely puts family travel first with oversized rooms and the opportunity to spread out in comfort.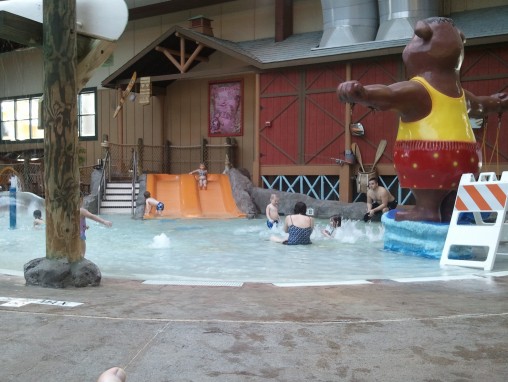 White Water Bay Indoor Water Park
After you've explored the Lodge and check in to your super comfy rooms it's time to hit the water park!
Even if you don't stay overnight at the Great Escape Lodge, the White Water Bay Indoor Water Park provides lockers to store all of your belongings.   The temperature of the park hovers in the 80 degree range year round – obviously another bonus of the park during the cold Upstate New York winters.
 Inside the park younger kids will love the Tip-A-Kanu Beach area designed (and restricted) for kids under 54 inches tall.
This shallow wadding area has age appropriate slides, baby swings and animal themed fountains to splash around in.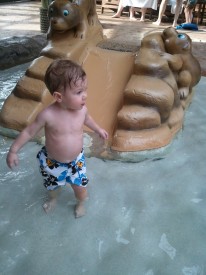 The Bean (4 ½), the Dude (1 ½) and cousin A (2 ½) loved this area.
The Bean eventually wanted to venture to the Tall Timbers Treehouse area which includes over 100 interactive water toys including hydro blasters, water fountains and of course more water slides.
My family's favorite ride was the lazy river because we could all enjoy floating through the waterfalls on inflatable tubes together.  For the bigger kids (and moms and dads) there are two large enclosed waterslides that meander in and out of the physical building and can actually be seen from the New York State Thruway.  Family travel is great, but my personal favorite spot was the little noticed "adults only" hot tub.  Although this is in the middle of the bustle and noise of the water park we completely missed this quiet little gem at first.  The parents of our group took turns getting a little break from the kids and got to relax a bit too.
Family Dining Options
There is a Johnny Rockets and a Tavern inside the Lodge as well as your typical snack bar inside the water park area.  If you visit during the summer months when Lake George is in full swing there are numerous dining options for every appetite in town.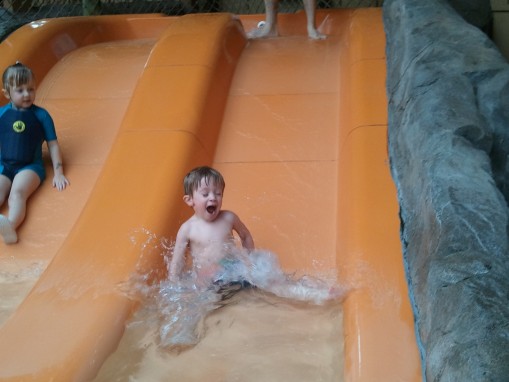 Family Friendly Activities
Now that your kids are completely water logged and may be in need of some dry land activities, the Great Escape Lodge has a full range of activities for the kids.  When you check in be sure to get the week's schedule of kid's activities including nightly stories read by Scooby Doo and friends in the library room.   This was a really cozy way to unwind for the night and all of the kids come dressed in their PJs.  The Lodge has an almost camp-like feel with organized crafts from bookmark making to piggy bank painting as well as s'mores with the characters on certain nights.  Most activities require a small fee.  There is also an arcade complete with the ski-ball.
For parents looking for some well needed pampering you can make an appointment at the Tranquility Spa within the lodge.  I really wish I could give a personal description of this spa but alas, this mom is still waiting for my moment of self indulgent pampering.
This is just one of the many family friendly areas to visit in and around the Lake George area but a night at the Great Escape Lodge and Water Park have become an annual family travel getaway for my family.
Go visit!
Six Flags Great Escape Lodge and White Water Bay IndoorWaterPark 89 Six Flags Drive Queensbury,NY12804 (518) 824-6060
www.sixflagsgreatescapelodge.com
Tip:
Get on the Great Escape Lodge email list to hear about deals and special weekends!