When kids express an interest, it's best to strike while it's hot. Although sometimes I have to look hard to figure out if the kids actually like something that could be considered educational, both of my children seemed interested as we passed the Frank Lloyd Wright room on a  visit to the Met. They lingered at the exhibit, and they didn't yawn. That was all the invitation I needed to book the Wright 3 Mystery Tour of Robie House in Chicago.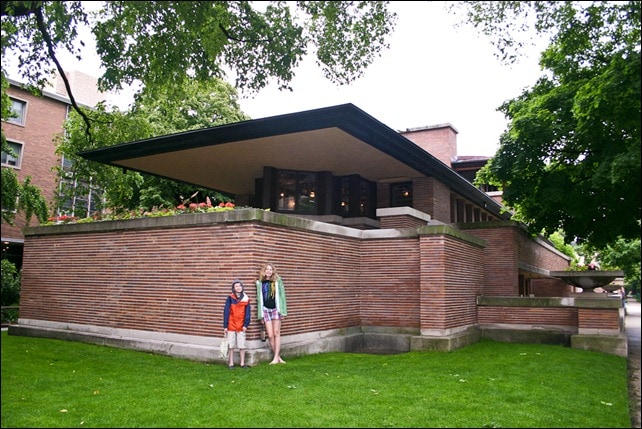 I had already purchased a copy of Blue Balliet's The Wright 3 when it came out, but it had been sitting on my bookshelf, untouched, waiting for this perfect moment when: a) they have an interest in the topic, b) we could enrich the reading experience with a visit to book's setting.
So, I downloaded the audiobook from Audible.com, and we listened to the story on our road trip to Chicago.
Disappointingly, I was not riveted by the story, or the reading.  Perhaps my ears were tainted as I really enjoyed the previous audiobook of Yolanda's Genius, read in the rich voice of Novella Nelson.   The narrator of The Wright 3 is no Novella Nelson.
Mostly, I just didn't find the mystery in The Wright 3 as interesting or as captivating as that of Blue Balliet's previous book, Chasing Vermeer.
Since I wasn't a big fan of the story, I guess it's not surprising that I was underwhelmed by our tour of Robie House, the Frank Lloyd Wright building that is endangered in The Wright 3.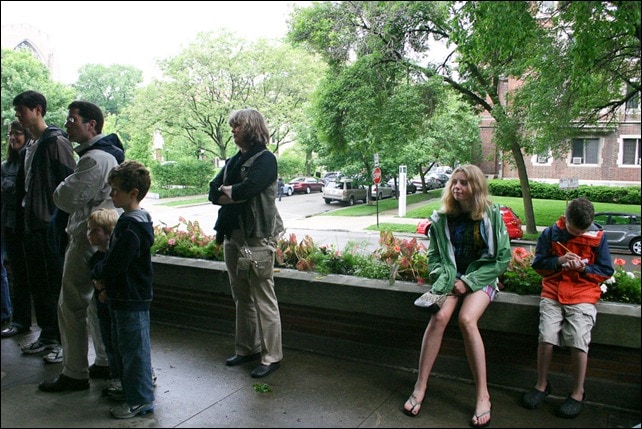 I knew that the tour would be led by a student, and I thought that it would be a good thing to see a young person working at the museum. Although our tour guide did not exhibit the enthusiasm and passion for the subject that I'd hoped for, my kids didn't think the tour was as lame as I thought it was.
Quite the opposite, they really enjoyed the tour.  Even Alex, who wasn't thrilled with the story, was fascinated by Robie House, and asked at least a dozen questions on the tour.  Afterwards, he was so carried away by the experience, that he decided that he wanted to be an architect when he grows up (at least that was his plan on that day!)
I still don't know exactly why they enjoyed the tour so much.  Perhaps it was the brevity of the educational venture.  The tour itself was less than an hour long.  Or, maybe they liked Robie House because it was designed with children in mind, and our tour started in the playroom.
Whatever the case, I'm glad the book and the tour appealed to the children.  I thought about following up their interest with a visit to Frank Lloyd Wright's home and studio, but I decided to quit while I was ahead. On the way out, we dropped by the Gift Shop and picked up a set of 3D Pentominos, and a book on how to draw buildings.
I wasn't going to waste a golden opportunity to sneak in a little learning any way I can!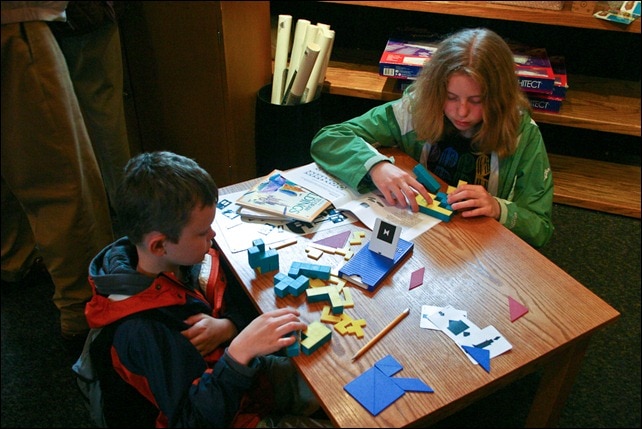 Go See It!
Wright's Robie House 5757 South Woodlawn Avenue
Chicago, IL 60637
312.994.4000 Website:
http://gowright.org
Read Across America Road Trip of 2009:
Frank LLoyd Wright Tours:
Sandra Foyt | Sandra Foyt is a storyteller, photographer, and road trip junkie. A veteran of six cross-country road trips, she drove Route 66, the Lincoln Highway, the fossil freeway, the extraterrestrial highway, and even "the loneliest road in America." Find her on GetawayMavens.com, an award-winning destination guide to extraordinary travel in and from Northeast USA, on her portfolio site at SandraFoyt.com, and in freelance gigs on Family Travel 411, Minitime, Huffington Post, and Matador Network. Email: sandrafoyt@albanykid.com, Twitter @SandraFoyt.