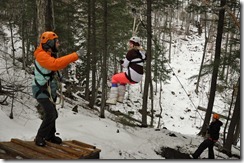 A Sunday River Zipline tour was just what the doctor ordered!
My family doesn't ski together much. Now that everyone is at a different level of skiing ability, it's not much fun to stick together on the slopes.
The kids hate to wait for mom to catch up to them on a ski run. And I'm usually ready to turn in after a few runs, while my husband and daughter will go from first tracks to last lift.
But even the most diehard ski enthusiast has to take a break sometime.
By our fourth day of skiing at Sunday River, every one of us was complaining of screaming muscles. We needed a different sort of family adventure: one high on thrills, but low on skills – or in our case, low on muscles exerted.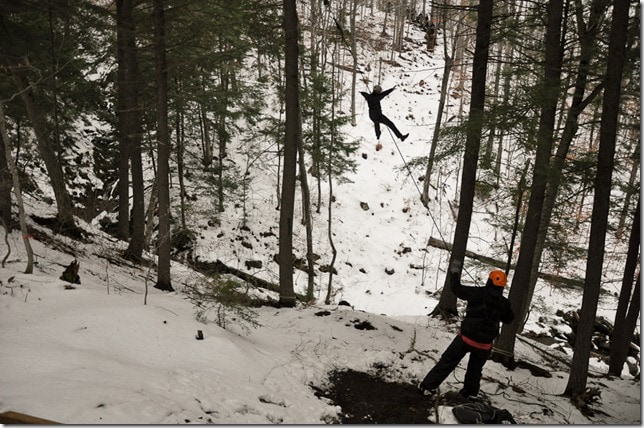 Although we've tackled a couple of Ziplines in the Northeast, this was our first winter tour. For the most part, the season doesn't make too much of a difference. The Zipline Tour took our small group on a 3-hour tour through the woods between ski trails on a six-zipline course that had us flying on wires at speeds of up to 25 mph. The difference in winter is that the hiking portion of the tour is done on snow. Oh, and the winter wonderland views are spectacular!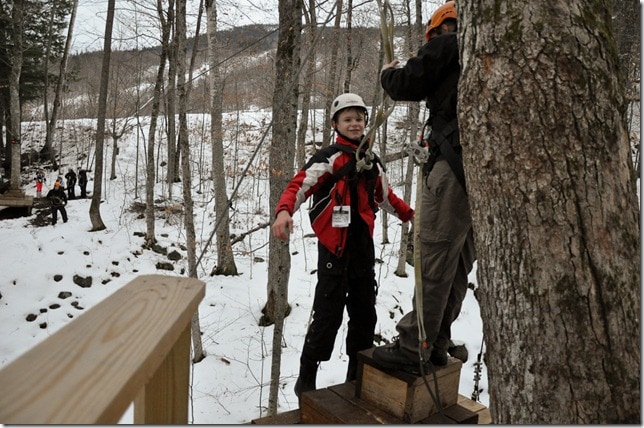 What I really liked about this tour was that our guides made each course a special event. On one, we were advised to make like starfish. On another, labeled the Revolution Tour, willing participants competed to make the most full turns. One of my favorites was the Trust Tour where you fall backwards into the course – this was one of the few times I got to catch my son's face on camera.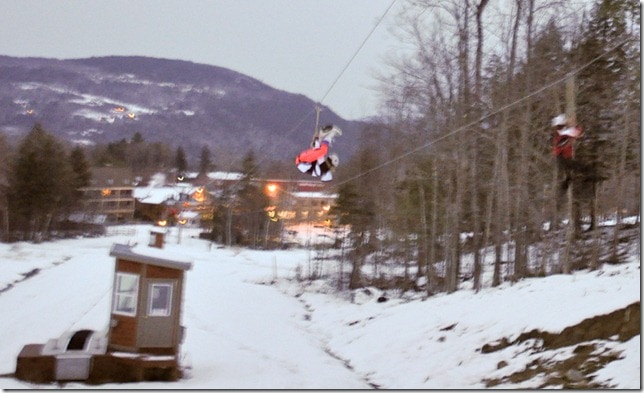 And the last course, on Twin Tips, which can be done without the rest of the Zipline Tour was pretty neat. It's billed as a chance to race your opponent, but our guides also showed us how to do this course upside-down. I didn't even try, but my super strong ski racing teen made this maneuver look easy.

Go See It!
Ziplines at Sunday River
Friday-Sunday, tours depart at 10am & 1pm. $59/person, $49/w/lift ticket or season pass. Twin Tips is $15/2 runs. Ziplining is open to all ages, but minimum height is 3 feet, minimum weight is 70 lbs. and max weight is 270 lbs.  Dress warmly, and proper footwear for hiking through snow is a must. Note that an ATV is available upon request for those with physical restrictions. Reservations are advised. Call 800-543-2754 to make a reservation. Visit
Zipline Tours
for more information.  
Holiday Travel to Sunday River Ski Resort:
Disclosure – A great big thank you to Sunday River for providing complementary Zipline tickets, and for extending our stay so that we really got to explore this family-friendly ski resort!
Sandra Foyt | Sandra Foyt is a storyteller, photographer, and road trip junkie. A veteran of six cross-country road trips, she drove Route 66, the Lincoln Highway, the fossil freeway, the extraterrestrial highway, and even "the loneliest road in America." Find her on GetawayMavens.com, an award-winning destination guide to extraordinary travel in and from Northeast USA, on her portfolio site at SandraFoyt.com, and in freelance gigs on Family Travel 411, Minitime, Huffington Post, and Matador Network. Email: sandrafoyt@albanykid.com, Twitter @SandraFoyt.