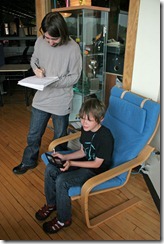 Did you know that you could sign up to be a video game tester? A couple of video game developers in the Capital Region actively recruit the "professionals" –  kids who like to play video games.
My son has been called up to serve a couple of times at 1st Playable, and each time he has learned a little more about the process of video game making. He has met with artists and engineers and learned as much from them, as they learned from him.
On this post, I have included links to two local game testing programs, as well as a few other resources for kids who are into playing or making video games. Am I missing any? Please share!
Game Testing Programs
Register your child to be a video game tester at any of these locations:
Game Events
Computer Clubs
Go See It!
Sandra Foyt | Sandra Foyt is a storyteller, photographer, and road trip junkie. A veteran of six cross-country road trips, she drove Route 66, the Lincoln Highway, the fossil freeway, the extraterrestrial highway, and even "the loneliest road in America." Find her on GetawayMavens.com, an award-winning destination guide to extraordinary travel in and from Northeast USA, on her portfolio site at SandraFoyt.com, and in freelance gigs on Family Travel 411, Minitime, Huffington Post, and Matador Network. Email: sandrafoyt@albanykid.com, Twitter @SandraFoyt.