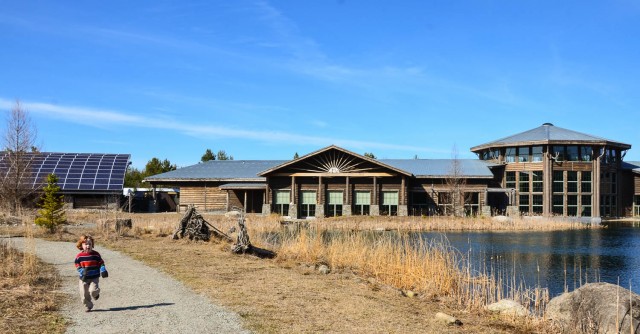 When the Wild Center opened near Lake Placid, New York in 2006 it was hailed as "the place to go" by the The Boston Globe. A crowd of more than 5000–the largest Adirondacks gathering since the 1980 Olympics–attended the opening celebrations. By the time that I arrived with my family in 2011, the Wild Center had fully come into its own. And yet, when I returned on a recent familiarization tour, I found that as good as it was then, the Wild Center is even better now as the living museum exceeds its vision to connect people and nature.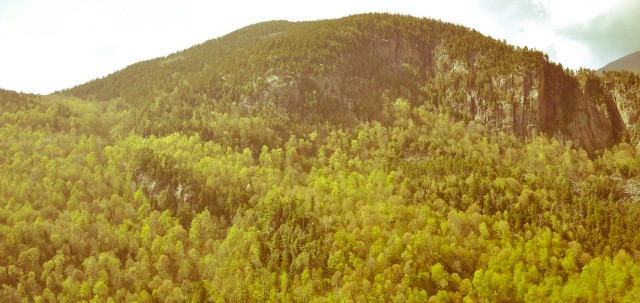 Where the Wild Things Are
It was an innovative idea to place the museum in the center of its subject matter. The Adirondacks, where the Wild Center is located, is bigger than Yosemite, Glacier, Grand Canyon, Yellowstone, and Great Smokey National Parks combined. And the Wild Center brilliantly draws on this 6-million-acre treasure trove as its living museum collection.
The 10,000 square miles of the Adirondacks are wilder now than they were 100 years ago because in 1894 a group of concerned citizens banded together to amend the state constitution to protect the Adirondacks, one of the earliest examples of environmentally based legislation in the nation's history.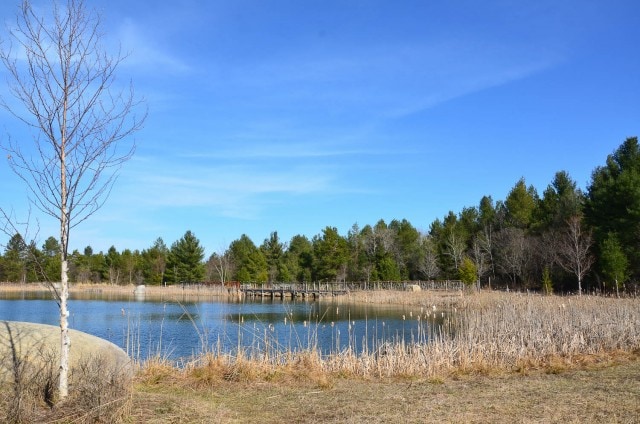 Executive Director Stephanie Ratcliffe says, "It's one of the best and most important collections in the world–and we've just begun to explore it. The Adirondacks can be a great success for everything and everyone who lives inside its borders and by being that success it can be an American model for a world that is looking for a way people and nature can coexist. Our story at the Wild Center has just begun."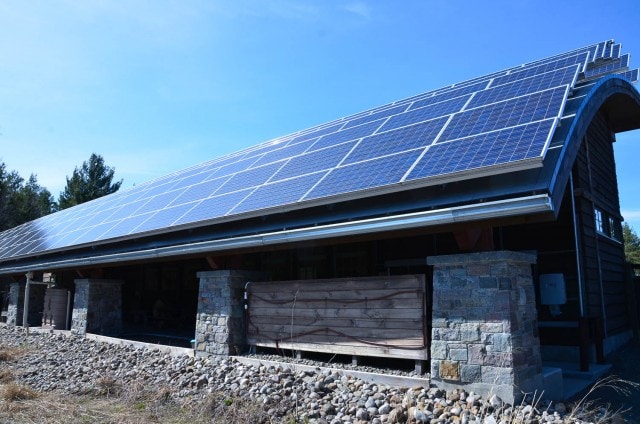 It Isn't Easy Being Green
Smart design plays a big role in the Wild Center's success. Designed by the same firm that drew up the plans for the National Air and Space Museum in Washington, D.C., in 2008 the Wild Center became the first New York museum to achieve the LEED Silver Certification from the US Green Building Council.
Visitors can learn about some of the green practices that earned the Wild Center this distinction on outdoor trails passing solar panels or the three-acre pond which collects and channels stormwater from the roof.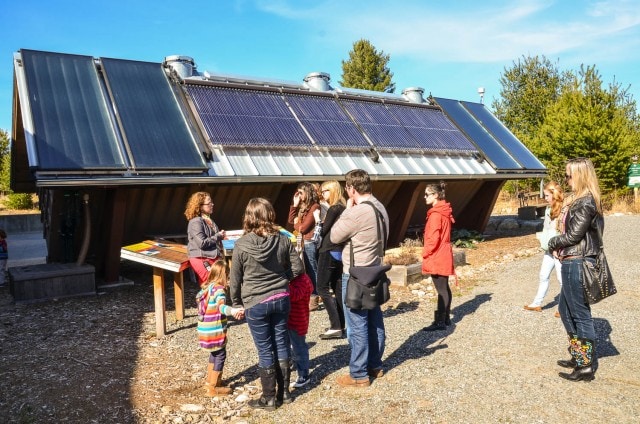 Other green design elements may be less obvious, but no less welcome: maximizing use of natural light, energy-efficient lighting, well-insulated building envelope, composting toilets, efficient air filtrations, and low VOC materials.
What I did notice and appreciate is that the building is designed in an indigenous Adirondacks style with local materials, including making good use of locally-quarried Red Garnet. Even if visitors don't notice the details, they do notice that you feel good exploring the premises.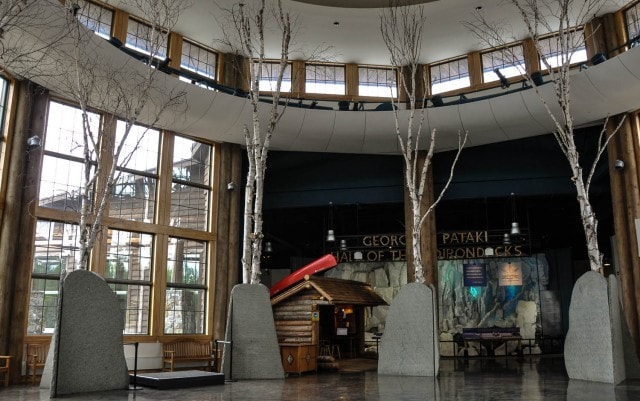 Inside the Wild Center
Enter into a soaring rotunda with floor-to-ceiling windows that look out on waist-high views of the the pond that laps against the outside of the building. On the left, the Waterside Cafe offers casual dining, indoors and out, right next to the pond. Also on the left, the Panoramas widescreen theater features  a series of daily films including A Matter of Degrees, which travels back in time to the age of mastadons to show the importance of a few degrees of change.
On the right, you pass into the main exhibit area which circles past interactive displays and animal encounters.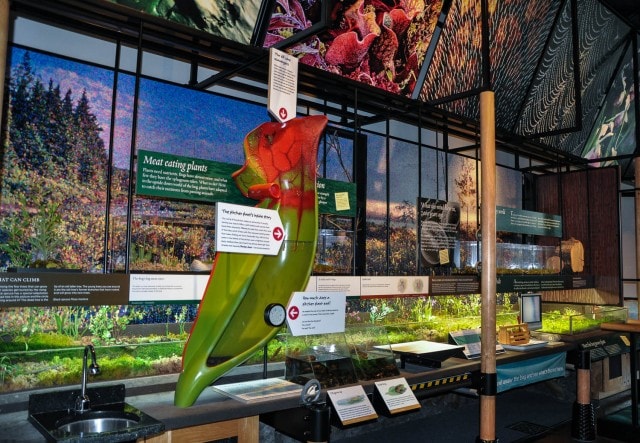 The Naturalists Cabinet
One of the many intriguing displays digs into the carnivorous plants and other lifeforms found in an Adirondack bog ecosystem. Amidst large-scale models of meat eating plants, you see a number of incredibly realistic life-size ferns and flowers. On my first visit, I was lucky enough to run into Supawadee "Pa" Ngamhuy, the talented artist who created the detailed clay modes of native wildflowers.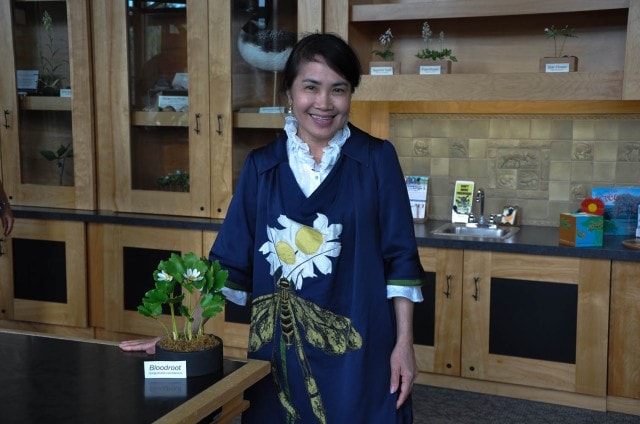 Ngamhuy spent anywhere from 10 to upwards of 50 hours crafting each delicate flower and fungus, and the results rival that of the glass flowers found at the Harvard Museum of Natural History. The idea being that one can study nature's flora regardless of season.
That seems to be the thinking in the Naturalists Cabinet, a room whose shelves and drawers are stocked with items such as bones, feathers, and stones inviting close observation.
But this is no antiquated repository. Amidst the many high-tech interactives there's one that will especially delight would-be bird watchers: a sophisticated sound system built by Cornell University that helps mimic bird calls.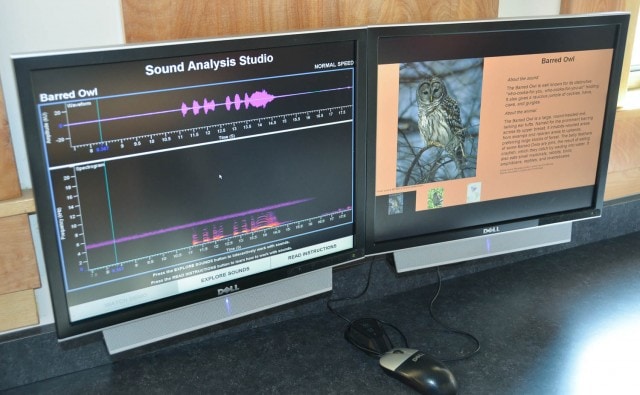 I think that it is this thoughtful blend of old and new technology, alongside the very real nature surrounding the center, that makes this such a wonderful place to explore with kids.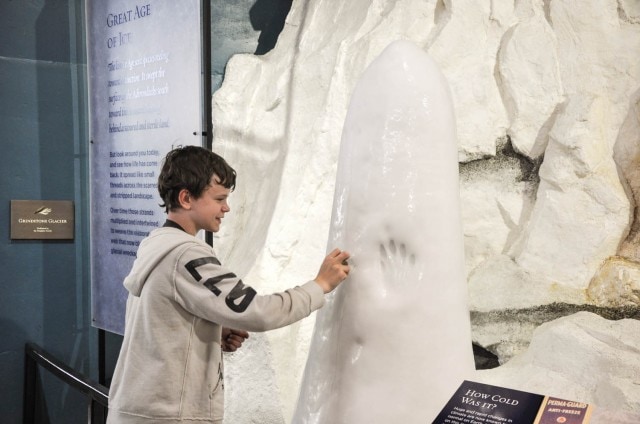 Where else can you run your hands through a cloud, freeze your fingers on a glacier and, if the weather cooperates on a winter's day, follow up with a snowshoe excursion outdoors?
Wild Animal Encounters
Of course, the highlight of any visit to the Wild Center are the wild animal encounters. 900 live animals reside at the museum, including lake fish, porcupines, ravens, and–the stars of the show–four otters. Be sure to time your visit so as to catch the antics of the otters when fed live fish.

Outdoors at the Wild Center
With a 31-acre campus, there's plenty of room to stretch your legs outside, and if you're lucky, you just might see wildlife in its native habitat. Take a self-guided hike on the 1/4 mile Oxbow Overlooks trail which connects to the 1/5 mile Forest Bird trail, or plan to go on one of the daily naturalist-led hikes. In winter, snowshoes are available. In July and August join Wild Center naturalists every afternoon at 2pm for a canoe trip along the Raquette River. Pre-register online here, or for more canoe options nearby, check in with Raquette River Outfitters.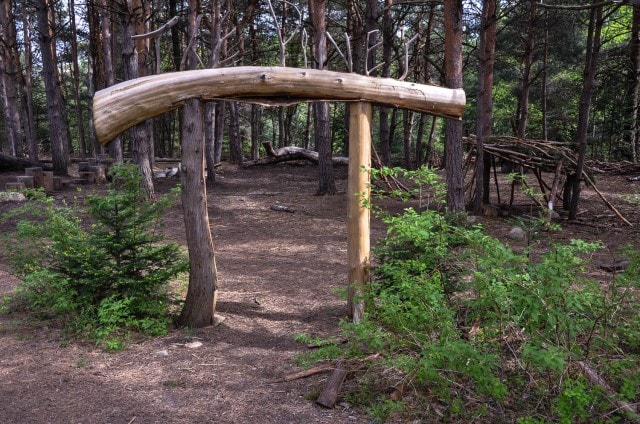 Do set aside plenty of time for Pines Nature Play Area. Inspired by Richard Louv, best-selling author of Last Child in the Woods: Saving Our Children from Nature Deficit Disorder, the playground is nothing more than a clearing full of sticks–all that any imaginative child needs to play outdoors.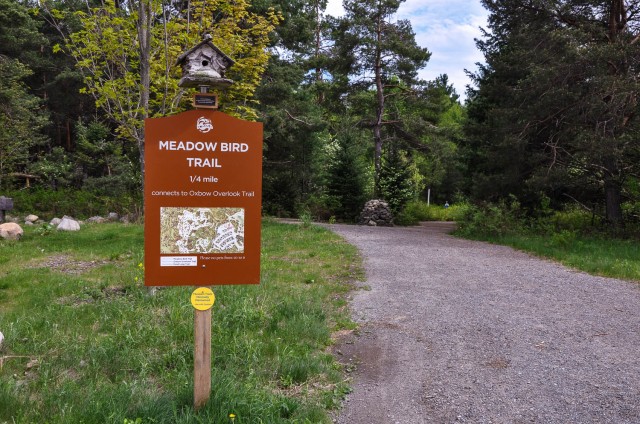 Education Programs
In addition to daily naturalist-led hikes, canoe trips, and animal encounters, the Wild Center schedules an ambitious calendar of events. If you get a chance to sign up for a bird watching eXpedition with professional guide and ornithologist Alan Belford, you won't regret it. This summer, I've got my eye on a photo tour with internationally renowned naturalist photographer Carl Heilman. Adirondack Medley programs, tailored to age-ranges, can be customized for group visits. Additional educational programming includes:
Junior Naturalist Program – Pick up a booklet upon arrival that families can fill out as they explore the Wild Center. Upon completion of the booklet patches are available for $1.00.
Planet Adirondack – In partnership with the National Oceanic and Atmospheric Administration (NOAA,) this guided experience features a giant Earth sphere that is used to show how the world works. More than 300 interactives showing a visually stunning array of images and infographics are used to answer a wide range of questions about weather patterns, super storms, trade, world economies, and so much more.
Behind the Scene Tours – Offered three times a week, these 1-hour tours get you up close with the live animal collection, including sneak peaks at the outdoor otter habita and some of the special education animals like the Ravens and Red Tail Hawks.
Adirondack Youth Summit –  Brings high school juniors and seniors, college students, educators, and staff annually in November to discuss how climate change is affecting them and their future.
Maple Work – A new sugar shack opened this spring which is being used for a community project in which people are bringing in sap that is transformed into syrup.
Flight of the Butterflies – Debuting on Saturday, July 6th, this "breathtaking new giant screen adventure" will follow the migration of the now threatened monarch butterflies over several generations from their northernmost home in the Adirondacks to their Mexican winter haven.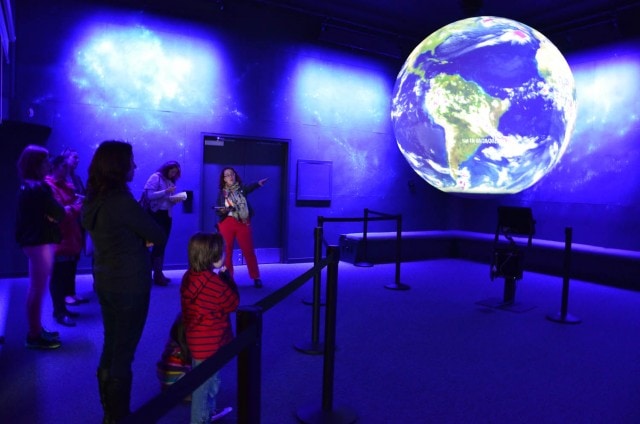 Plan a visit to the Wild Center:
Expect to spend at least three hours, and possibly longer, to explore all the indoor and outdoor exhibits at the Wild Center.
45 Museum Dr  Tupper Lake, NY 12986
(518) 359-7800 Website:
www.wildcenter.org
Open year-round, call ahead in April when the museum is usually closed for exhibit renovation. Admission: Adults $17, Youth $10, 3 and under Free By car, the Wild Center is 40 minutes from Lake Placid, 2:45 minutes from Albany, and 5 hours from New York City.
Family Fun in the Adirondacks
Disclosure – My second visit to the Wild Center was arranged as part of a fam tour to Lake Placid that included meals and accommodations at the Golden Arrow Lakeside Resort.