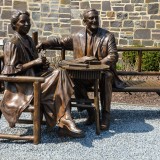 In a time when American presidents struggle to hold on to approval ratings into a second term, it's hard to imagine a politician with lasting power. Franklin D. Roosevelt was the only American president elected to more than two terms, holding office for a dozen years over four terms. Discover the secret of his popularity at the place he called home–Hyde Park, New York.
There are a number of places to visit in Hyde Park, NY that help tell the story of Franklin and Eleanor Roosevelt's lives, and soon the newly renovated presidential library and museum will join their ranks. But what's remarkable is how each site embraces creative methods of bringing history to life.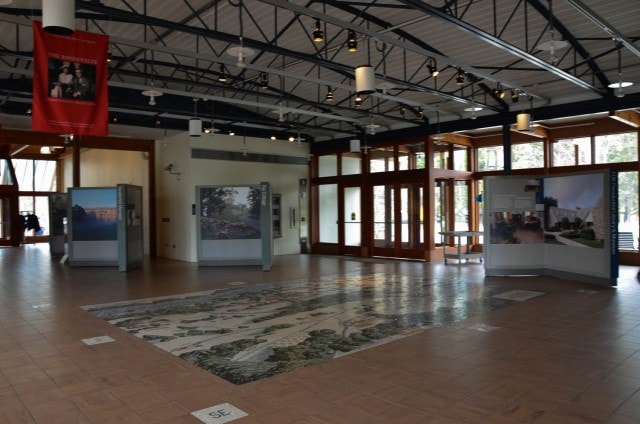 Henry A. Wallace Visitor and Education Center
Start your visit at the Wallace Visitors Center where you can purchase tickets and view the twenty minute film, "Rendezvous with History," featuring interviews with two of the Roosevelt grandchildren, Curtis Roosevelt and Anna Eleanor Roosevelt, as well as historic footage.
While there, take note of the mosaic tile pictorial map by Olin Dows, which shows all the Roosevelt properties as of 1949–from FDR's childhood home at Springwood to his retreat at Top Cottage–covering a distance of 7-plus miles wide.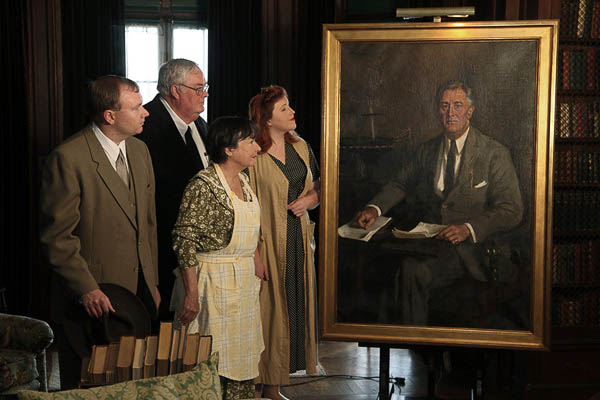 Home of Franklin D. Roosevelt National Historic Site
A good place to begin learning about Franklin Roosevelt is at Springwood Mansion, at the Home of Franklin D. Roosevelt National Historic Site. He was born here, lived here until he turned fourteen, raised five children here, and returned as often as he could during his long presidency. "This was where his heart was," says Scott Rector, Chief of Interpretation with the National Park Service.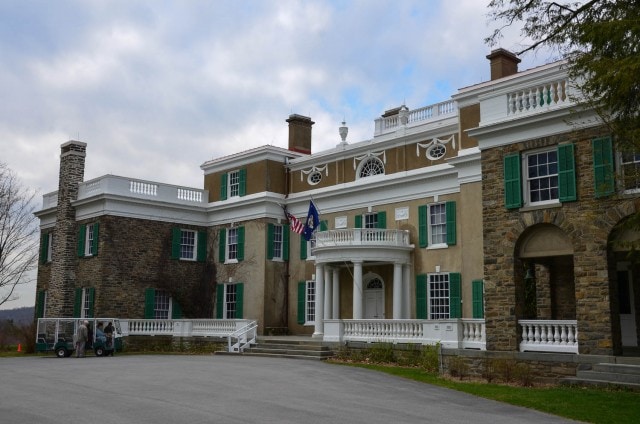 Roosevelt was close to his mother, a fact made apparent by the fact that Springwood belonged to Franklin's mother, Sara Delano Roosevelt. Just how close is elucidated by costumed interpreters in the "History Speaks" one-hour tour which introduces visitors to the Butler, Cook, Maid, and one of FDR's Secret Service agents.
We traveled back in time to 1939: FDR is in his second term, the New Deal is being implemented to counter the Depression, gas is 10 cents/gallon, a new car $700, and the average annual wage $1700. It is June 1939, and Springwood has just hosted King George VI and Queen Elizabeth from England – the first visit by reigning British monarchs to the United States. Here is the setting of the film Hyde Park on Hudson, which centered on the love affair between FDR and his distant cousin, Margaret "Daisy" Suckley.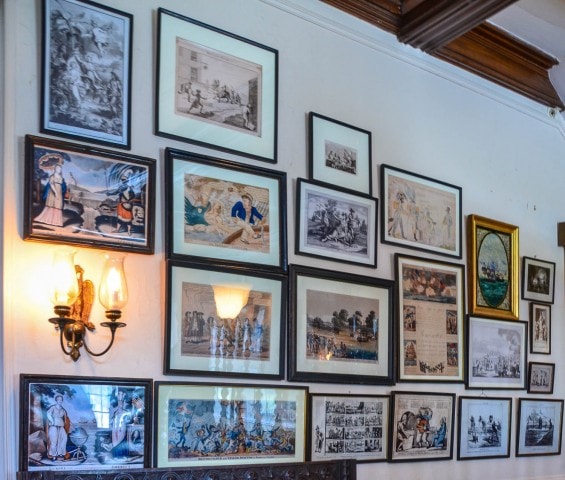 But from the Roosevelt's butler and secret service agent we learn about a different side to this historic visit. How the mansion was turned upside down trying to accommodate the White House staff, and how Sara Roosevelt desperately wanted FDR's collection of political cartoons–many dating to to the War of 1812, mocking the British–removed from the front foyer. They remained and when King George arrived, making a beeline to the prints, there was a tense moment. That is, until the king calmly remarked that Roosevelt had a couple of cartoons not in his collection.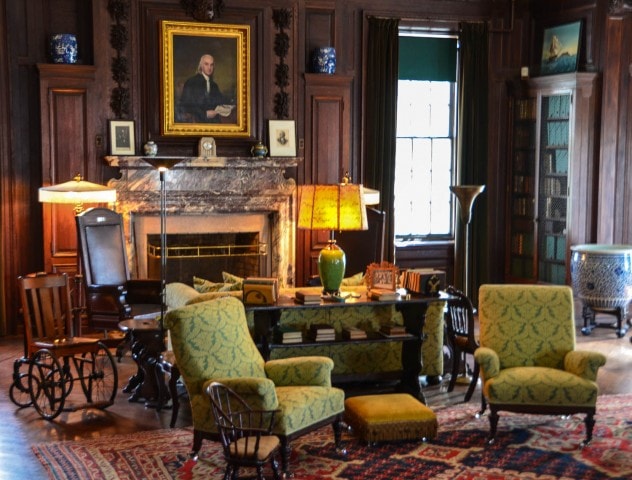 Our guides take us through the entire mansion, from the room where Franklin was born to the matrimonial bedroom outfitted with a direct telephone line to the White House. We see his wheelchair and the elevator outfitted to carry him and his chair to the bedrooms on the second floor. And you can't help but notice that the President and First Lady maintained close quarters with the president's mother.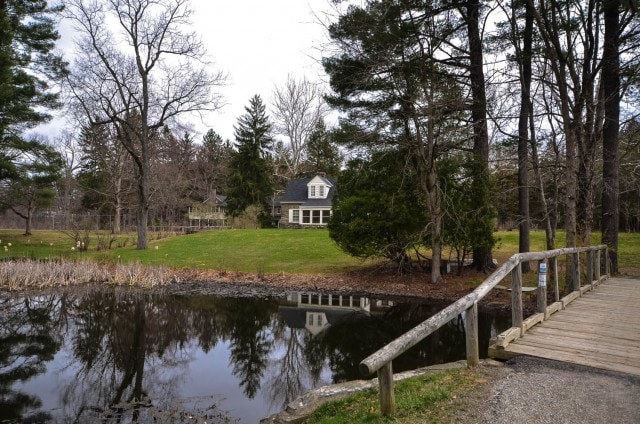 Val-Kill – Eleanor Roosevelt National Historic Site
After touring Springwood, you begin to see why Franklin and Eleanor Roosevelt might want their own personal retreat. For Franklin Roosevelt, that took the form of a stone cottage atop a steep hill. And for Eleanor Roosevelt, that desire manifested as a very modest stucco-plastered house planted where the family picnicked in warm weather.
If you happen to visit Val-Kill, Eleanor Roosevelt's home in Hyde Park, NY, on a weekday, you might be lucky enough to get paired with Doris Mack, the National Park Service tour guide who knew Mrs. Roosevelt personally. Ms. Mack knows everything there is to know about the "First Lady of the World," and she's not shy about telling it like it is either.
Walking through Val-Kill Cottage, Doris Mack praised the human rights leader, but she didn't hold back on sharing some of her faults.
Franklin D. Roosevelt described his wife as the "agitator." Eleanor Roosevelt believed that, "Nothing has ever been achieved by the person who says it can't be done." On a more personal note, Doris Mack revealed that Mrs. Roosevelt couldn't keep a cook at Val-Kill for long.
It seems that the gregarious hostess had a habit of inviting guests to dinner as she went about her daily rounds, often surprising the cook with a dozen extra mouths to feed. None of the cooks lasted long until one came up with a smart solution: preparing dinner for 20 every night, just in case.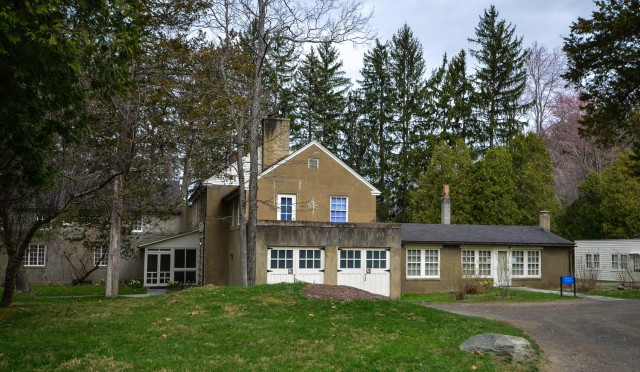 A visit to the  unprepossessing Val-Kill, the only National Historic site dedicated to a First Lady, has the warm, intimate feel of visiting a close friend's home. And now there's an even lovelier way to experience Eleanor Roosevelt's world–Cottage Conversations–where you can learn more about the historical times over tea and cookies. Led by a knowledgeable ranger in the Stone Cottage, these conversations are limited to 15 people, and last 45 minutes to an hour. To learn more, or to register for the free program, check here.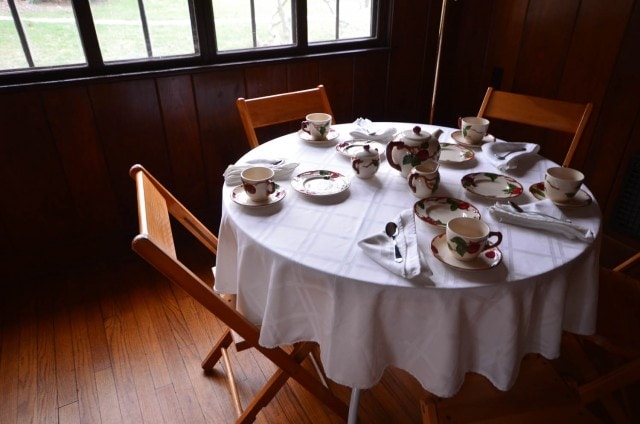 Vanderbilt Mansion National Historic Site
To understand the world of privilege that Franklin D. Roosevelt was born into, step into the Vanderbilt Mansion National Historic Site, one of the Hudson River valley's oldest and grandest estates. Owned by Frederick Vanderbilt, one of William H. Vanderbilt eight children, the building is a masterpiece of American Beaux-Arts design.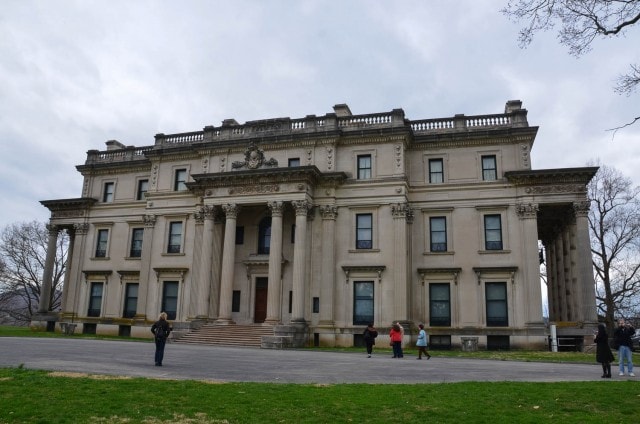 Frederick Vanderbilt built Vanderbilt Mansion in 1898, at the height of  of the Gilded Age, and lived there seasonally until his death in 1938.  His wife, Louise, was a passionate Francophile who had her bedroom decorated in the style of French aristocrates–beds cordoned off with an elaborate fence to maintain a proper distance from guests and even salespersons.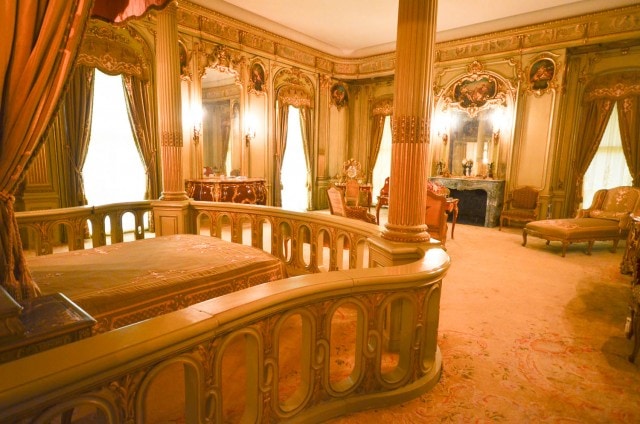 When in residence, the Vanderbilts hosted a number of guests and maintained a full social calendar. This aristocratic lifestyle required 22 servants for indoor assignments, not including the outdoor staff.
"Downstairs/Upstairs at the Vanderbilt Mansion" is a new experiential tour that gives guests the opportunity to explore the mansion from the perspective of the servants who once ran the place. Tours are 90 to 120 minutes long, and limited to 25 visitors, and best for children 10-years-and-older.
Our tour began downstairs, where I was issued the role of Parlor Maid. "At 6:30 you open the first floor rooms. You sweep floors and halls and answer the front bells and continue to work throughout the day assisting the butler and his staff in the care of the dining room. You wash the china and crystal in the butler's pantry after meals."
A far cry from the life of leisure lived by the socialites upstairs, but this was a good job in those days. Servants were treated well, and every one of them was remembered in Frederick's will. In turn, many were able to participate in on Oral History project during the transition of the Vanderbilt Mansion to the National Park Service. Look for this to become available online within the next year.
Franklin D. Roosevelt Presidential Library and Museum
On June 30, 2013, the Franklin D. Roosevelt Presidential Library and Museum will open after a $35 million renovation. New and exciting exhibits promise to emphasize Franklin and Eleanor Roosevelt's relationship with the American people. Sources tell us to expect a mix of cutting-edge technology and familiar icons. Familiar trappings of FDR's presidency such as the Fireside Chat setting, Oval Office desk, and Map Room, but with an innovative twist that will allow visitors to interact with artifacts in an immersive and engaging manner.
Educational Resources
More than 20,000 students each year utilize the educational resources at Visitor's Center and Presidential Library. Additionally, teachers and students can find extensive resources available online. Resources for teachers include: curriculum guides, document-based education programs, an interactive chronology documenting Franklin Roosevelt's daily schedule as President, and so much more. Students will find biographies, facts and figures, pictures, timelines, a document of the month, the Roosevelt Rap, a Periodic Table of the New Deal, and many resources for reading and writing about the Roosevelts.
Student are urged to consider using these resources for tackling a big project:
National History Day culminates in a national contest each June after a series of competitions held first at the school, regional, and then state levels. In addition to making history fun to learn and teach, National History Day requires students to support their projects with multiple primary sources and is designed to help students acquire important research and critical thinking skills.
Find all these links (and more) listed on Education Programs and Resources.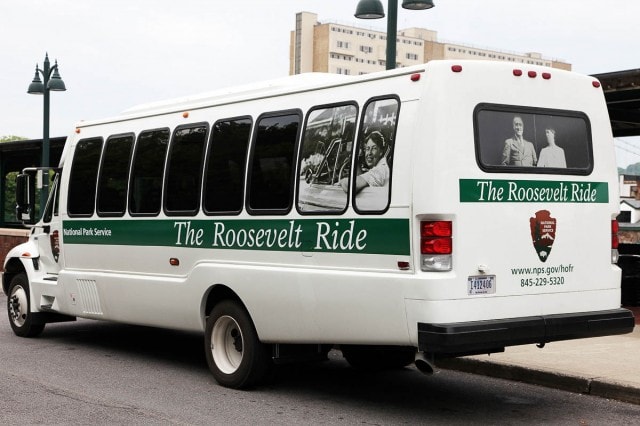 Getting Around Hyde Park, NY
The Roosevelt Ride shuttle makes the rounds between all of these points, as well as stopping at the Poughkeepsie railroad station to meet the 10:37 MetroNorth morning train. (Amtrak also provides service to the Poughkeepsie station, but you may have to take a taxi to get to Hyde Park if you miss the Roosevelt Ride shuttle.) Please note that due to the sequester budget cuts, one point of interest–Top Cottage, FDR's retreat–will remain closed to visitors for the 2013 season. Keep in mind that each of these sites can take 2-3 hours to visit, plan accordingly.
More Things To Do in the Hudson Valley
You might like: