Visiting the Metropolitan Museum of Art with kids is one of the great treasures of the world, and one of our favorite things to do in NYC.
What if I told you there was untold treasure within reach? And all you had to do was travel a short distance to find it?
It's true. Less than a three hour drive from Albany, an easy day trip gets you to The Metropolitan Museum of Art where you will find an amazing art collection that spans history and geography to tell the story of man through the richness and splendor of some of the world's most beautiful artifacts.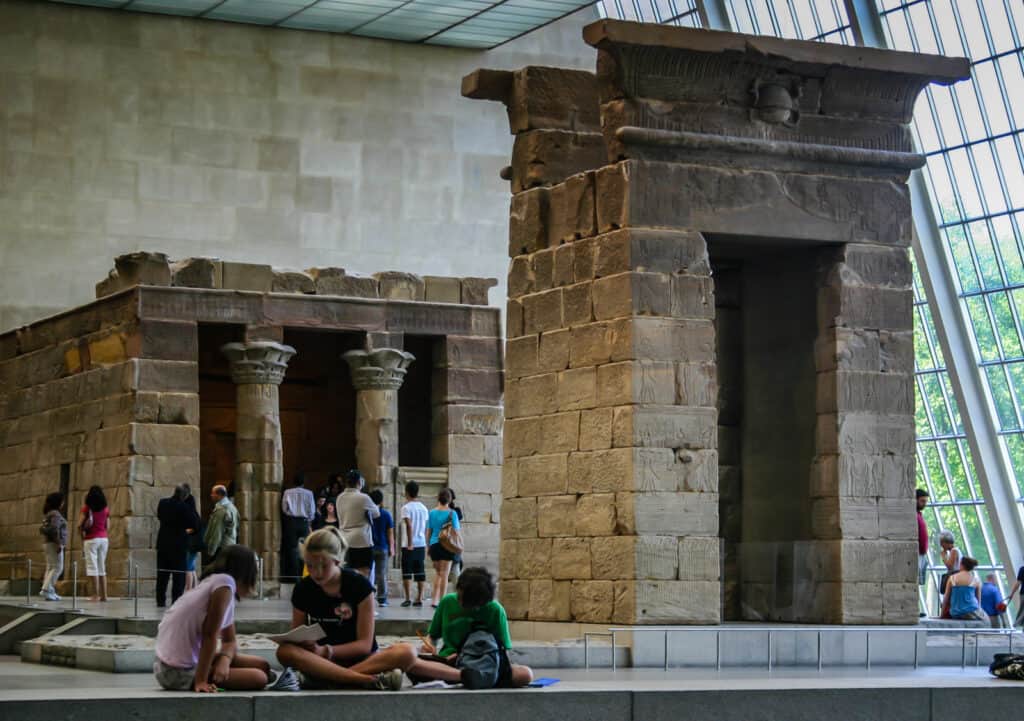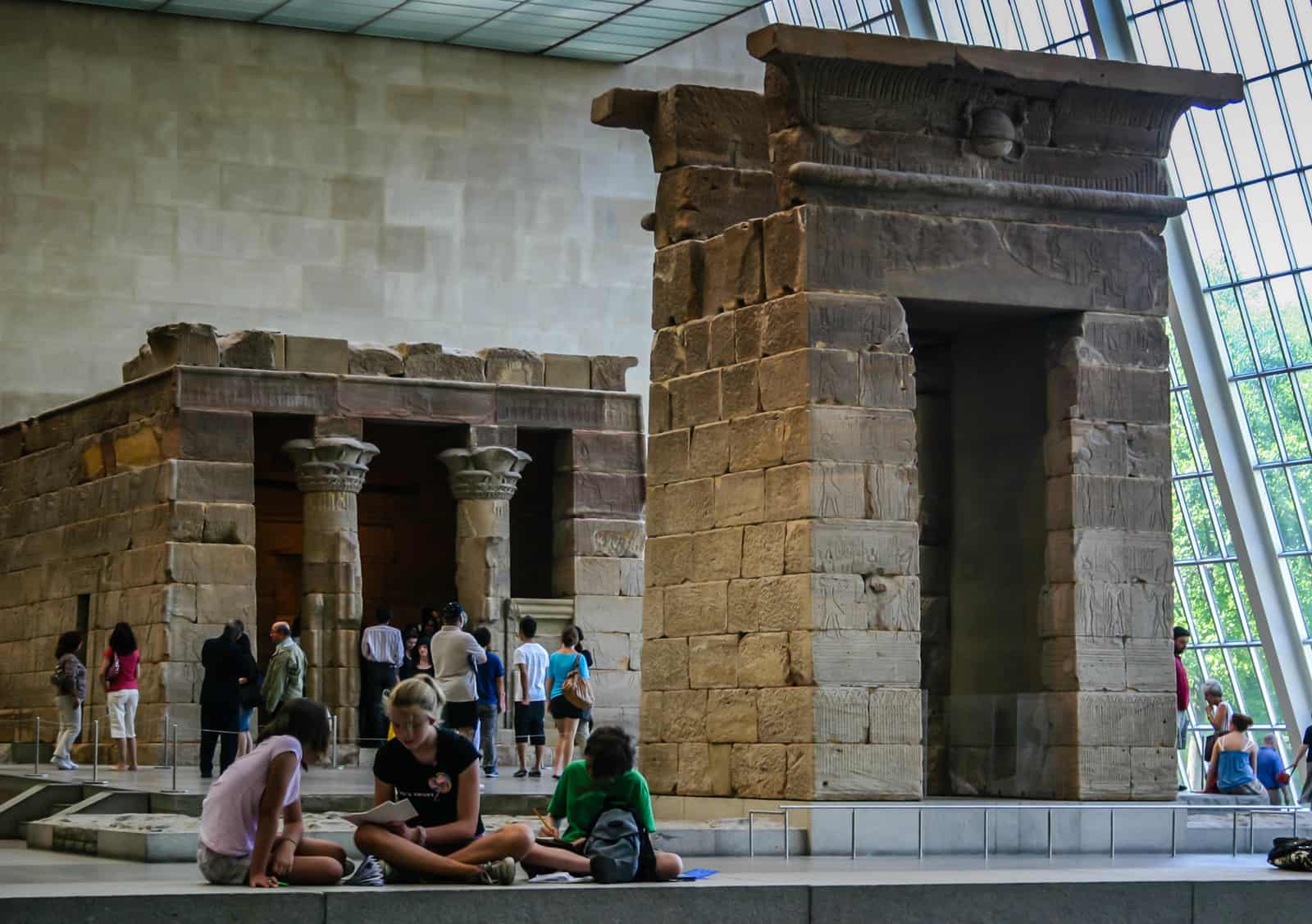 Tips for a Family Visit to The Metropolitan Museum of Art with Kids
Plan ahead. Before the trip, explore the museum's website to decide which exhibits and/or tours you would like to see. Schedule a guided tour at the Met custom-tailored to match age level and interests, or create your own self-guided tour with the museum's Lesson Plans and Pre-visit Guides.
Get Ready. Encourage your child to become an "art expert" on the museum's Kid Zone where they can learn about the art collections from online games, virtual tours, and informative guides. Consider borrowing a book or video from your library; many art books include at least one item that can be found at the Met. (See below for great suggestions from Dawn at Moms Inspire Learning.)
Read a storybook. A great way to build enthusiasm for the visit is to read a storybook set in the museum, and in this case, there are TWO all-time favorites: From The Mixed-Up Files of Mrs. Basil E. Frankweiler and the first of The Lightening Thief series. The Met makes it easy to explore the book setting by providing a downloadable Family Guide to these, and other art works.
Keep it simple. Don't try to see the entire museum collection in a day. A good rule of thumb is that the younger the child, the less you should try to see. Young children may be easily overwhelmed by too much noise and commotion, so you might want to stick to the museum's quiet zones such as those find in The Cloisters in the uptown branch or the serene gardens of the Asian Arts collection.
Fun activities. Keep the visit entertaining by providing amusing activities. The Family Guides provide lots of great ideas, but here are a few more: let your "art expert" lead a tour; pack a drawing pad and colored pencils, and give your artist time to sketch favorite pieces; and/or purchase postcards from the gift shop, and go on a scavenger hunt.
Sweet treats. Every great museum visit includes a snack or desert. There are many fine dining options in the museum, but my preference is to head outdoors for (hot dogs and the divine cupcakes at the Cake & Shake stand.)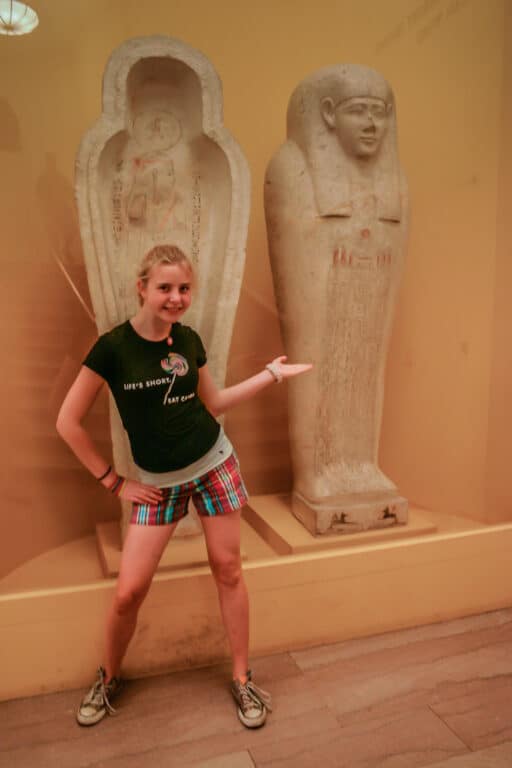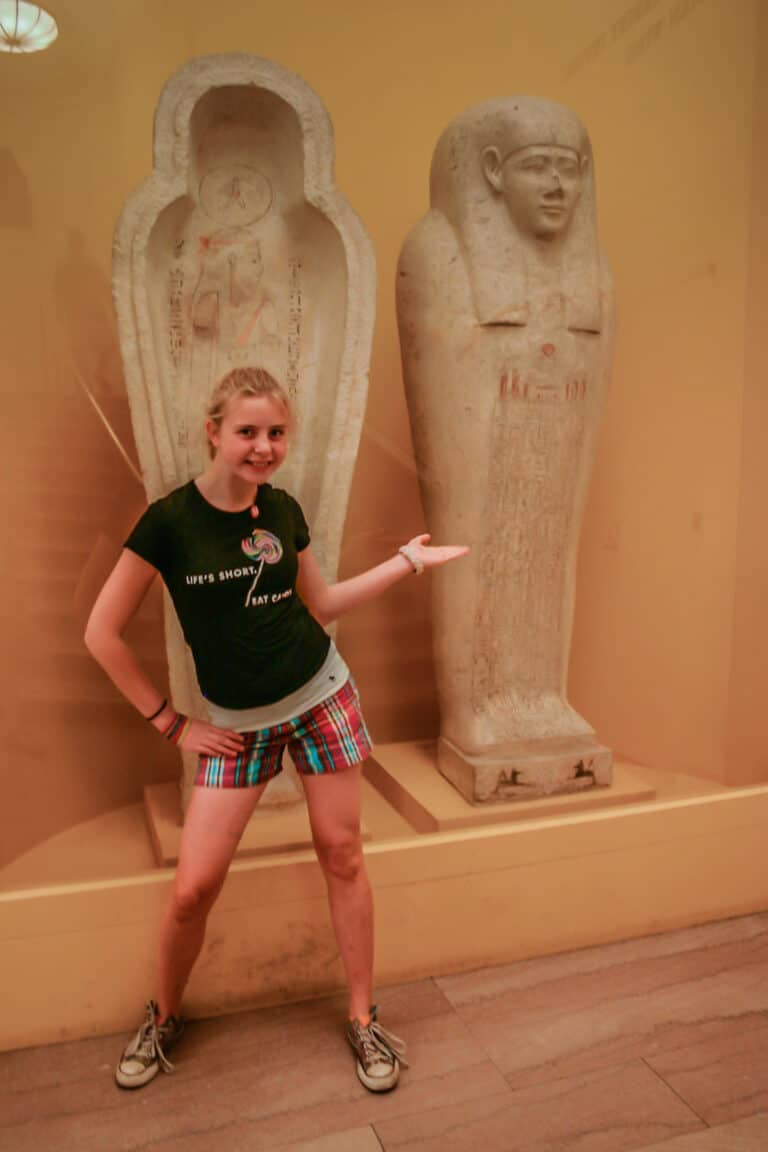 Kid-Friendly Art Adventures at The Met
Here are a few of our adventures at The Met, with resources to plan your next visit.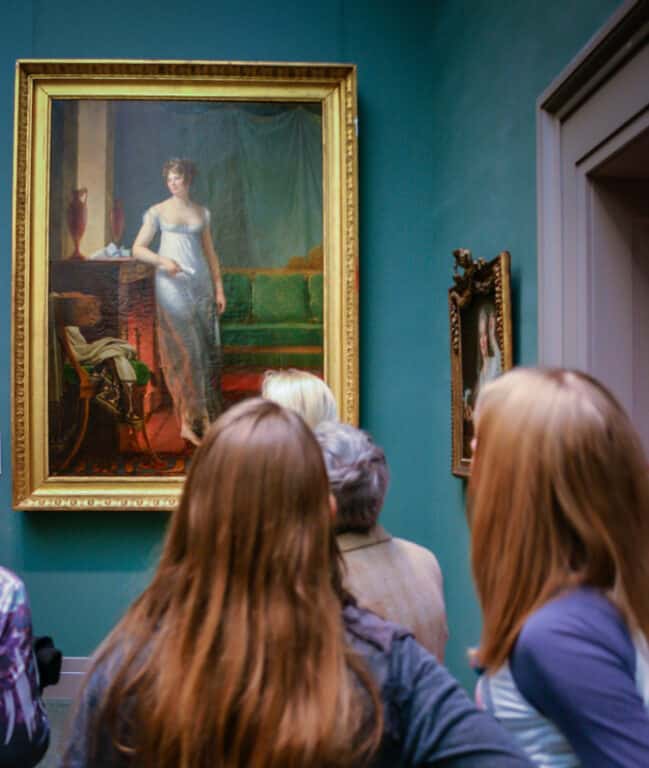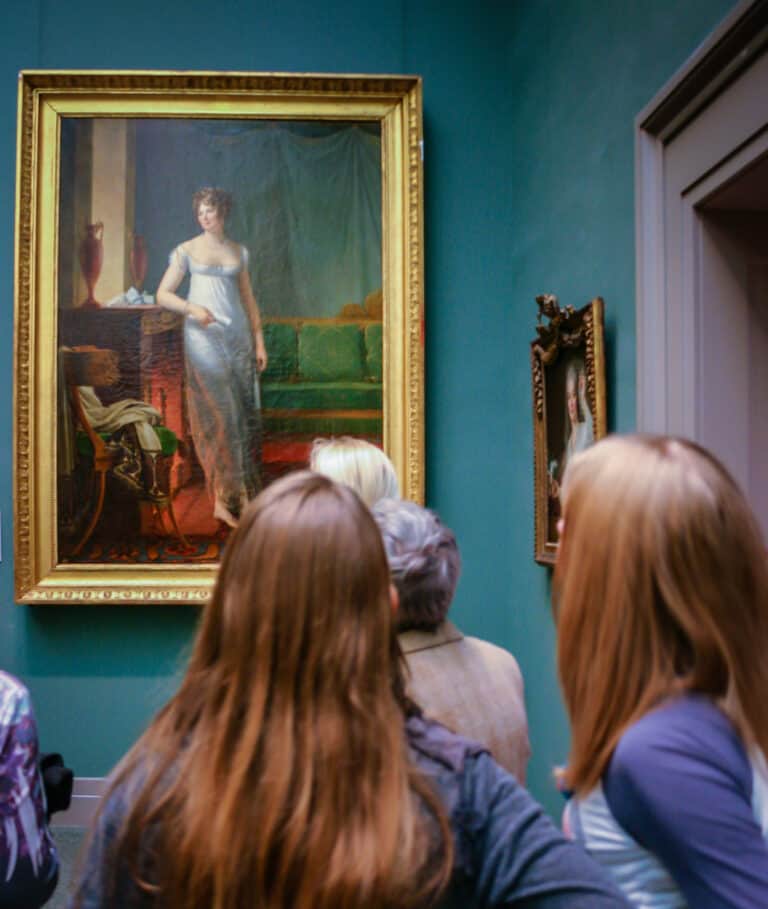 Books on Art for Kids
I asked Dawn, at Moms Inspire Learning, for advise and book suggestions to inspire young artists and readers. Here is her awesome list: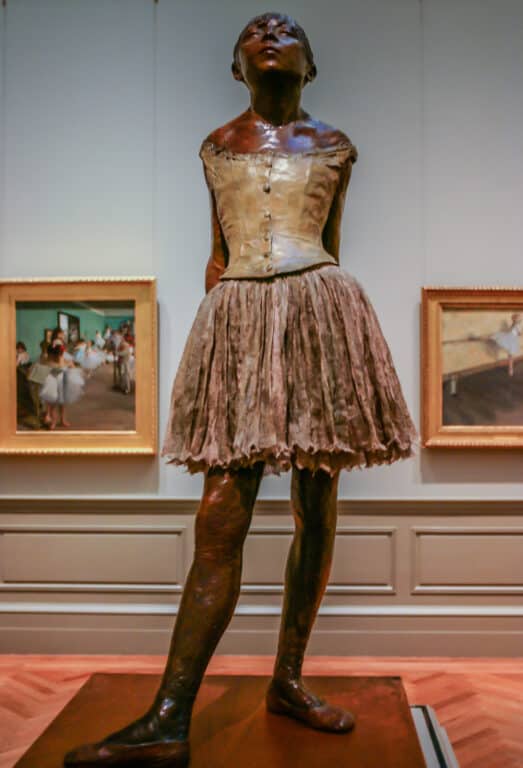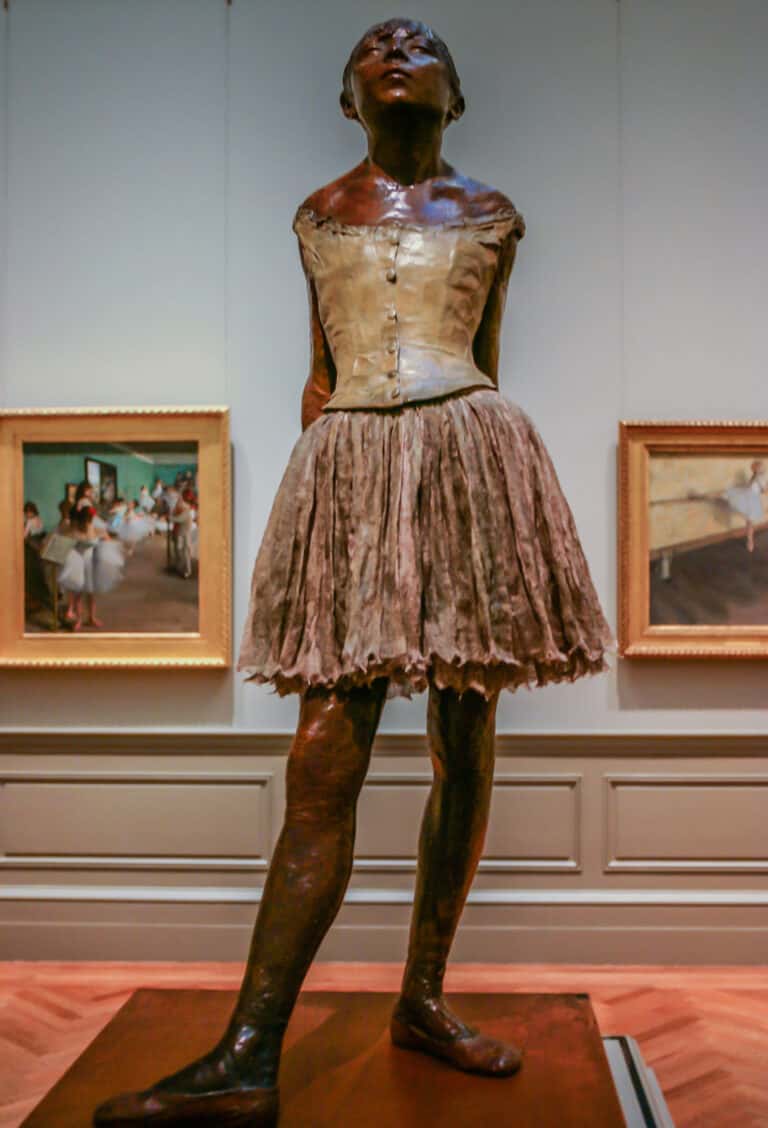 Family-friendly Museum Etiquette
My daughter's school sent home this list in preparation for a class trip to The Metropolitan Museum of Art. It's great advice, so I'm including it in its entirety:
Museums are awesome, but only if everyone in them behaves politely and appropriately. Below are some basic rules for being a good museum guest. Some have to do with simply being polite, and some have to do with the more serious matter of the safety and preservation of the objects themselves. Many of these art works are fragile, so please stick to the rules so we can help keep these fabulous works of art in good condition for future generations to enjoy!
No cameras. Yes, I know museums usually just say "No flash photography." It is, however, impossible to ensure that your flash will not go off on accident. The bright light from a camera flash is very damaging to many of the pieces that are on display so, to be safe, DO NOT TAKE PICTURES OF THE ART. (Note that with a small family group, it's quite easy to follow the "No flash" rule. And if your child is into photography, this might be the best way to capture their interest.)
No pens. You should bring a notebook (preferably one with a hard cover for writing on) and should feel free to sketch any of the pieces and/or take notes on the exhibits. You must, however, do so IN PENCIL. Pens/ink can cause serious damage.
No backpacks. You should check your bags and coats at the coat check in the lobby. Carry a notebook and pencil and MAYBE A SMALL BAG for your wallet and phone. You don't want to be carrying lots of heavy stuff and you really don't want to knock something over with the huge bag you are carrying. Seriously consider wearing something with pockets.
No touching the art. Even the sculptures. Even if you see other people doing it. The oils/dirt on your hands builds up on sculpture over time and can corrode the metal, discolor the stone and generally cause serious damage.
No running.
No eating in the museum (unless you are in the museum café).
No liquids (water bottles).
No chewing gum.
No yelling. Please keep your voices down. It is great to discuss what you see, but other people are there to enjoy the work, too.
No talking on your cell phones or texting in the museum. Turns your phones off or put them on SILENT until we leave the museum for dinner.
No shoving people out of the way to get right in front of a piece. Please be considerate of others.
No spending all your time in the gift shop. We are very fortunate to have such an amazing museum of art only 2+ hours away from us, please do not waste this opportunity to see famous works of art by spending your time socializing and shopping.
Go See It!
The Metropolitan Museum of Art 1000 Fifth Avenue at 82nd Street New York, NY Tuesday–Thursday: 9:30 a.m.–5:30 p.m. Friday and Saturday: 9:30 a.m.–9:00 p.m.
Sunday: 9:30 a.m.–5:30 p.m.
Monday: Closed (except Holiday Mondays) Admission: Free to children under 12, $25 (recommended fee) for adults. Parking: Approximately $35/5 hours