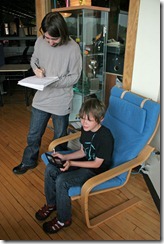 Did you know that you could sign up to be a video game tester? A couple of video game developers in the Capital Region actively recruit the "professionals" – kids who like to play video games.
My son has been called up to serve a couple of times at 1st Playable, and each time he has learned a little more about the process of video game making. He has met with artists and engineers and learned as much from them, as they learned from him.
On this post, I have included links to two local game testing programs, as well as a few other resources for kids who are into playing or making video games. Am I missing any? Please share!
Game Testing Programs
Register your child to be a video game tester at any of these locations:
Game Events
Computer Clubs
Go See It!