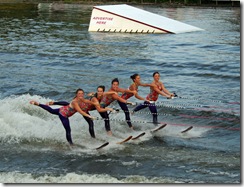 You don't need a De Lorean to drive back to the future at Jumping Jacks in Scotia, NY. Set on the bank of the Mohawk River, this retro eatery has been around long enough to experience Happy Days first hand. And, on select nights, you can enjoy the show put on by a team that has been around since that day, forty years ago, when a pack of teens got a wild idea to pass long summer days practicing ski tricks on water.
Jumping Jacks has an extensive menu of fast, fried food and frozen deserts, but I heartily recommend the signature item, a Jackburger. This filling, double beef patty hamburger has a not-so-secret ingredient – coleslaw IN the bun!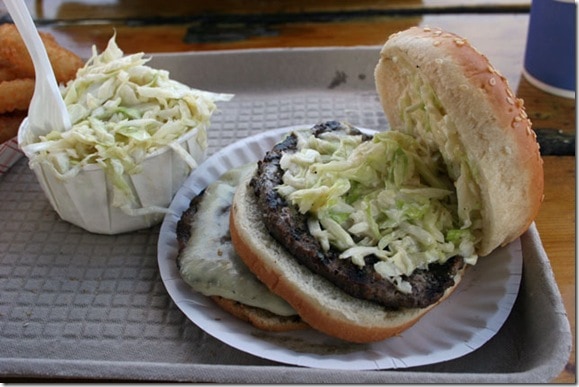 Keep in mind that there are Rules of Etiquette for Jumping Jacks, and the very first of these is that you know what you want to order before you get to the head of the line. You might want to check the menu online before you go, and when you get there beware the parking rule:
10) Parking: Hot cars rule.The corner in front of the Twin Freez ice cream building is the place for hot cars and bikes. Check them out while your there. If you drive a mini-van or SUV there are plenty of other spots to park.
Our beat up Suburban definitely didn't qualify for Hot Car Parking!
On Tuesday nights, you can enjoy dinner with a show. Grab an ice cream cone, and head down to the river's edge to watch the U.S. Water Ski Show Team perform their daring stunts. They're amazing, able to gracefully glide on water while stacked high in a multi-person stack, and smiling all the while!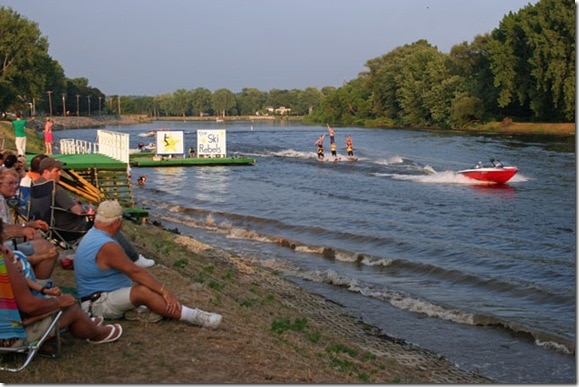 Find It!
Jumping Jacks Drive In
5 Schonowee Ave. Scotia, NY. (518) 393-6101 Open Daily 11:00 am – 10:00 pm Website:
www.jumpinjacksdriveininc.com
Interested in participating in the water ski show? Learn about ski clinics and more on www.uswaterskishowteam.com.
U.S. Water Ski Show:
Where: Along the Mohawk River behind Jumping Jacks (5 Schonowee Ave Scotia, NY)
When: Tuesdays at 7pm, starting June 25, 2013. Check the calendar for all events.