Finding a great children's book to give this holiday just got easier. Children's book experts from Scholastic Book Clubs and Scholastic Book Fairs have just revealed their picks for  the most popular new children's books this 2011 holiday season.
"Parents, grandparents and educators all know the value of giving the gift of reading to kids, but we know they also struggle to compete with the hot new toy, electronic device or video on the market," stated Francie Alexander, Chief Academic Officer at Scholastic. "This list was curated by the experts at Scholastic Book Clubs and Book Fairs to help shoppers identify the books that will be sure to delight a child as much as any other favorite gift."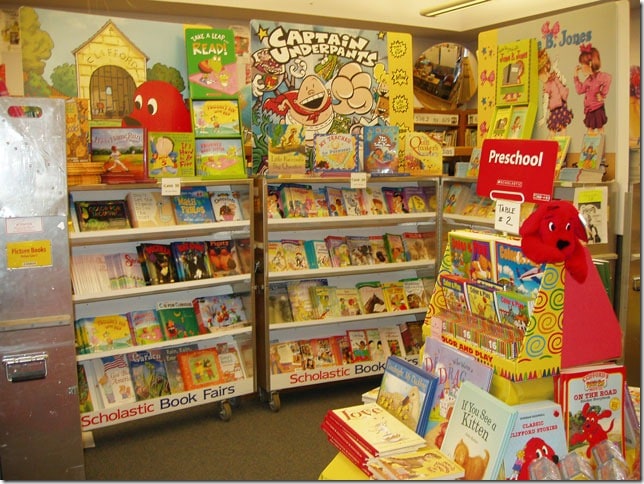 Scholastic's Holiday Gift List for Kids:
Picture Books
10 Little Caterpillars by Bill Martin Jr., illustrated by Lois Ehlert (Simon & Schuster): A visually stunning read-aloud from the creators of Chicka Chicka Boom Boom!
12 Days of Christmas written and illustrated by Rachel Isadora (Penguin): The beloved holiday song brought to life in breathtaking illustrations.
A Bad Kitty Christmas by Nick Bruel (Roaring Brook Press): One of the best and funniest Christmas picture books this season.
Can You See What I See? Toyland Express written and illustrated by Walter Wick (Scholastic): This eighth title in the bestselling search-and-find series features a Toyland theme.
If You Give a Dog a Donut by Laura Numeroff, illustrated by Felicia Bond (HarperCollins): If you give a child this book, he or she is sure to love it!
Llama Llama Home with Mama by Anna Dewdney (Penguin): Llama Llama stays home with a cold in this sweet new addition to a very popular series.
The Man in the Moon written and illustrated by William Joyce (Simon & Schuster): This first book in the Guardians of Childhood series tells the epic tale of how a child named MiM became the Man in the Moon.
Pinkalicious: The Princess of Pink Treasury written and illustrated by Victoria Kann (HarperCollins): Five stories, an audio CD, plus several fun "extras" make this the ultimate Pinkalicious collection.
Transitional Readers and Chapter Books
Clementine and the Family Meeting by Sara Pennypacker, illustrated by Marla Frazee (Disney Hyperion Books): Fans of Junie B. Jones and Ramona will love watching Clementine get into (and out of) her latest sticky situations.
Fly Guy: Fly Guy vs. the Flyswatter! by Tedd Arnold (Scholastic): More action-packed entertainment for beginning readers starring a boy named Buss and his pet fly.
Magic Tree House: Dogs in the Dead of Nightby Mary Pope Osborne, illustrated by Salvatore Murdocca (Random House): In this wintry, magical adventure, Jack and Annie travel to the Swiss Alps.
Rainbow Magic: Magical Holiday Boxed Set by Daisy Meadows (Scholastic): Just in time for the holidays, this magical boxed set includes four sparkly special editions.
Super Diaper Baby 2: The Invasion of the Potty Snatchers by Dav Pilkey, George Beard, and Harold Hutchins (Scholastic): The long-awaited sequel to the bestsellingThe Adventures of Super Diaper Baby is filled with Dav Pilkey's usual laffs, guffaws, and action-packed fun.
Middle Grade Fiction
Darth Paper Strikes Back: An Origami Yoda Book by Tom Angleberger (Abrams): Dwight and his all-knowing finger-puppet return in this sequel to the bestselling book,The Strange Case of Origami Yoda.
Diary of a Wimpy Kid: Cabin Fever by Jeff Kinney (Abrams): The sixth book in Jeff Kinney's wildly popular cartoon-filled series.
Dead End in Norvelt by Jack Gantos (Macmillan): A wildly funny story about a boy's strange and memorable summer in a small town.
The Heroes of Olympus, Book Two: The Son of Neptune by Rick Riordan (Disney Hyperion Books): The latest must-read in The Heroes of Olympus series.
Middle School:  The Worst Years of My Life by James Patterson and Chris Tebbetts, illustrated by Laura Park (Little, Brown and Company): A hilarious and poignant story about the wacky ups and downs of being a middle-schooler.
The 39 Clues: Cahills vs. Vespers Book 2: A King's Ransom by Jude Watson (Scholastic): Just in time for the holidays, the latest installment in the bestselling 39 Clues series.
Torn by Margaret Peterson Haddix (Simon & Schuster): New in The Missing fantasy-adventure series.
War Horse by Michael Morpurgo (Scholastic): The basis for the Tony award-winning play and a new movie from director Steven Spielberg.
Wonderstruck written and illustrated by Brian Selznick (Scholastic): Two stories, one told through pictures and one told through text, merge with unforgettable results in this stunning book by the Calecott-winning author of The Invention of Hugo Cabret.
Young Adult Fiction
Crossed by Ally Condie (Penguin): Sequel to the bestselling Matched.
The Eleventh Plague by Jeff Hirsch (Scholastic): It's the end of the world as we know it—and an adventure awaits.
This Dark Endeavor: The Apprenticeship of Victor Frankenstein by Kenneth Oppel (Simon & Schuster): In this gothic adventure, a young Victor Frankenstein discovers an ancient formula for the Elixir of Life.
The Hunger Games Trilogy Boxed Set by Suzanne Collins (Scholastic): The perfect gift for adventure- and suspense-loving teens.
Inheritance by Christopher Paolini (Random House): The much-anticipated conclusion of the bestselling Inheritancecycle.
Okay For Now by Gary D. Schmidt (Clarion Books): A terrific coming-of-age story and one of the year's must-read novels.
The Scorpio Races by Maggie Stiefvater (Scholastic): A captivating adventure from the #1 New York Times bestselling author of Shiver.
Nonfiction (all ages)
Guinness World Records 2012 (Guinness World Records): A perennial favorite with readers of all ages, this year's edition features new topics, a dynamic new design, never-before-seen photos, and thousands of new records.
How Cool Is This: An Up-close, Inside Look at How Things Work (DK Publishing): This fascinating compendium of gadgets and gizmos shows how various inventions work.
The Hugo Movie Companion: A Behind the Scenes Look at How a Beloved Book Became a Major Motion Picture by Brian Selznick (Scholastic): This insightful gift-book shows how Brian Selznick's The Invention of Hugo Cabret (winner of the 2008 Caldecott Medal) was adapted for the much-anticipated movie Hugo, directed by Martin Scorsese.
Lego Harry Potter: Building The Magical World (DK Publishing): A fascinating look at the Lego Harry Potterworld and how it's created.
Lego Star Wars Character Encyclopedia (DK Publishing): This illustrated encyclopedia offers an in-depth look at the mini-figures of Lego Star Wars.
Ripley's Believe It or Not!: Special Edition 2012 (Scholastic): This collection of strange but true facts makes for fascinating reading.
These books are available through Scholastic Book Clubs and Scholastic Book Fairs in schools and online at www.scholastic.com/bookclubs.
When you purchase these or any other books through Book Clubs and Book Fairs you are helping out your child's school. Teachers are awarded bonus points through Scholastic Book Clubs to purchase books and materials for their classrooms, and schools raise money through their Book Fairs to support the school community.
You Might Like: