Going to visit Lake Placid? The High Peaks Resort offers accommodations within walking distance of everything in the village.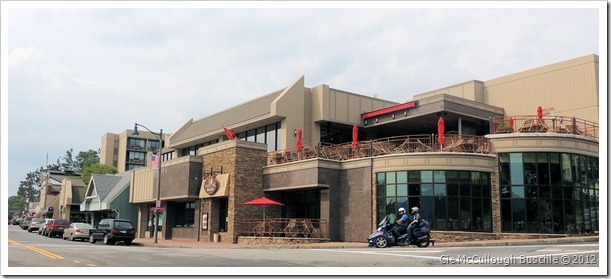 My kids and I recently were invited to spend a few days as the guests of the High Peaks Resort in Lake Placid. Years ago, back when it was the Hilton, I had stayed here with my parents. I was thrilled to share the experience with my children of staying right in the center of a little village that has hosted two Winter Olympics.
A Hotel with a History of Hospitality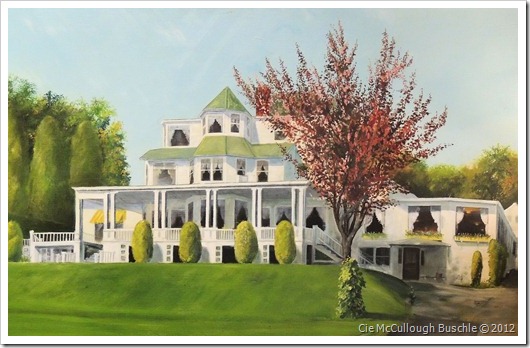 Back in 1922 Thomas F. Roland bought a simple inn from F.D. Viall called The Homestead. Sixty years later that same Adirondack inn had grown into the Lake Placid Hilton Resort, catering to guests from all over the world during the 1980 Winter Olympics. Now the High Peaks Resort, with world class accommodations and meeting facilities, the little inn that was once The Homestead has turned into the best place in town to stay. Although the original building is no longer standing, this painting today hangs in the lobby to remind employees and guests alike that they all are part of a tradition of hospitality over a century old.
Beautiful Views, Inside and Out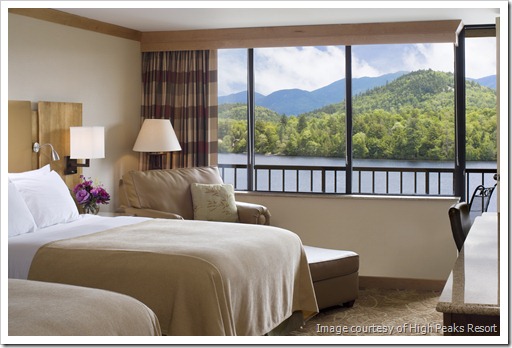 From the moment we walked in the room, we felt privileged to stay in such a beautiful place. Not just furnishings and amenities, but the view! Every time we looked out the window we were reminded of how beautiful the Adirondacks are, at any time of year.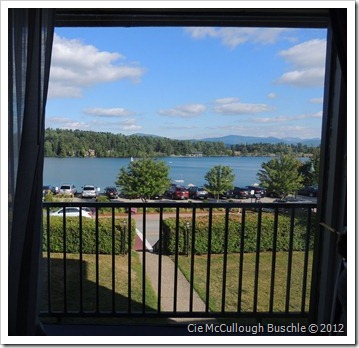 High Peaks Resort is much more than a single hotel: it's three! There is the main building, with courtyard rooms and suites, while just across the street are waterfront rooms, with Mirror Lake only steps outside your door. The view is just as beautiful from any window.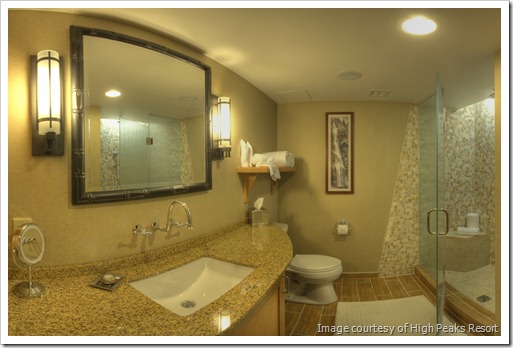 The bathroom was absolutely stunning, especially the shower stall. The walk-in shower has natural stone instead of tile, a small seat, and both a hand held faucet and rainwater shower head. Even my 13 year old was eager to use it.
So Much to Do! So Much to See!

Both my kids were eager to use the free waterfront amenities, which included kayaks, row boats and paddle boats. Mirror Lake is so serene and peaceful it's easy to stay out for hours.There is also a pool down by the water, another in the courtyard, and an indoor pool on the fourth floor of the main building. For the fitness buff High Peaks Resort has a state of the art fitness center, and for those who would rather be pampered a well appointed spa.
The first night of our stay we decided to try out Outdoors at Dancing Bears. The pan seared scallops were superb and my vegetarian daughter loved her first portabella burger. One of the neighboring tables had gotten fondue, a specialty of outdoor deck restaurant, so we decided to come back a second night and try it out. We had the Vermont Cheddar & Lake Placid UBU Ale fondue, which comes with bread cubes, and added on everything: Filet Tips, Crudités. Apples and Fingerling Potatoes. It's billed as "Fondue for Two" but with the extras it was more than enough for us three.
For year round dining, High Peaks Resort also has the Dancing Bears Restaurant, right on street level, which is open for breakfast, lunch and dinner. During the fall and winter months PR's Lounge is open Thursday through Saturday, 4:00 -10:00pm. PR's, named for Peter Roland of the original Roland family owners, is conveniently located in the lobby and offers tapas and fondues in their After 5 menu.
Get Down to Business with High Peaks Resort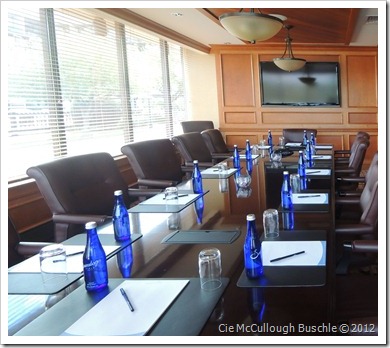 High Peaks Resort is the perfect spot for a meeting, with more than 10,000 square feet of room that can accommodate business meetings and parties alike. Combine the business meetings with skiing, golfing, hiking and you have the best of both worlds. They also offer unique group and teambuilding activities, combining their facilities with Olympic venues or special Adirondack experiences.
The resort also offers full banquet and catering facilities, as well as destination weddings with indoor or outdoor receptions and ceremonies. The wedding packages can even include rehearsal dinners and guest accommodations.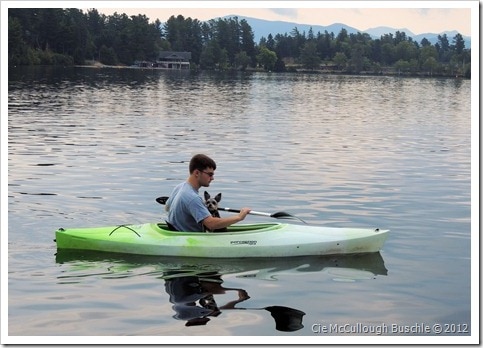 See For Yourself!
Check out the numerous Specials & Packages that High Peaks Resort has to offer, or just take a drive through the beautiful Adirondack Mountains and spend a few days with your family. We even brought along my dog Einstein (see their privacy policy for more information on bringing your own dogs). If you can find Lake Placid – about 30 miles from exit 30 on I87 – then you'll have no trouble finding the High Peaks Resort, 2384 Saranac Ave, Lake Placid, NY.
Disclosure: I received a complimentary stay provided by High Peaks Resort for the purposes of writing this article. As always, my opinions are mine alone.
More in Lake Placid: