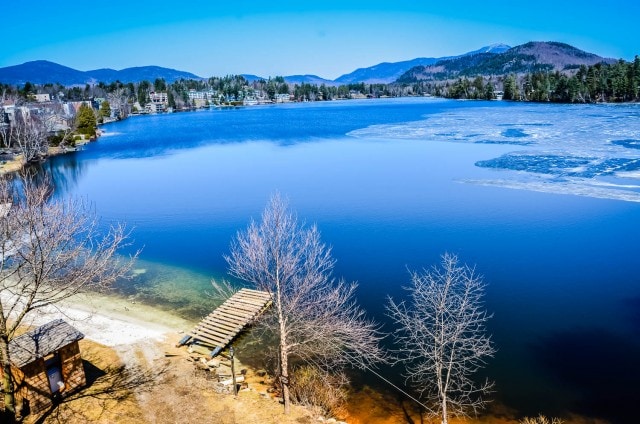 If it were left up to Jenn Holderied, Golden Arrow Resort's General Manager and second-generation proprietor, all of Lake Placid would be certified as a Green destination. As it is, the young mom and local Ice Meister has been instrumental in helping the hotel earn Audubon International's platinum level eco-certification, the highest available honor awarded to only six properties nationwide. In April, I joined her for a tour of the resort's green initiatives, but I came away thinking that the environmentally-conscious measures also make the Golden Arrow a great place to stay with kids.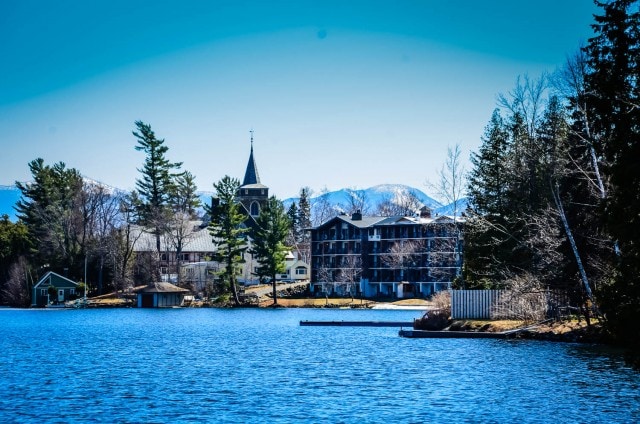 Green Is the Adirondack Lifestyle
Mirror Lake (the only actual lake in Lake Placid) is one of the cleanest lakes in New York State; home to the USA canoe/kayak team, this is where where athletes train for the Iron Man. Surrounding it are the evergreen trees of the Adirondack Park, a 6.1 million acres wilderness that is roughly the size of Vermont. For generations, local and visitors have been coming to the protected land for hiking, rockclimbing, flyfishing, birding, and countless other outdoor sports. And perched on one of the choicest bits of lakeside property is the Golden Arrow Resort, a family owned and operated hotel for over thirty years.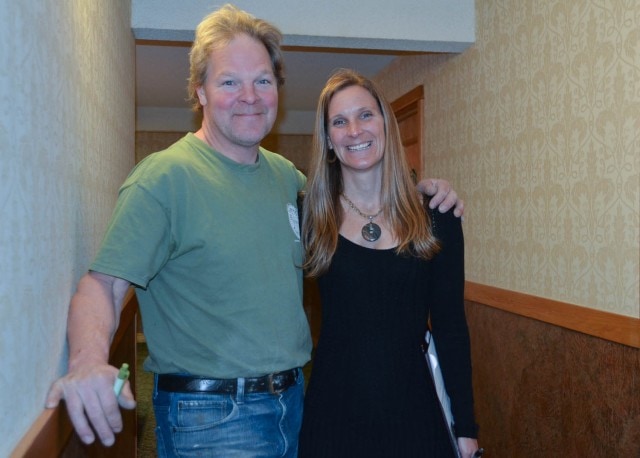 ReUse Runs In the Family
Jenn's brother Peter took over the hotel's construction and remodeling projects years ago, but everything they learned about conservation comes from their parents, German immigrants Winfried and Stefanie Holderied.  It was the patriarch who insisted on using discarded wood from a restaurant remodel to do the wood paneling in the lobby, and when you look around the hotel you see evidence of many other reuse remodels.
That's why as much as they might want to jump right into green projects, it's done thoughtfully.  For example, they had been wanting to convert to energy-efficient lighting but hesitated over the cost of new CFL light bulbs. Until one day a boy scout walked in, offering to sell them at $1/bulb. Even so, they didn't just dump working existing lights. Instead, they replaced the lightbulbs as needed.
Even the pool was not renovated until the plumbing was over 20 years old and no longer operating efficiently. So it made sense to replace with a more energy and water efficient system, and to switch from chorine to the less harsh bromide. At the same time, the decking was replaced with flagstone from a local quarry.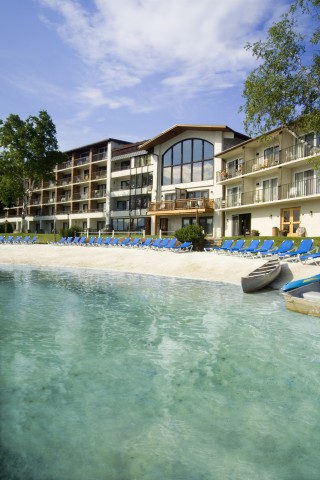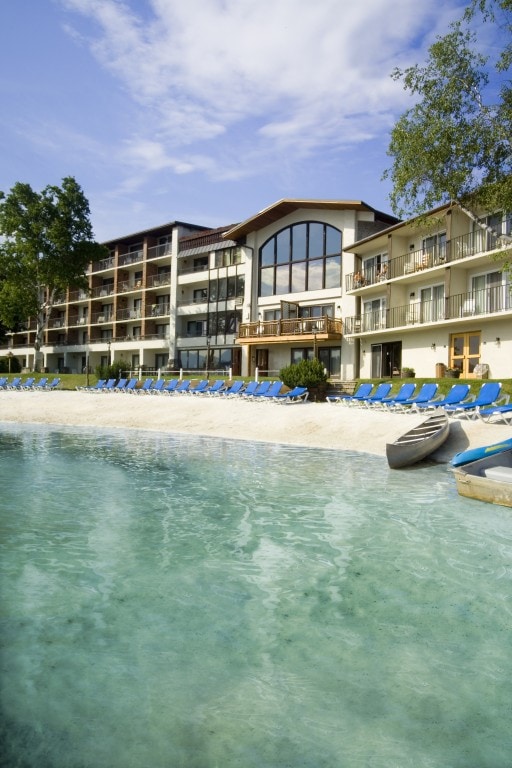 White "Sand" Beach
Thoughtful, problem-solving conservation appears to be the hallmark of the Golden Arrow. One of the most family-friendly features of the resort is the private white sand beach, but it's not just a beach. The sand is made of crushed limestone which helps counteract the effects of acid rain, a big problem in the Adirondack Park. Every spring, the hotel trucks in tons of it to help keep Mirror Lake clean.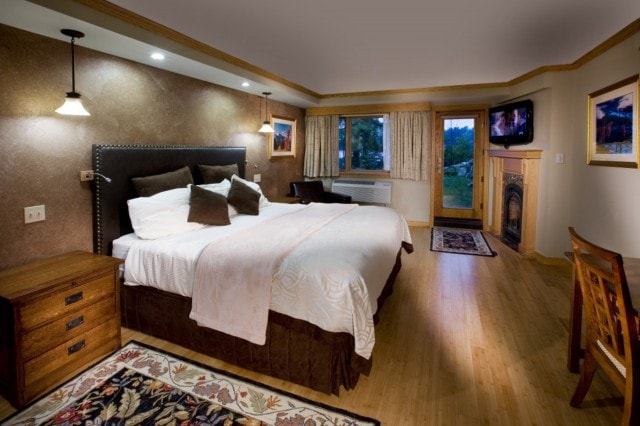 Family Suites and Allergen Free Guest Rooms
In sight of the beach, where guest room doors open out onto private porches, are the most welcome of hotel initiatives–allergen free guest rooms. For those of us suffering from asthma or allergies, these are a godsend. Each room has bamboo wood floors, a high efficiency Hepa-silent air filter, dust mite covers on the bed and pillows, hypo-allergenic comforters, and chlorine filters on the showerheads. Cleaning products–all thoroughly vetted by hotel staff–contain only natural, mild ingredients. And leather furniture reduces dust buildup.
In all, the Golden Arrow counts 26 one-of-a kind suites that reflect customer requests, including several with adjoining rooms that are perfect for families. Additional welcome room amenities include microwave, refrigerator, and Keurig coffee maker.
Not Just for Kids
In addition to offering a healthy environment–where even if you don't notice the green measures, you do notice that you feel good–the Golden Arrow does a couple more things that are particularly worthwhile for families. The Green Quiz is a sort of scavenger hunt where guests are asked to look for the frames made out of scrap wood and recycled materials. Answer the quiz by searching the environmental fun facts found on the frames, and claim a prize. It's educational, and fun too.
Ask also about Kids Night In, a seasonal weekend evening program where children are entertained with arts & crafts, games, dinner and a movie. That could be fun for the whole family!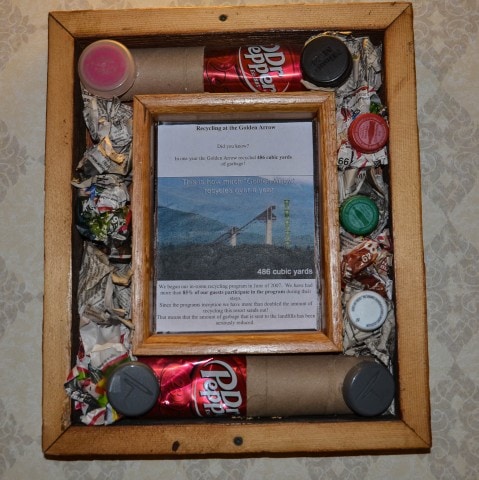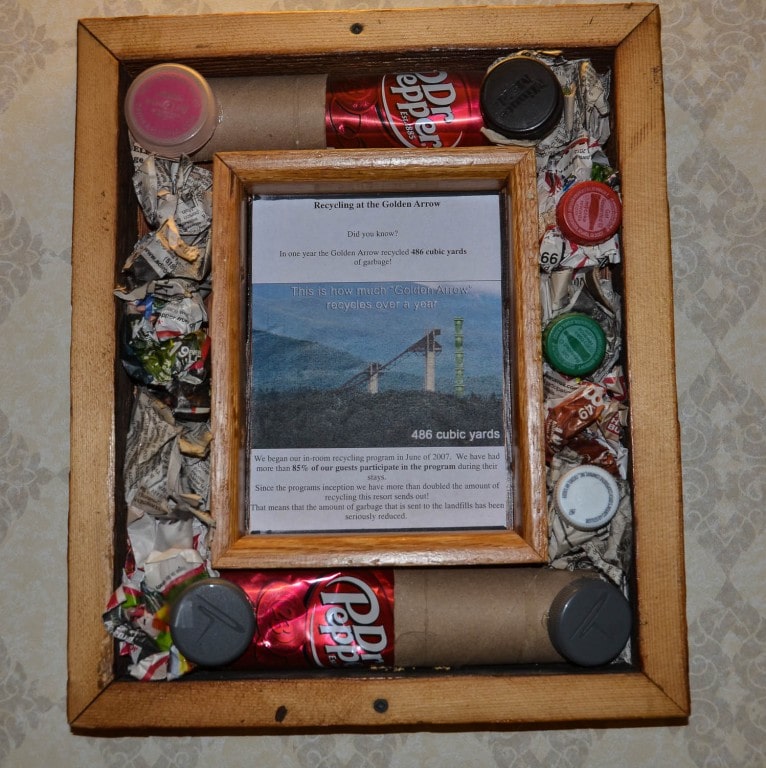 A Green Future
While many folks try to be environmentally conscious for the children who will inherit this earth, the Holderieds are setting a wonderful example at the Golden Arrow. And there's good reason to hope that this model will be replicated. Speaking of plans for a Green Tourism Council for NY State, Jenn says, "The mind set is there, leadership is there, major components are there, now we just need the organization of it."
Learn more about the Golden Arrow's Green Programs here.
Find It!
Golden Arrow Lakeside Resort
2559 Main Street Lake Placid, New York 12946
(518) 523-3353 Website: 
www.golden-arrow.com
Visit Lake Placid
Planning to visit Lake Placid with kids? Check out our Adirondacks Guide for a full listing of our family travel tips and reviews. Looking for more ideas, with or without kids? Check out the turnkey guide at Lake Placid–Gateway to the Adirondacks on our sister publication, Getaway Mavens.
A great big thank you to Golden Arrow Lakeside Resort for arranging tours and providing meals and accommodations for this media visit.