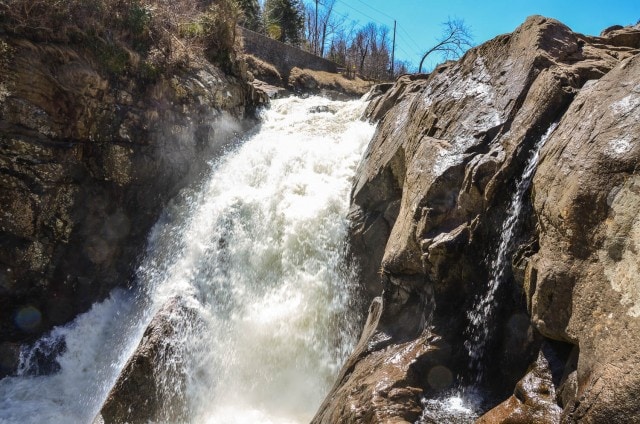 Mud season comes late in the Adirondacks, and lingers past the advent of spring blossoms in New York's milder zones. From April to about mid-June, hikers are warned to avoid the wet and muddy high elevation trails. But with the temporary loss of trail access comes another seasonal boon–spectacular New York waterfalls. On a mild April day, I had one of New York's most majestic wateralls–High Falls Gorge–nearly all to myself.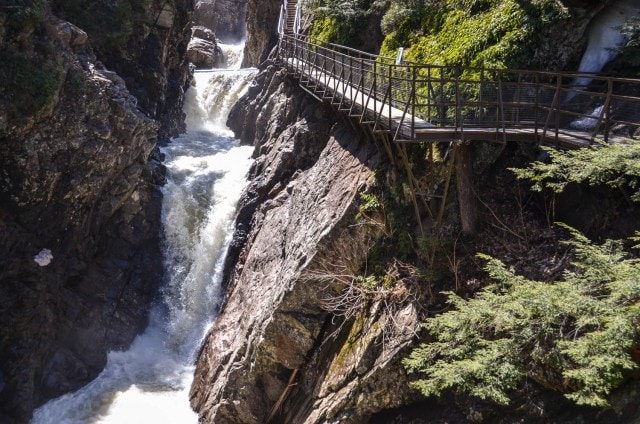 I stopped by as I was leaving from a short getaway to Lake Placid. Located just eight miles out of town, New York, High Falls Gorge is one of the most accessible of Adirondack waterfalls. Getting to the falls viewing platforms is pretty easy too. Steel bridges, gravel paths, and glass-bottom platforms protect the environment while bringing visitors up close to the powerful waterfalls rushing down steep granite cliffs. The entire walking loop is 1/2 mile long, with a shorter 1/4 easier loop for those not able to climb steep stairs.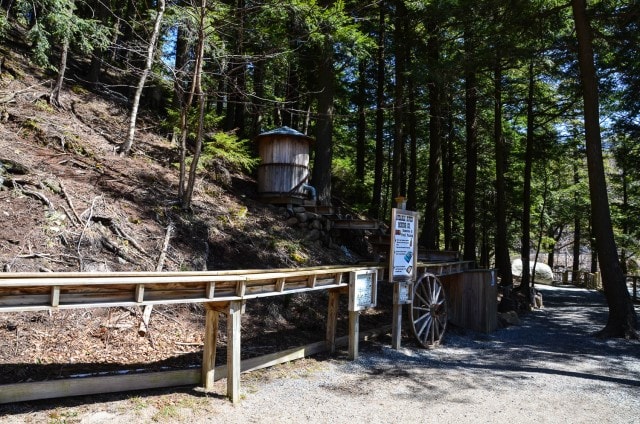 My visit was less than an hour long, but High Falls Gorge offers a number of seasonal activities that could extend the visit. A one mile nature trail is open (weather permitting) to hikers in summer and fall, or to snowshoers in winter. Snowshoes are available to rent in the gift shop. In summer, "miners" can sluice for gems at the Ausable River Mining Co. Year-round, kids are encouraged to earn a Junior Explorer prize by reading about the rocks, trees, and the Ausable River on the informational signs that dot the path.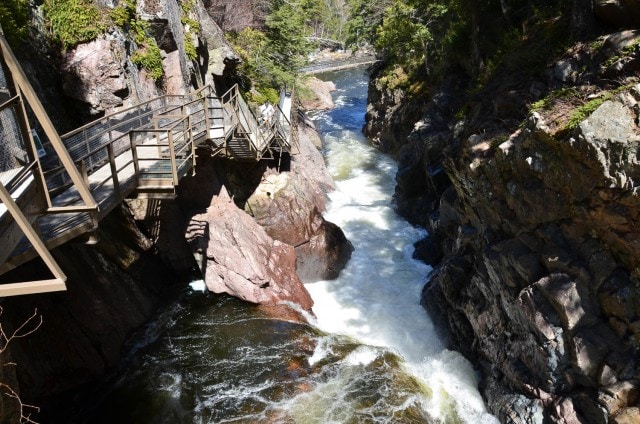 But the best time to make this trip is now, when melting snow powers rushing waters. Keep in mind that although High Falls Gorge is open year-round, April hours vary. Call ahead or check the website for the schedule.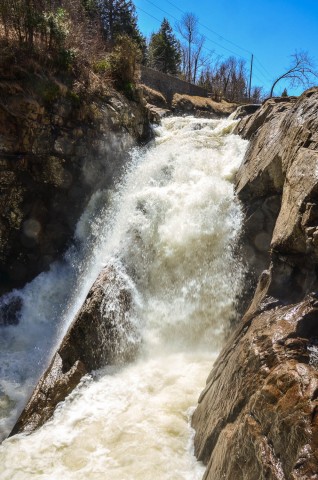 Planning a visit to Lake Placid? Check out our Adirondacks Guide for more expert travel tips.