Backpacking with Kids in Yellowstone National Park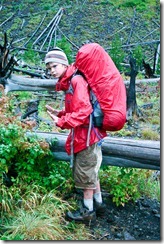 How many times have I heard,"I'll wait until the kids are older to travel?" Many parents limit their choice of destination, or travel altogether, fearing that it might be too difficult.
In a recent CNN Go post, Elaine Ee lists 5 family travel rules that she claims will "make everyone's travel experience — particularly yours — a whole lot easier." I won't even list the rules; forget the rules. I have a problem with the pursuit of travel that is easy.
Backpacking in Yellowstone National Park
My son will soon celebrate his thirteenth birthday, but not a week goes by without reference to his tenth birthday back in the summer of 2009.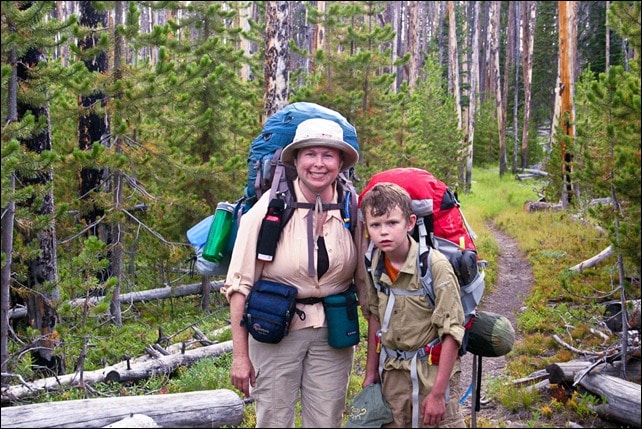 After reading Tim Cahill's Lost in My Own Backyard, I had gotten it into my head that I wanted to discover the pristine side of Yellowstone National Park that most visitors never see. I would take my children on a 3-day adventure into the wild.
Because of the timing of our summer-long road trip, the backpacking trip would coincide with my son's tenth birthday – a fact that did not escape notice. It took a great deal of cajoling, and the early birthday gifting of a Nintendo DS, to achieve grudging acceptance.
Gaining his consent wasn't the only hurdle. Friends politely suggested that I was crazy. The park service insisted that I sit through a video telling me what to do in the very likely event of encountering a Grizzly Bear. And I had to get over my own feeling of inadequacy as I had never gone backpacking without my husband, and none too often with him either.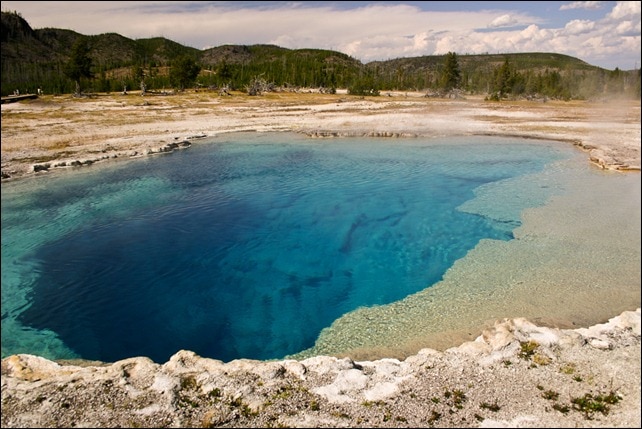 Hiking the Mystic Falls Loop
Parking the car at Biscuit Basin, site of Yellowstone's most exquisitely beautiful hot spring – Sapphire Pool, the kids and I set off on an unforgettable adventure.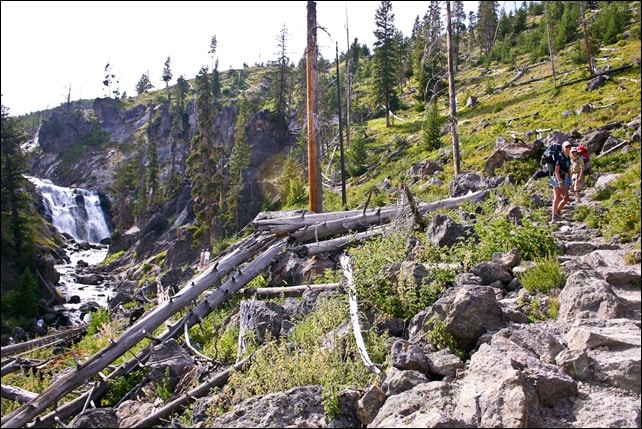 As we passed our first scenic lookout at Mystic Falls, I wondered if this was a foolhardy decision. The hike itself was grueling, requiring us to climb over boulders and downed logs, all the while on high alert for any and all signs of Grizzlies. I carried a jumbo-sized canister of bear mace at the ready, and our gear was liberally festooned with enough bells to alert the wildlife of several states, let alone the Grizzlies of Yellowstone.  But to us, every broken branch and bison patty looked like Grizzly; while scent of ursus arctos horribilis  permeated every floral note and waft of pine. Never mind stopping to eat or eliminate.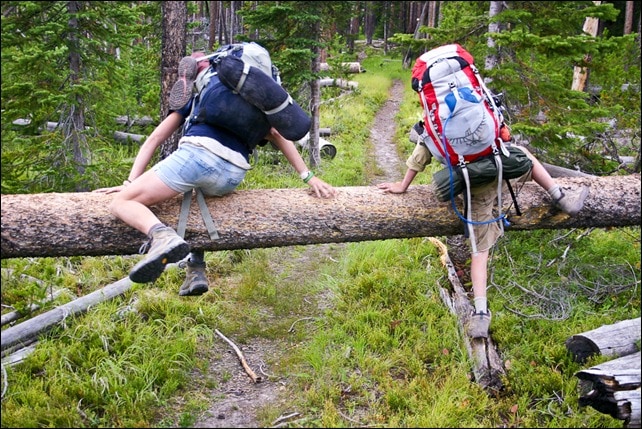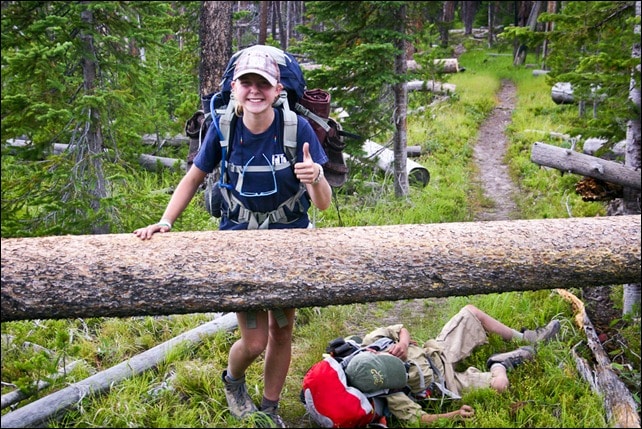 We made camp that first night early enough to enjoy the evening. Athough it was hard work to set up camp – gathering wood, cooking over a bonfire, and hauling packs 25 feet up in the air to protect them from bears – there were no complaints. Both kids were excited to take on the challenge of setting up camp. There was no prouder moment than when my 13-year-old daughter managed to get that rope up and over the cross-pole – after we had each given it our best shot, over and over again.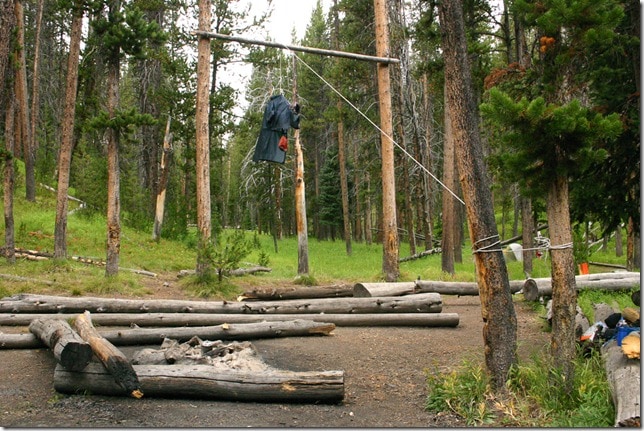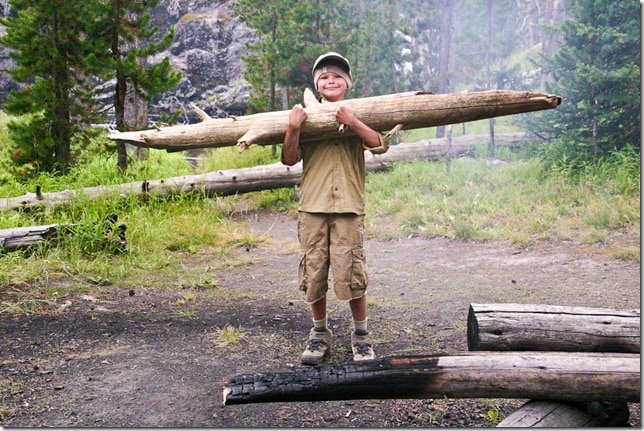 My kids and I would have gladly stayed another day in our private Eden, munching on berries off the bush and playing in the pool at the base of a little waterfall.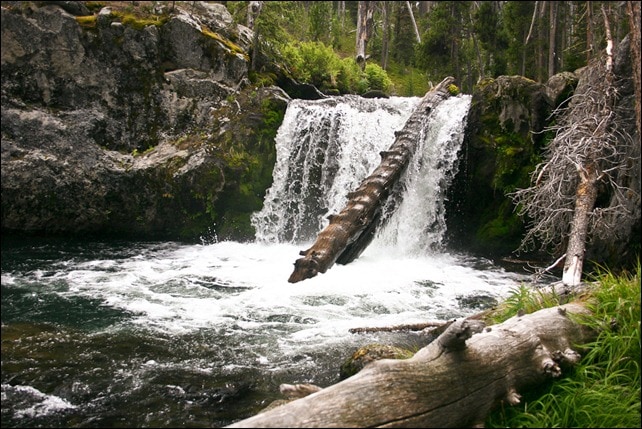 We liked this campsite so much, in fact, that we ended up getting a late start the next morning. With 13 miles to hike up and over mountain trails until the next campsite, that spelled trouble. Pouring rain and the sodden realization that we should've packed waterproof pants didn't make things any easier. Even stunning views along Little Firehole Meadows during a brief break from the rain couldn't be appreciated as we had to keep trudging on.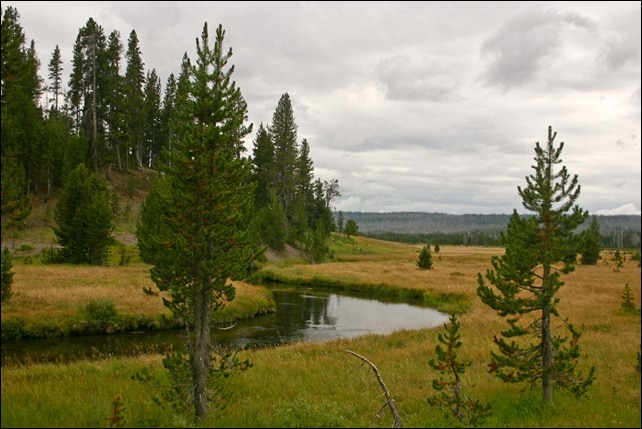 By the time we limped into camp, all we could do was to pop up the tents and bear-proof the backpacks, before slumbering off in leaky tents. Alex didn't even stay awake long enough to open the dehydrated birthday cake that we had carried just for this special occasion.
The next morning dawned, damp and dreary; and we were grateful to only have a couple of miles of hiking left to exit the trail. Stopping only for raindrop-splattered photos at Fairy Falls,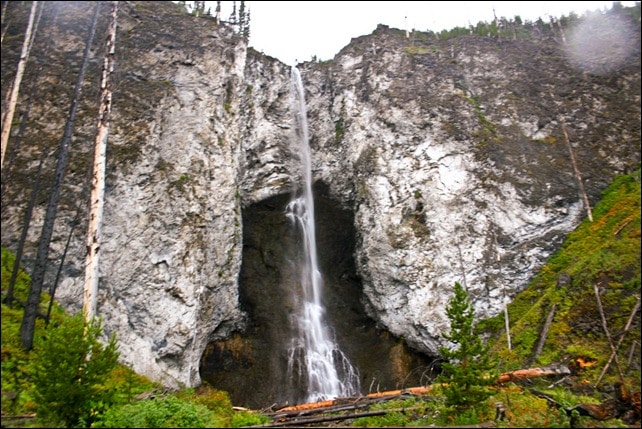 And a bird's eye view of the Grand Prismatic Spring, we hightailed it out of the bush.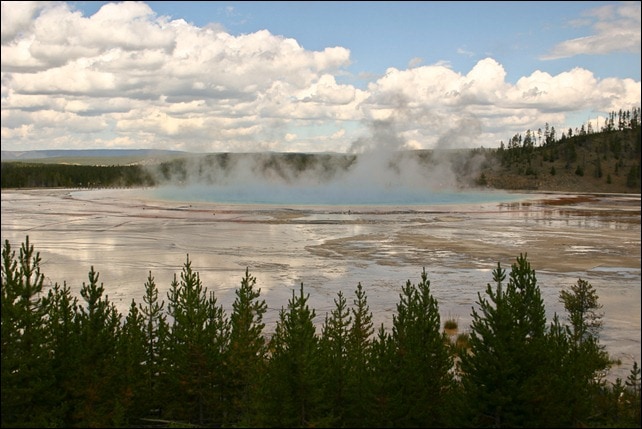 Asked about his Yellowstone Birthday, my son will tell you, "That was terrible. I had to walk endless miles in the pouring rain with an oversized backpack – no party, no cake. It was torture."
But you know, when he recounts his tale of woe, yet again, he can barely keep his lips from tugging upward in a poorly suppressed smile. He says, "My birthday sucked," with a twinkle in his eyes and a lift of the chin. It's a look that says, yes, I can do anything.
And what about those pesky rules of travel?
Did you bother to read those silly rules of travel? Here, I'll give you the quick version so you don't have to. Five Rules of Family Travel: 1.) The younger the child, the bigger the suitcase; 2.) The younger the child, the harder it is to get over jet lag; 3.) Travel to a destination that serves French fries 4.) You can't have too much inflight entertainment for young children 5.) Strollers are as much a bane as a boon.
Ridiculous, right?
Don't believe me, yet? Take a look at what these family travel experts have to say:
Go Do It!
Visit Plan Your Visit to find out what you need to know for a backpacking trip in Yellowstone National Park; and be sure to check out Minimizing the Dangers of a Bear Encounter. The site even lists recommended tour guides if you would rather not attempt the adventure trip on your own.
April 7, 2012 – This post is linked in Green Global Travel's Nature Travel Blog Carnival.
You Might Like –
Read Across America Road Trip (2009):
Vignettes in a History of Family Travel Series: