Why travel to India and Nepal?
The first time I traveled to India and Nepal I almost broke up with the father of my children.
It was 1990, and we had been dating for nearly a year when Dave  went to India for a month-long rotation during his fourth year of medical school. The plan was that I would join him at the end of his stint for a month of travel together through India and Nepal. But when he stood me up at the airport, I was sure that we were through.
Alone in Madras, I was scared and furious; still, I decided to follow our itinerary, catching a bus to Mysore to see the hospital where Dave had been working. At first, the sights and sounds of a crowded Indian bus barely penetrated my anger, but by the time I reached ancient Mysore it was increasingly difficult to remember my fury. Incredible India – with its heady scents of incense and jasmine, vivid colors of saris and tropical fruits – persuaded me to give Dave another chance, long before I discovered that it was all just a miscommunication not easily remedied in the days before smartphones.
And so we toured India together, traveling by train to Bangalore, Jaipur, Agra, and Varanasi before flying to Kathmandu. Arriving in Nepal after the pressing crowds, the demanding autorickshaw drivers of Agra, and the thick sooty air of Varanasi was like entering the pearly gates of Heaven. But it wasn't until we were high in the Himalayas along the Annapurna circuit, gazing upon the awe-inspiring wonder of God's creation that I truly let go of my anger.
Dave and I vowed then that if we ever got married and had kids, we would bring them to experience this miracle.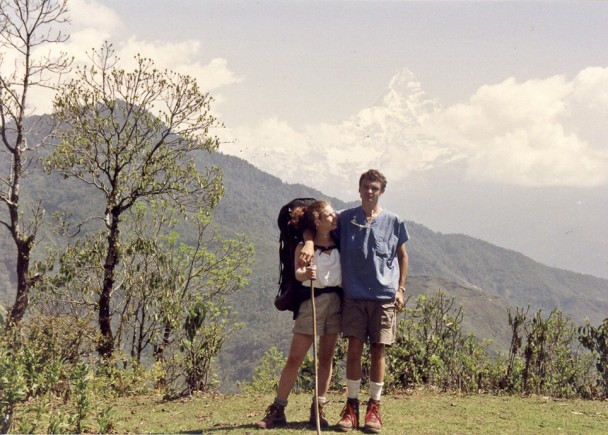 Medical Mission to Nepal
So now we're going back to Nepal with our two children, 16-year-old Kayla and 12-year-old Alex, and this time Dave is bringing the miracle with him. Now a renowned neurotologist, Dave was able to obtain donations of cochlear implants that he will use to not only bring hearing to children in Nepal, but to also train Nepalese doctors so that the miracle can be replicated, again and again.
Dave will be assisted by Jason Roberts, a surgical resident at Albany Medical Center, and our children are also eager to help in any way that they can. In fact, after learning of some of the challenges faced in doing these operations in Nepal, Dave and Kayla teamed up to engineer a surgical drill for use in Third World countries.
We all want to help in any way that we can, and I will do my bit by documenting the medical mission. Dave and Jason will arrive in Nepal in mid-August, but the kids and I will travel to India first. Our travel plans are very weather-dependent as we might couldn't avoid the tail end of monsoon season. But if all goes well, we will attempt to retrace earlier footsteps. And I will share our story right here on Albany Kid.
In the next weeks, expect daily posts documenting how we are getting ready for this epic trip, and journaling our travels through India and Nepal. Namaste!
Return to India and Nepal: