Visit Iowa City to Ignite a Love Affair with Books
When I discovered that we were near an UNESCO City of Literature, there was no question that I would visit Iowa City on my latest cross-country road trip. But Iowa City surprised me. The city's passionate love affair with books is exuberant, lively, and downright fun.
We pulled into town on a Wednesday night, just in time to drop into Prairie Lights before it closed for the night at 9pm. An indie bookstore, internationally known for its "Live from Prairie Lights" reading series, the 2-story shop is at the center of the city's intellectual life both literally and figuratively.
What you won't find is the usual selection found at generic bookstores. My daughter couldn't find the SAT prep book that she was looking for, but she did pick up a book on Czech curse words. Meanwhile, my son son was in Seventh Heaven when he discovered the Terry Pratchett section – so many choices!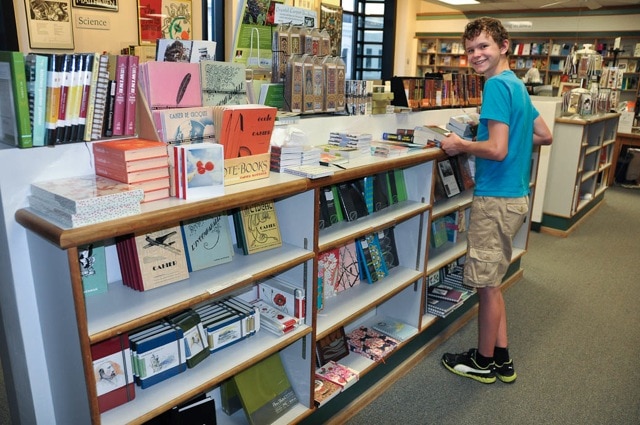 One awesome way to discover a new book is The Prairie Lights' Common Book project in which customers list ten of their favorite books as suggestions for other readers. To participate in this project, send your name and your list to prairielightsoffice@yahoo.com.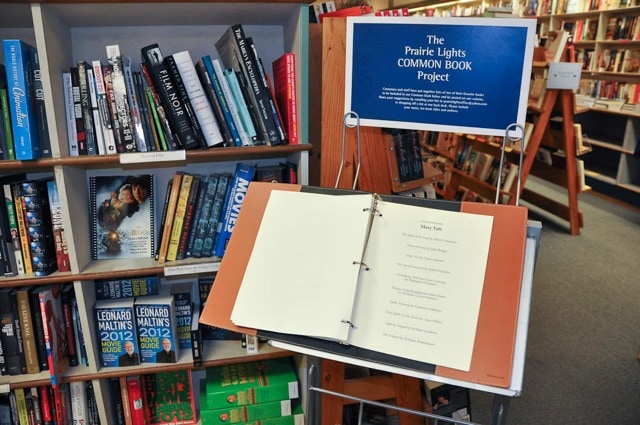 If you go, be sure to pick up a copy of the Iowa Avenue Literary Walk booklets which detail where to find the bronze relief panels that line city sidewalks. Each panel includes writings from one of 49 writers with ties to Iowa, as well as general quotations about books and writing.  As we arrived late, we didn't have time to track down all of the Literary Walk panels, but we stumbled over one quoting Frederick Manfred's No Fun on Sunday.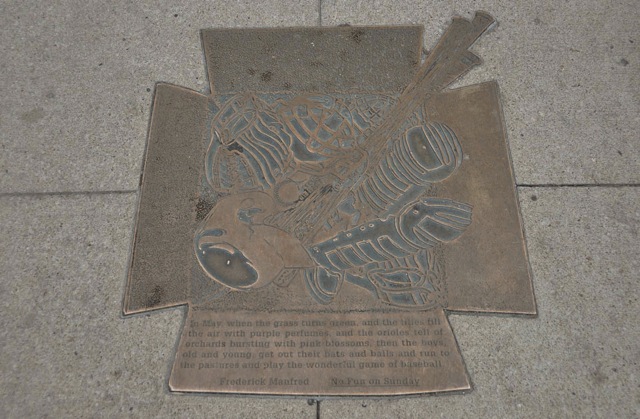 On a return visit to Iowa City, I would like to complete the Literary Walk. And if I could, I would love to be there for the upcoming Iowa City Book Festival when, in addition to readings, discussions, and demonstrations by authors and illustrators, there will also be a Literary Carnival and a Hunger Games LARP.  I can only imagine a "fight to the death" played out by book lovers – that will be a sight to see! There's no doubt that even reluctant readers will catch on to the excitement found between the covers of books.
Where To Eat in Iowa City:
As good books and coffee houses go hand-in-hand, you would not be surprised to find there are several places to get your caffeine fix in Iowa City. We set up shop at the Java House (211 1/2 E Washington St.) where free WiFi, roomy tables, and plentiful plugs could easily turn this into everyone's favorite office. Sadly, they put a 1-hour limit (which we soon exceeded) on how long you can remain comfortably ensconced at a table. But they also provide lots of comfy couches, as well as a great selection of good-quality board games, so that you can stay to play.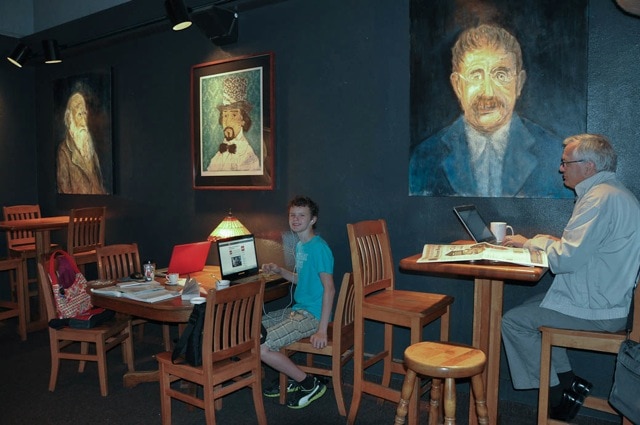 Where To Stay in Iowa City:
One of the many reasons that I love driving through the middle of America is the incredible deals that you can get on hotels, especially in regions that don't come to mind when listing tourism destinations.  The trick is to lock in on those deals before it's too late and you're stuck with whatever you can find as you roll into town.
Luckily, the Expedia app makes it easy to find a place to stay stay for the night. We plugged in Iowa City and came up with several choices, but chose the Travelodge ( 2216 North Dodge St.) because of the price – $64 for a room with two doubles. And they offered a complimentary breakfast, pool, health club, and free WiFi (in lobby.)
When we arrived, I was charmed by the homey lobby, and the rooms were OK. Barebone furnishings, skimpy towels, and the WiFi doesn't extend as far as the rooms. The least attractive features are an AC unit that doesn't quite hide a faint, but ever-present, scent of mildew and an exterior door with flimsy locks. But it was convenient to have that door face the car. And I slept well knowing that we weren't breaking the bank to get a good night's rest.
You might like: