Vancouver Food: Is New York Ready for Japadogs?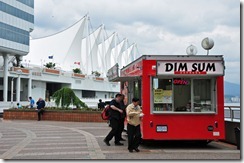 After a week exploring the many delights of the Vancouver food scene while at a travel bloggers conference, I have come back with a wish list for Albany. As the capital of New York, at (or at least, near) the epicenter of the world, I think we are ready for a little more diversity in our food fare.
Can we get Japadogs?
It's not for everyone, but we have enough adventurous eaters to easily support a Japadog stand, or two. In downtown Vancouver, it's hard to miss the Japadog stands – they're everywhere. I discovered Japadog on my first day, but was too intimidated (and not sufficiently hungry) to give it a shot.
By the second day, I steeled up my courage, checked the Foursquare app for tips, and ordered the popular Kurobuta Terimayo with its "Kobe beef" of pork, mix of soy and mayo, and topping of dried seaweed. There were other options, including a veggie dog and one with sauerkraut that my husband would love, but I liked this one so much that I returned again, and again, becoming the Pied Piper of Japadog leading a train of travel bloggers to their waterfront stand.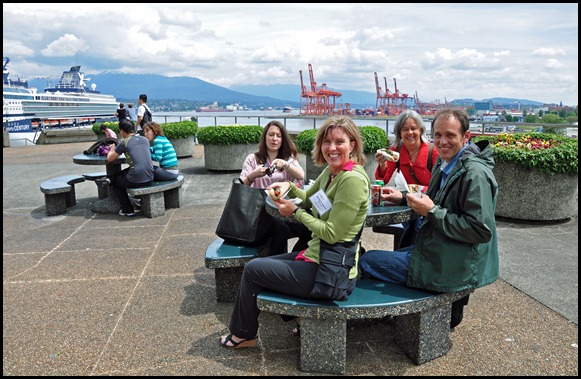 The problem with falling in love with one vendor is that I didn't get to sample as many street foods as I would have liked.
I can also recommend Fresh Local Wild, a truck serving Fish n' Chips that will be a revelation to Albany's fish fry aficionados. This isn't our usual frozen fish; no, Fresh Local Wild is gifted with the bounties of the Pacific Northwest. After experiencing the Pacific Cod meal, where succulent morsels melt in your mouth, I don't know if I'll be able to settle for anything less.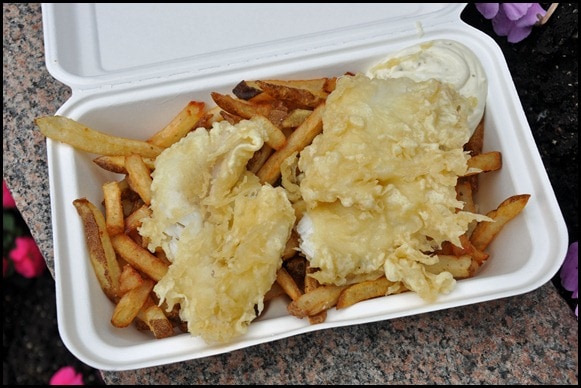 But that's just two of many: Vancouver seems to be competing with Seattle for the quantity and quality of street food. There are so many choices, with varying schedules, that I highly recommend downloading the Street Food Vancouver app (another idea I would like to see replicated in New York.) Not only is the app useful when traveling to Vancouver, enterprising New Yorkers will find inspiration for local business ventures.
What's with the Lychee in Vancouver?
If drink menus are anything to go by, it would appear that lychee is the national fruit of Vancouver – even though it doesn't grow there. Given that, New Yorker bartenders might consider offering apple-flavored exotic drinks, the obvious choice, or not.
Over the course of the week, I had Lychee Sake at the Kamei Royale , a Feng Shui cocktail  with lychee at the Fairmont, and even a lychee-infused Indian Mojito at Vij's, a very creative Indian Restaurant that is worth the "no reservations," one-to-two hour wait.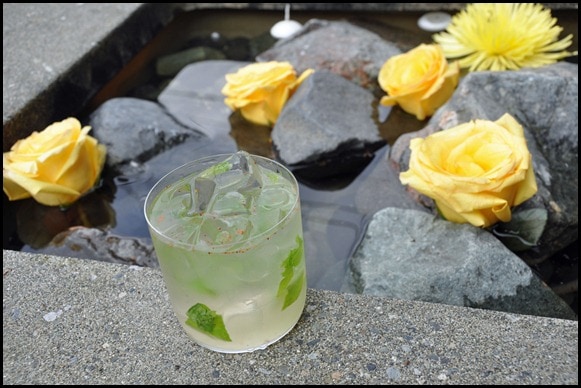 Honestly, I'm not sure what the lychee added to any of these concoctions; I couldn't discern the flavor among the more potent ingredients although they were all delightful. Still, it was a welcome contrast to taste a spicier combination, the Caesar Cocktail, aka "the cocktail of Canada," aboard a harbor cruise hosted by AMResorts. (Why was the bartender laughing? Predicting the future, perhaps?)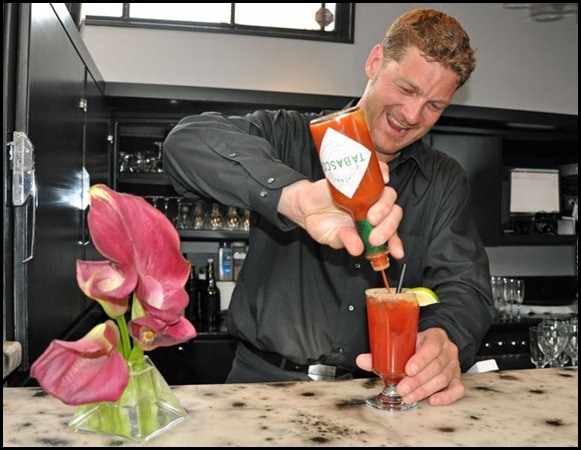 Calling for Sugar Buns
You may question whether or not we need Japadogs and/or Caesar Cocktails in New York, but there is no question regarding the Sugar Buns. These pastries are so addictive that at least one patron has been known to go on a Sugar Bun Marathon, consuming one a day for a month.
I went to Giovane Cafe at the Pacific Rim Fairmont for the award-winning coffee and desert, after the very hearty Fish n' Chips at Local Fresh Wild. Regretfully, I didn't have the appetite for another full meal, but I was tempted by Salmon Chowder with Pancetta. Oh, so tempted! The servers were kind enough to give me a sample, and I can tell you, if you ever have the opportunity, go there for the full meal – not just desert.
But those Sugar Buns, they call me to start a write-in campaign like the Trader Joe's initiative. If I were a poet, I would write an Ode to the Sugar Bun, but alas, all I can do is show you the scrumptiousness.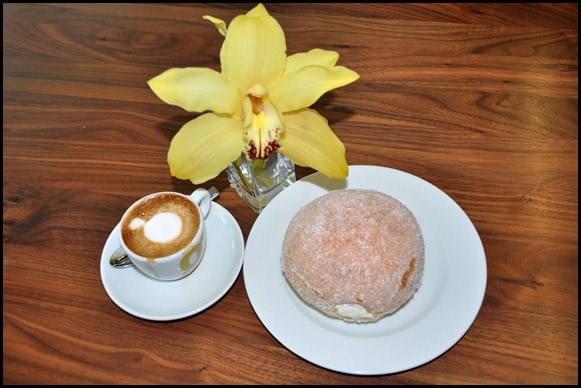 As my sweet tooth is legendary, you might well question if this pastry is a tad too rich for your palate, but let me assure you, the vanilla crème fraiche filling resembles a Devonshire crème. A little sweet, but not much, and an excellent complement to the plain bread interior. Okay, the sugar dusting on the exterior is very sweet, but it works. Trust me, we need this in New York.
So what will it be? What would you like to see in the local food scene? And what's your preference: Japadog, Caesar Cocktail, or the Sugar Bun? Inquiring minds want to know!