Road trips are a wonderful opportunity to have open-ended book discussions with your children.  If you have the time, and a super-long road trip, consider listening to an audio-book and then talking about your selection.
Selecting a Book for the Road Trip
It can be difficult to choose a book that is interesting and worthy of discussion when various age groups travel together. Try to find a book that is entertaining, and open to interpretation on many levels.
I've found some great candidates, and guidance for book discussions, in Deconstructing Penguins: Parents, Kids and the Bond of Reading by Lawrence and Nancy Goldstone.  Veterans of library groups for tweens (ages 7-11,) the Goldstones have found that children can participate fully in sophisticated literary analysis, but that what they read does matter.  The authors encourage children to look at every book as a mystery that the reader can solve to discover if the author has successfully conveyed his message through the use of plot, setting, characters, and central conflict.
For more thoughts on finding books to discuss see What about the classics?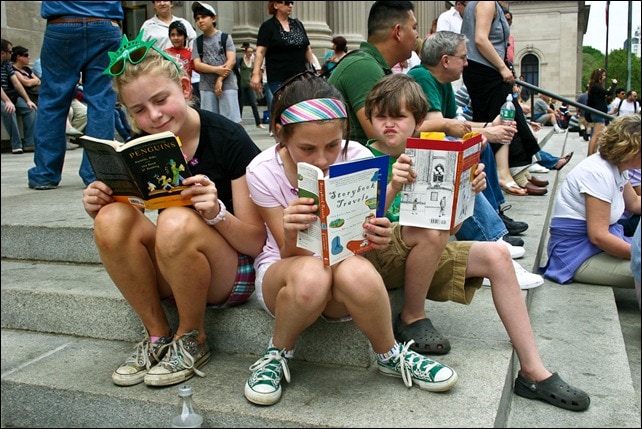 Getting the Virtual Book for the Road Trip
If you have planned ahead, you can get many books on CD at your local library or by ordering online from Amazon.com.
Since I'm rarely that organized, I'm grateful that I can easily download audio-books to my iPod using the iTunes store or my local library's online services.  I have also had great success using  Audible.com to download audiobooks while traveling.
Sources for Free Audiobook Downloads:
Discussing a Book on a Road Trip
Although George Orwell's Animal Farm is rarely recommended for tweens, the Goldstones recommend this book for fourth graders.  Since I was traveling with a 2nd and a 6th grader at the time, I figured that this book could appeal to both.  Also, since we were listening to the audio-book version, both children could handle the difficult vocabulary and sophisticated language.  It was easy to pause the iPod as necessary when encountering unfamiliar words or ideas.
We didn't have a literary guide to Animal Farm in the car, so we just talked about the story.  The long, and monotonous, prologue sparked the first questions.  The rest of the discussion just spun off from that beginning:
How is Animal Farm a fairy story?  In the prologue, C.M. Wodehouse explains that Animal Farm is a fairy story in the sense that it lacks a moral, and that fairy stories exist outside of morality.  Does it seem right that the bad guy is just as likely to win (as the good guy) in this and other fairly tales?
What is communism?  How is Animal Farm communist?  Suggestions for discussing this complex subject: How to Teach Kids About Communism and Communism.
How is Snowball like Mr. Nobody (the culprit who is often blamed for misdeeds in our home.)  Why do people in power like to blame everything on a scapegoat?  How does this unify public opinion and encourage support for the leader?  How do bullies use this tactic in the school setting?
Somehow, we found ourselves discussing the same questions about Animal Farm that the Goldstones suggest in the chapter titled, Putting It All Together: What Is The Book Really About?  We decided that Orwell was telling us that, regardless of the outcome, it is the individual's responsibility to speak up for what they know is right – even if, or especially if, there are a bunch of sheep trying to drown your voice with mindless chanting of the oppressor's message.  This is true in any group, whether it is school, city, state, etc.  The kids were excited about questioning authority and this led to a fruitful discussion about when and where authority should be questioned.
Additional Book Discussion Guides and Resources: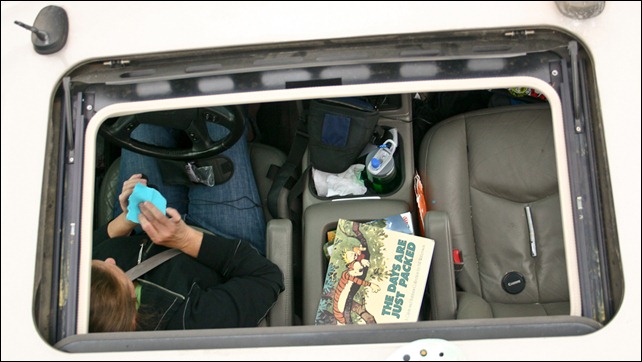 Pack a Love of Learning on your next Road Trip
While fictional storybooks are fabulous road trip companions, they don't appeal to every audience. Sometimes its better to pursue a non-fiction interest, such as an obsession with fossils.  Take a look at our ever-expanding Enrichment guide for more ideas!
You might like:
How To Plan A Read Across America Road Trip