Travel Inspires Change – An Inspirational Speech
One of my proudest parenting moments took place this week. My daughter stood in front of the entire Emma Willard School student body, and a record-breaking group of prospective families gathered for the annual Open House, to give an inspirational speech about how travel inspires change. 
Here is the speech in its entirety, along with a few of the photos displayed on the big screen. A somewhat shaky video of the speech follows.
So you may have seen me walking around school in these crazy harem pants and laughed with your friends about them behind my back. Well if you saw me walking the streets of Delhi in these pants, you wouldn't think I am crazy at all.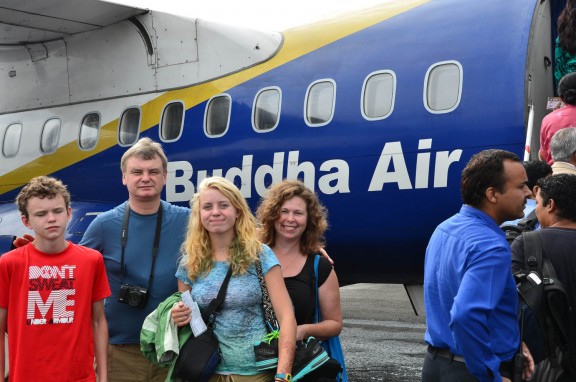 Over the summer I had the opportunity to travel all over India and Nepal. Visiting these two countries was the biggest culture shock that I have ever experienced. Before getting off the plane, I thought that women only wore colorful, flowing saris at Epcot in Disney World. But actually they are really common among Indian women.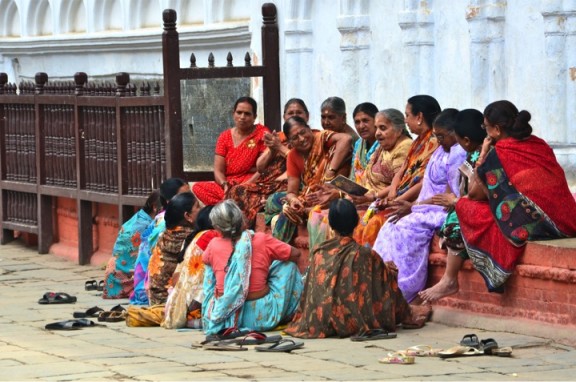 The people in big cities like Delhi dress a little more westernized in tee shirts and jeans. For example, while visiting Kathmandu I discovered that the Nepalese people had an obsession with the iPhone app angry birds. You couldn't walk down the block without seeing several people rocking the angry bird tee shirt, backpack, sunglasses—you get the picture.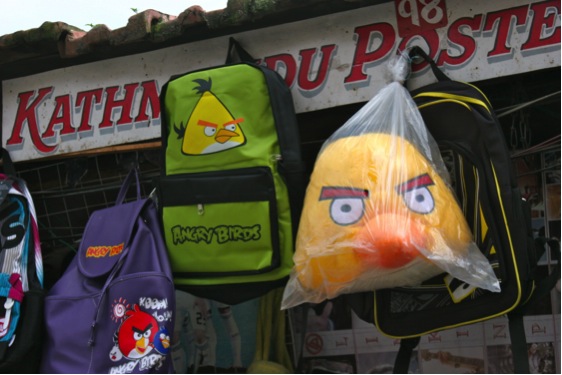 However, in the smaller villages angry birds was not as popular.  My family and I went trekking in the Himalayan mountains near Pokhara where most of the women dressed in traditional saris, in fact our guide said that nobody in his family owned a computer or iphone, so he had no idea what angry birds was. Women in the small villages where we slept during our trek, cooked organic rice and Dal bhat over a fire place in the same way that their ancestors had for generations. And by "organic" I mean that they grew every single ingredient themselves. This was a type of living that I had only ever seen on the History Channel, and I didn't realize people still lived like this. I'm so used to microwaveable ramen and dining hall food, that women squatting to cook over a fire from wood gathered in the forest looked prehistoric.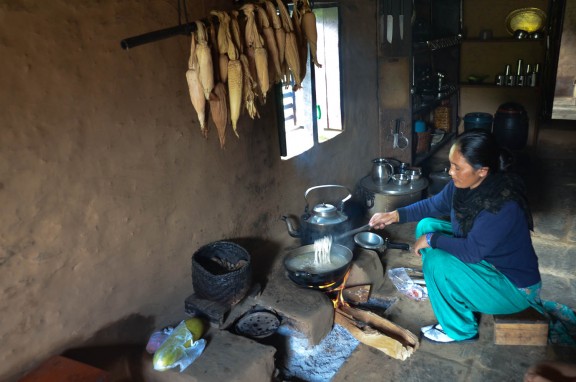 At a school I visited, the children had no desks and even the high school students sat on the floor. Yet despite their lack of books and school supplies the kids were all incredibly smart. They actually loved going to school every day, which made me feel like a spoiled brat.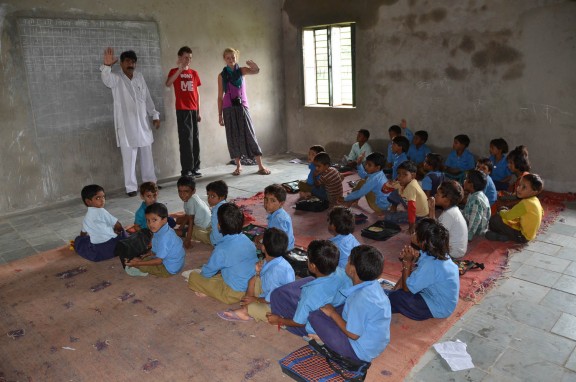 I mean I can't wait for long weekend. And the worst part was that when I visited a 2nd grade classroom, I was asked some simple mental math. The kids got it right away but I had to use my calculator. In all the small villages I visited, my braces always amazed the people. Although my Nepalese and Hindi were limited, and very few people we met could speak English well, I understood their confused looks as they pointed to my teeth. One lady gave me naan to see if I could still eat with the metal in my mouth!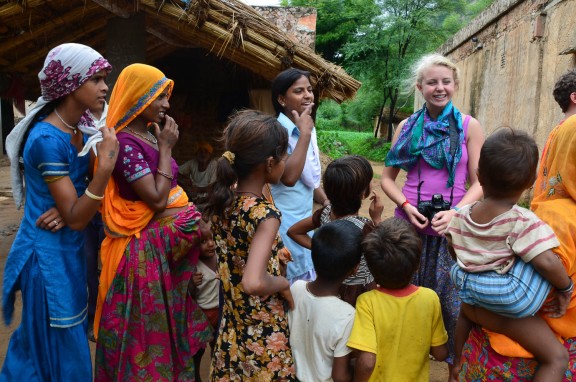 It was the same lady who I watched hold her newborn baby as it peed on the dirt floor. I suppose diapers aren't very common in the villages because everyone just let their babies pee soak into the earth.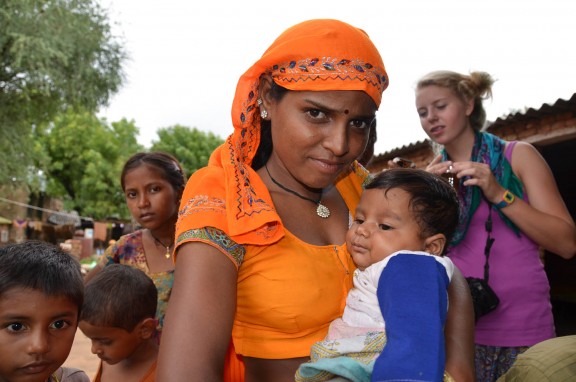 Back in Kathmandu, a large city in Nepal, my dad flew in for a medical mission. He is an ear doctor, and hearing loss is a big problem in this developing country. He received a grant from the cochlear implant company, as well as from the company of another type of hearing aid called a Baja. I got to watch in the OR as my dad gave children the gift of hearing. He helped 4 children who would never have been able to afford this surgery without my dad. However, around 250 people come to this hospital that need this surgery every year yet only about 10 are able to actually afford it. It is very common for the Nepalese kids who do receive the surgery to have infections afterward because the operating rooms are so unsanitary. The doctors in Nepal give the kids far more antibiotics than they do in America to avoid infection. But I still thought it was kinda crazy for the head surgeon to sip a cup of tea, directly next to my dad while he was preforming the surgery. I suppose that is just a cultural thing, because people drink a lot of tea in Nepal and India.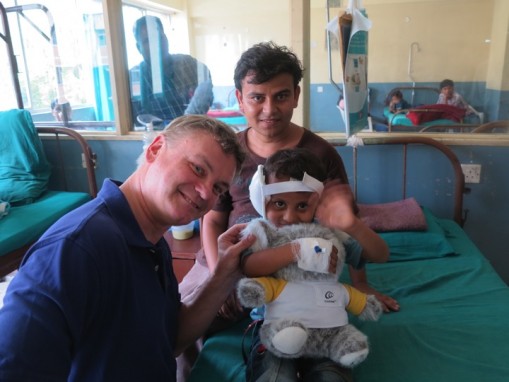 Watching a 2 year old boy hear for the first time in his life, and hearing his father thank mine for giving him a gift they could never afford, really touched me. My dad had done such a great thing to help this boy, even if it's only one less deaf child out of the 250. It got me thinking about what I could do to help the people in Nepal. The reason that more people suffering hearing loss aren't helped is that it is such and expensive luxury which neither the hospital nor the patients can afford. So I thought about ways to make it cheaper. What if the $11,000 drill only cost $250? What if they sterilized implants from dead people to give to the deaf children in Nepal? I am currently working on projects to hopefully make both these dreams possible, but there are so many more things that I could do to help the people in India and Nepal. What if I started a diaper donation for the women in the small villages? What if people gave books and school supplies to the Indian mini-Einsteins? And what if an affordable method of ortho-denture were brought to the lady who gave me naan? By traveling and seeing a world so different than my own I was able to pick up many things that could be done to make it a little better.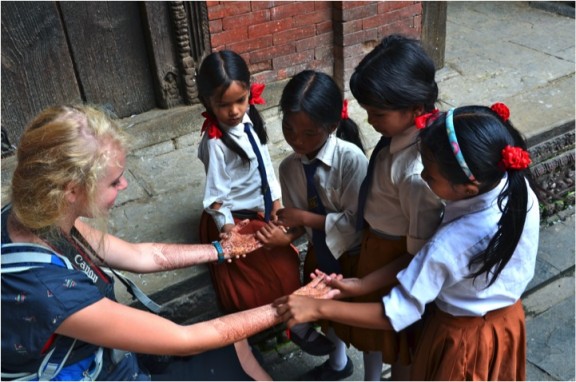 It is important to learn and experience cultural differences, because understanding the world you live in will help you to make it a better place. Emma Willard gives us all this unique opportunity to experience different cultures first hand. From celebrating Holly day with colorful powder, to enjoying FASO dinners, to just hanging out with a girl from another country. I hope everyone here, American or international, takes full advantage of these opportunities to learn about the world, and uses them to think of something they can do to make the world a little better.
httpv://www.youtube.com/watch?v=NC7PLP1dNVg&feature=plcp