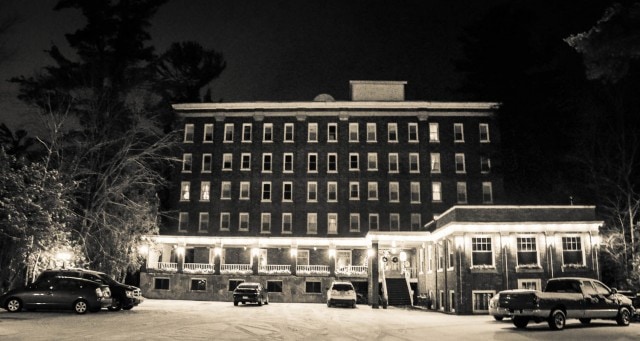 If a storied history and charming owners were all that were needed to produce first-rate lodging, then The Pines Inn in Lake Placid, New York would be the best hotel in the Adirondacks. Alas, other accommodations in the area offer lakefront property, heated pools, signature spa treatments, luxurious linens, and even afternoon tea service. The Pines Inn has none of those amenities, but what it does offer is comfortable rooms in a warm and friendly environment at a very reasonable price.
Historic Lake Placid Hotel
Formerly known as The Hotel St. Moritz, The Pines Inn is the last survivor of the "golden age of hotels" found in 1880 to 1990. At that time it was a luxurious sort of place, for a discriminating clientele that appreciated bellboy service and an orchestra for musicales and dancing. But the hotel headed in a different direction after the Great Depression, and by 1931 was offering "nude sun bathing on the roof." In the 1980s, when Lake Placid hosted the Winter Olympics, a large part of the inn's business was ski bus tours, which still fills rooms seasonally.
Today, the Pines Inn does a good job of accomodating large groups, even offering special packages and rates for sports teams.
Photo Tour of The Pines Inn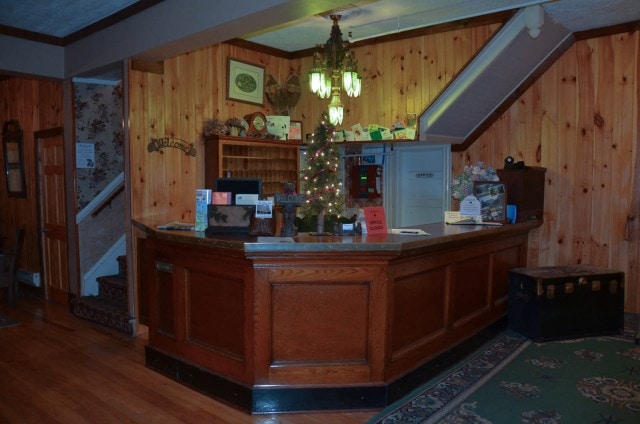 This is a family-run business, so don't expect the front desk to be staffed 24/7. However, the inn kindly provides a free hot beverage station in the lobby, and that's available anytime.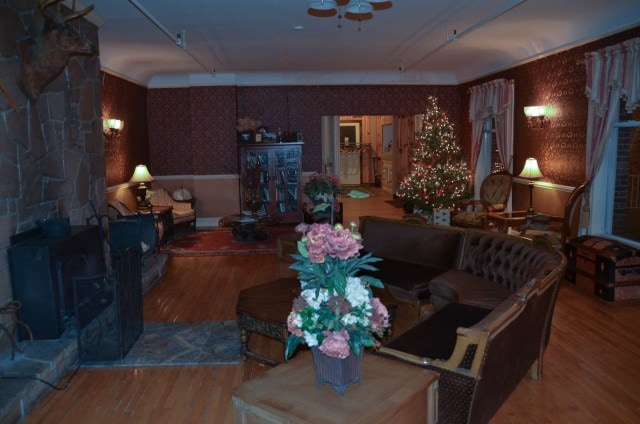 There are several common areas where groups can gather.  In addition to the large, inviting living room with fireplace, piano, and reading noon; there is also an outdoor porch, and a ballroom. Note that WiFi is limited to these common areas, and service is slow and spotty at best. Also, there is no elevator so expect to take the stairs to your hotel room. The room was sufficiently clean and comfortable, although I would have preferred cotton sheets (not a cotton/poly blend.)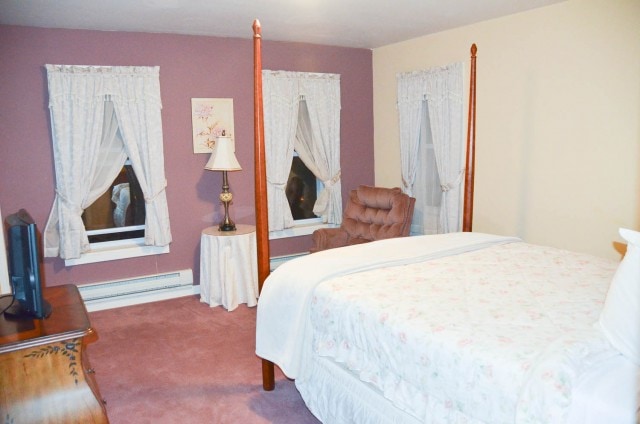 If we're going to be nitpicky, I'm not a fan of the mauve carpet–it doesn't play well with my asthma. But the hotel is fine, especially if you're looking to save a buck.
Find It!
The Pines Inn 2302 Saranac Avenue Lake Placid, NY 12946 (518) 523-9240 Website: 
www.thepinesinnlp.com