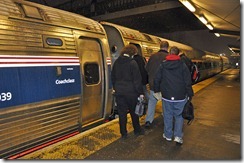 Back when we were thinking of moving to Albany, I had this romantic notion that we would be taking the train into New York City all the time.
Reality set in when I discovered that Amtrak charges nearly $100 per person round trip between Albany and Penn Station. For a family of four, it's cheaper to drive to the city instead. That's why, in twelve years of living in the Capital Region, I have only taken the train once.
On Friday, I found out what I had been missing.
I left my family still warm in their beds at 5:30 a.m., to drive through a blizzard to the Rensselaer-Albany Train Station (ALB.) It was the longest drive of my life, even though I live nearby. With pelting snow in the early morning dark, and a paralyzed windshield wiper, it was a frightening experience, made worse by the certain fear that I would miss the train as I had just minutes to get there for a 6:10 a.m. departure.
When I arrived at the train station, with fifteen minutes to spare, I breathed a sigh of relief only to discover that the ample parking in front of the station was only for stays of less than two hours. I couldn't see squat through the snow-and-ice encrusted windshield, and so I scrambled to find a spot on the street.
Luckily, there is a little parking lot right off the street, just as you exit the main entrance with a small sign offering $5.00 parking. I don't know if that was meant to be taken seriously, but there was no one in attendance, and I didn't have time to search. I dumped the car, and headed in, hoping against all hope to find it upon my return.
Inside, I ran to the self-service kiosk where a kind stranger took pity on me and explained how to find the cleverly hidden bar scan reader. Within minutes, I was headed down to the track to catch the Empire Line train into the city.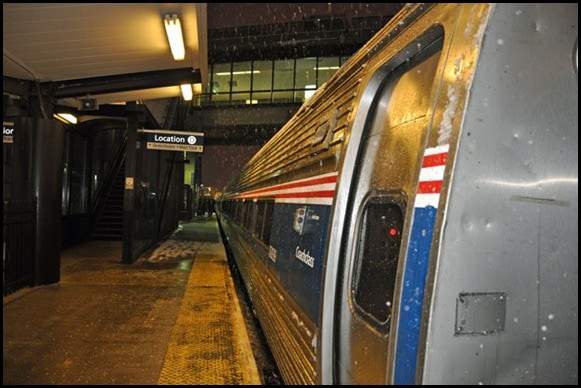 That was the end of the drama, more or less.
I had booked a train returning at 9PM, but I finished early and took a chance on switching to an earlier train. Other than having to pay an additional $16 to take the 7PM train, it was easy to make the transfer.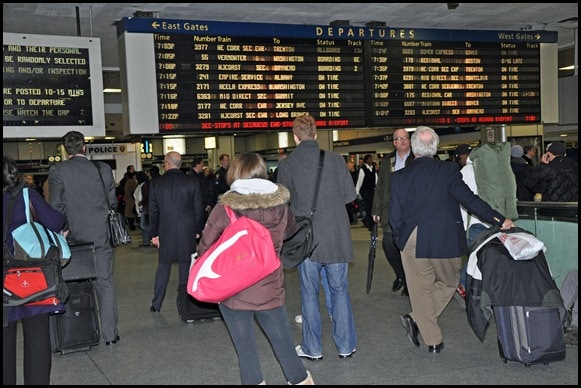 When I was on my way home, I started to worry that I wouldn't find the car upon arrival. I called my husband, and casually suggested that he could meet me at the station. He thought it was because I was worried that the foot of snow might prevent me from pulling out the car. I didn't tell him that I was concerned that the car wouldn't be there at all.
The car was there where I left it, without a ticket, but with an armor of snow. I'm pretty sure that it was a good idea not to drive into the city, in a blizzard, for just one day.
But I could've done with less drama.
Do It!
Station Building (with waiting room)
525 East Street
Rensselaer, NY 12144
Rates: Cheapest rate on Friday 2/25/11 was $38 each way, but was only available on off-peak hours. Note that there are discounts available with earlier purchase.
Rensselaer Rail Station Parking Daily parking rate is $10 (as of 2/2/11.)
You might like: