Take Dad To The Distillery (and Other Foodie Adventures for the Over 21 Crowd)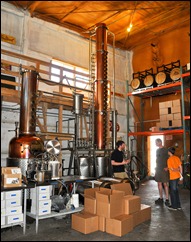 It doesn't happen too often, but occasionally we plan a family outing to please the man of the house. Last month, on Father's Day, we treated Dad to a Foodie Adventure outing at Harvest Spirits in Valatie, NY.
Apple Jack and Cider Donuts
My children and I have stopped at Golden Harvest Farms many times – for the baskets of peaches and for the pies. But this was a day to please the dads, and we were here to check out the Harvest Spirits distillery behind the "road stand," an affectionate name for a shop that carries a full line of fruits and locally crafted items including an assortment of honeys, cheeses, pies, and cider donuts.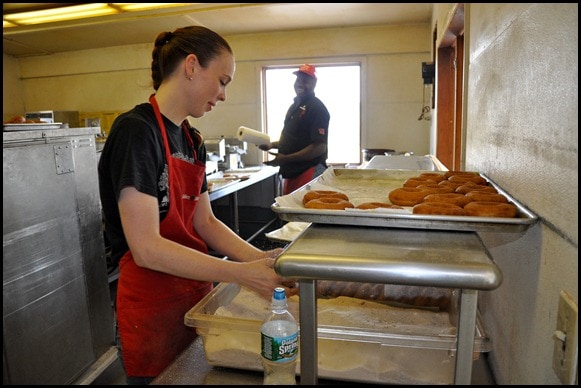 When we dropped by on a Sunday afternoon, the hard working staff was cranking out those cider donuts and selling them out just as fast. We had to pass the baking operation, and its enticing scent, to get to the distillery. For a moment, I didn't think we would be able to resist the lure, but as we entered the cavernous aluminum shed, the cider donut scent was displaced by the aroma of the still and barrels.
The distillery is a labor of love and creative outlet for graphic designer, Derek Grout, and one of several enterprises springing from the family-owned apple farm. On our visit, we toured with distiller and historian, Collin McConville, and my husband was well satisfied with several product tastings of the Cornelius Applejack and the Pear Brandy, as well as brew tips and information on where to get specialty yeasts.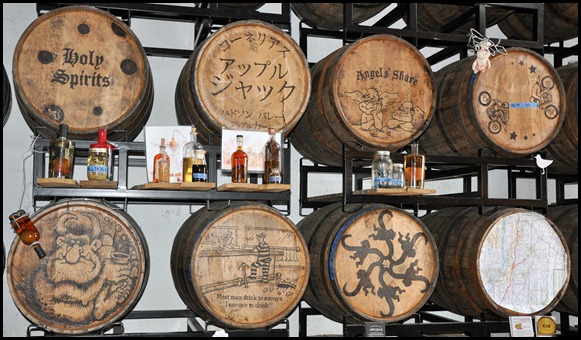 While the men discussed brewing and distilling, I remained by the barrels, fascinated by Mr. Grout's artwork and experimentation. A good number of barrels have been enhanced by drawings, some done by hand and others copied from templates drawn from newspaper cartoons and elsewhere. And while this was visually interesting, so were the jars of items under consideration as infusers: mango slices, assorted berries, wing of bat, wart of toad?!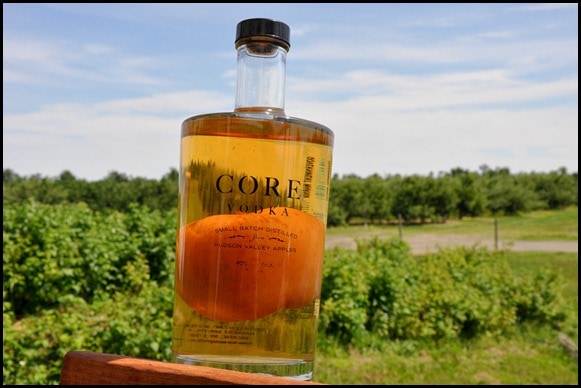 We were very curious about one current experiment to produce a line of apple-in-a-bottle Core Vodka. Early in the spring, bottles were placed over the emerging apples, and when they reached the desired size, they were brought into the distillery where they are now hanging amongst the barrels, working their magic on the locally distilled vodka. If it all works out, this might be a cool Father's Day gift next year.
And then we returned to the road stand to chase the Apple Jack with cider donuts.
Foodie Adventures (for 21+) in Northeast NY
There are a number of distilleries, breweries, wineries, and other sites offering tastings that make for fun family outings in the region, even if sampling is adult-only. Here are a few:
Harvest Spirits – Valatie, NY
Albany Pump Station – Albany, NY
Brown's Brewing Co. – Troy, NY
Ommegang Brewery – Cooperstown, NY
Brookview Station Winery – Castleton, NY
Chatham Brewing – Chatham, NY
Hudson-Chatham Winery – Ghent, NY
Tousey Winery – Germantown, NY
Crossroads Brewing Company – Athens, NY
Furnace Brook Winery – Richmond, MA
Hudson Berkshire Beverage Trail – Several of these wineries and breweries are located on this trail, which plans a number of events throughout the year.
As always, please do comment to share any that I have missed!