Maybe you've heard the term "skimboarding" or maybe you've seen it at the beach and mistaken it for surfing, but what exactly is this sport?
Skimboarding dates back to the 1920s when a couple of life guards at Laguna Beach, CA picked up planks of wood and tried skating along the surface of the water. But skimboarding has grown from its Southern California roots, and now you find publications devoted to the sport, a professional circuit with major competitions around the world, and lots of eager young enthusiasts trying to learn how to skimboard on beach vacations.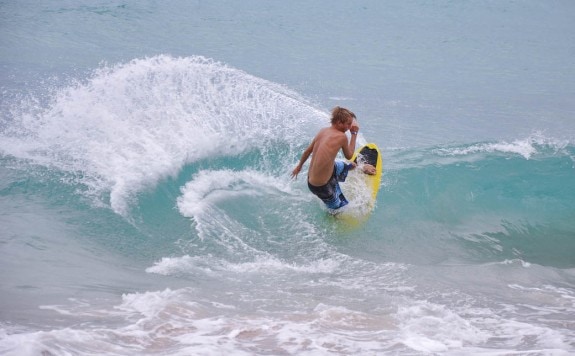 Adam Lose
What is skim boarding?
Skimboarding is surfing shore break waves on short, thin, lightweight boards. Unlike traditional surfing, instead of paddling to a wave, the skimboarder runs with the board, dropping it before the shore break and stepping on it to glide into the waves. It sounds easy, but trust me it is extremely difficult.
When learning to skimboard on your own, expect to fall many, many times. And as you get better at skimming the surface, you will probably want to work on riding the waves or doing tricks, leading to lots more falls – and the potential for injury. That's when it's highly recommended that would-be skimboarders sign up for lessons from experts.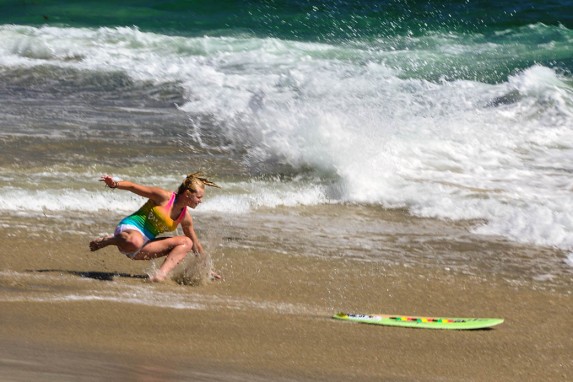 I have been learning to skimboard for three years, even competing in Skim Slam 2011, the annual skimboarding competition at Morningstar Beach in St. Thomas, USVI, and practicing at every beach that we visit on our cross-country road trips. And I still fall on my backside most of the time.
But for those not afraid to get a little dinged up, it's a blast, quickly becoming one of the most popular beach activities. And it has the added benefit that it's much easier to pack and carry a skimboard than even the lightest surfboard.
Skimboard Gear
All you actually need to skimboard is: a beach, a swimsuit, a board, two legs, and a readiness to have some fun.
As for the skimboard, if you're super new to the sport you may want to start with a cheap basic wooden board. Many beachside shops will sell them for under $50, and Ron Jon Surf Shop has them starting at $35. As you get better at the basics, you will want to try learning to wrap around waves. In order to do this you will need a Fiberglass skimboard. Some of the most popular skimboard companies include Zap, Victoria, and Exile.
Other items that are very useful include: Zinka- a zinc based sunscreen that protects better than normal sunscreen, board bags and liner socks for easy transportation, trackpads and wax to keep you feet on the board, and a wetsuit if the water is really cold. For parents, a beach chair and sun umbrella may come in handy.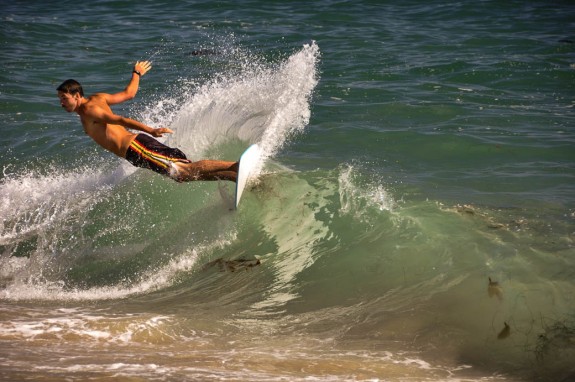 Teddy Vlasis
Skim Camps
Even as recently as last year it was difficult to find camps that taught skimboarding. However, new camps are popping up all over the country.
California: Victoria Ocean, Laguna, CA. a 30-year veteran skimboard manufacturer, runs skim camps in the summer with an impressive roster of instructors that features some of the best skimboarders in the world, including  Teddy Vlasis (currently ranked #4 in the world according to UST. ) They also offer private lessons with their top riders.
Delaware, Florida, & North Carolina: Alley-Oop has been selling skim gear and teaching kids how to skim for 11 years. They offer free clinics to get kids interested in skimboarding, as well camps, lessons, and skim adventures. Alley-Oop holds camps from March to August at Dewey Beach, DE; Outer Banks, NC; and Fort Lauderdale, FL. Private lessons are also available, as well as Skim Adventure Travel Packages where kids can visit beach destinations at Melaque, Cabo San Lucas, the Bahamas, and Laguna California. They travel with pro skimboarders who bring them to the best skim spots and give the kids lessons.
New Jersey: Jersey Shore Skim Camp, Sea Bright Municipal Beach, NJ. In its sixth year of operation, experienced instructors run camps all summer long for kids ages 7 through teens, at all levels of ability.
Caribbean: In the US Virgin Islands, Skim Caribbean runs skim camps at Morningstar Beach, by Frenchman's Reef Marriott Beach Resort, June through August, with additional programs and lessons available year round.  Ray Whittemore and Alejandro Lopez are excellent instructors, and the whole Team Skim Caribbean is full of great people with a great vibe. They hold an annual "Skim Slam" in which skimboarders compete and show off their skills. This competition is great for all ages, even the super young ones.
Since skimboarding is still an up and coming sport, it is very easy to meet and learn from the pros. All of these camps are taught by the best of the best, and just watching them work their magic on the board is inspiring.
Skimboarding Resources: