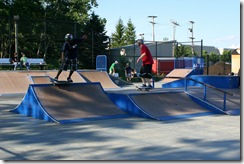 I've been looking for skate parks in the Capital Region. No, not for myself. Can you imagine? Middle aged mom dons breaks every bone trying to learn how to do an ollie. No, I've been looking for a places to take my son to practice skateboarding that are fun, safe, and preferably free.
I haven't found a free skate park in the Capital Region yet, but I've found a few that otherwise fit the bill. Compiling an accurate list of local skate parks is not easy. For such a large state, there aren't that many skate parks in New York, and you never know when the ones that do exist will be added to the growing list of closed skate parks. Even skate parks that have been open for years can experience significant remodeling that eliminates the features that drew skateboarders in the first place.
To find local skate parks, I looked at a few websites that maintain databases of skate parks around the world:
Concrete Disciples seems to have the most extensive database, listing 86 skate parks that are currently operational in NY:
Capital Region Skate Parks:
After much online searching, and asking friends for recommendations, here is my attempt at a comprehensive skate park directory for the Capital Region:
The Shelter Skate Park and Shop – Albany, NY (Indoor) CLOSED August 2011
SFXtreme– Ghent, NY (Indoor)
Clifton Park Action Park– Clifton Park, NY (Outdoor)
Halfpipe Thrills– South Glens Fall, NY (Indoor) (Currently closed but may re-open)
Saratoga Springs Skate Park – Saratoga Springs, NY (Outdoor) The filled-in pool has been cleaned out!
It's a short list. I can't believe that these are all the skate parks in the area. Do you know of any that I'm missing? Are there other places that you can re
commend for skate boarding that are aren't necessarily official skate parks? Please share!