Make Musical Connections: Take the Kids to The Rock and Roll Hall of Fame in Cleveland, OH and the Chicago Blues Festival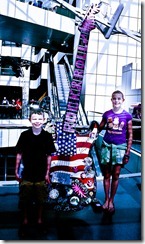 You could say that our family adventure to The Rock and Roll Hall of Fame in Cleveland, Ohio was a little bit hip hop and a little bit rock and roll.
Back in the summer of '09, my kids and I headed out on a two-month-long Read Across America Road Trip. Many happy miles flew by listening to audiobooks, but sometimes compromises were made and we listened to each other's musical selections.
Willingly, or not.
Starting Out On A Read Across America Road Trip
Every road trip should have a soundtrack.   That's what I believe, even if what I usually crave is a little peace and quiet, and even though most of our road trips are spent listening to an audiobook.
I still like to have a musical theme for my road trips, drawn from a variety of genres.
Driving from Albany, NY to Chicago, in early June for the Blues Festival that colors the climax of Newberry Classic Yolonda's Genius, I thought about sticking to the blues (and more than once, I was singing the blues.)  Instead, we mixed it up with a little of this and a little of that, from Jazz to Hip Hop, and I threw in a stop at the Rock and Roll Hall of Fame in Cleveland, Ohio.
In retrospect, I think that this was an inspired way to introduce a story that is about the nature and recognition of musical genius.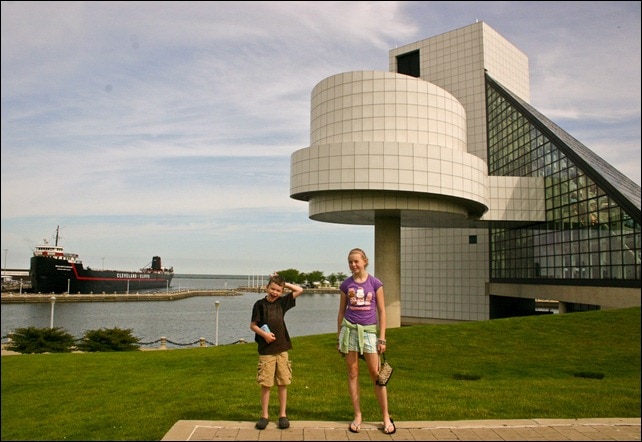 Hip Hop and Langston Hughes
When I insisted on playing the CD that comes with Hip Hop Speaks to Children: A Celebration of Poetry With a Beat, my kids wanted to know what did Hip Hop have to do with our story.  This wasn't Rock and Roll, and it wasn't the Blues.
I asked them to read aloud poems from Poetry for Young People: Langston Hughes.  (See Lesson Plan on Langston Hughes and the Blues.) Well, there was no great revelation, more of a slow buildup of understanding, trying to connect the idea that lyrics could be poetry, and that vastly "different" musical and literature genres can share common elements and influences.
(Note that three years later, my daughter is a huge fan of rap music, and that she is busy planning a poetry slam to showcase her own rap lyrics. You just never know where a little enrichment will lead!)
Rock and Roll Hall of Fame – Cleveland, Ohio
The Rock and Roll Hall of Fame is huge, and the exhibits suck you in, so that we found ourselves spending hours watching documentary videos, listening to songs, and reading informative posters.
I had only planned to spend a couple of hours at the museum, but we ended up staying most of day.  It was that interesting (although my 9yo son wasn't as much of a fan as my teen daughter and I.)
Somehow, with promises of free T-shirts, I persuaded both kids to fill out an Activity Guide.  I was glad I did, as this forced them to spend a little time learning about the early influences of Rock and Roll.  Otherwise, I'm sure they would have bypassed The Roots of Rock and Roll: Blues, Gospel, R&B, Country and Folk, even though this was one of the most useful exhibits for understanding the themes in Yolonda's Genius, especially the idea that genius lies in creating something new out of the old.
We also watched a couple of films – Mystery Train, Kick Out the Jams (caution – mature content) –  that I thought did an excellent job of showing how groundbreaking artists are often not appreciated at home, at least not until they achieve fame elsewhere.  Picture Janis Joplin defiantly returning to her small hometown. (A good lesson to revisit in difficult teen years!)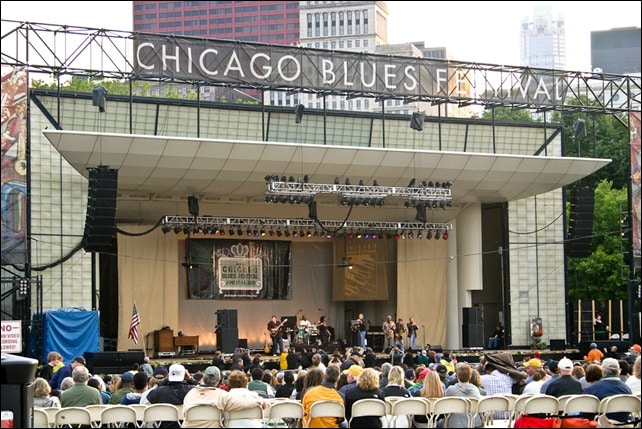 Dancing In The Streets of Chicago
By the time we arrived in Chicago, we had finished listening to and discussing Yolanda's Genius.  Now we could appreciate the setting, the music, and the food at the largest blues festival in the world.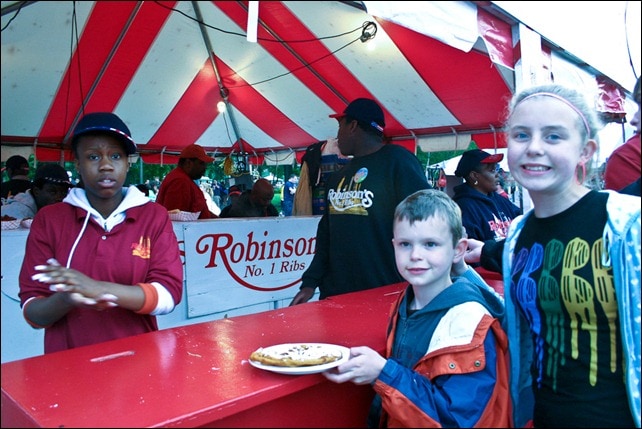 And for the kids to pretend, for just a moment, to be lost children like Yolonda and Andrew when they were scheming to go backstage. Sadly, that trick didn't work for my kids, although it did give me heart palpitations when I noticed the police squad right next to my young thespians.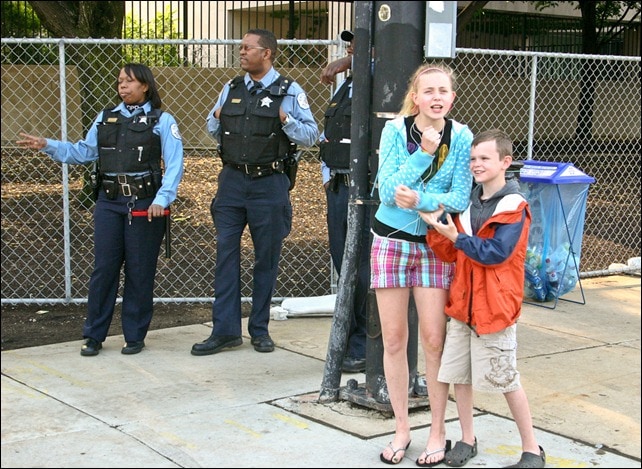 Music and Travel
Checking into the Essex Inn, a stately but moderately priced hotel with a magnificent pool (an important criteria for the kids!), we met a fellow traveler who happened to be one of the headliners at the Blues Festival, Terry "Harmonica" Bean.
I was tempted to ask him if he'd ever been a misunderstood genius, like Yolonda's harmonica-playing little brother, but I managed to show a little restraint.  Not much, mind you, but a little.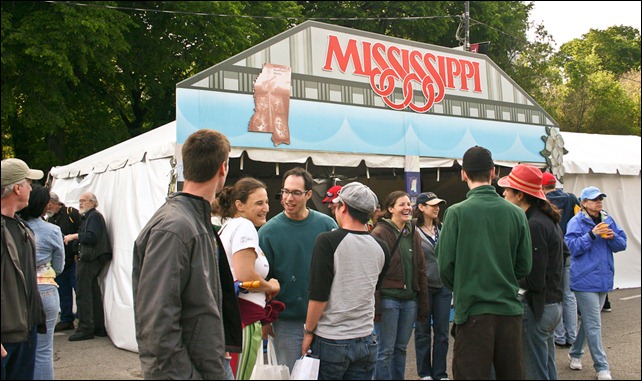 Our hotel was located across the street from Grant Park, the site of the several stages that are part of the festival, but Terry was from the South, and he would perform on the Mississippi Juke Joint stage, on the far end of the park.
See, this is where I started seeing those learning connections, as if I could miss them, found in music and travel.  Two years earlier, on our first major family road trip, I took Kayla and Alex to Mississippi to explore the subject of my daughter's school state report.
Kayla had decided that what she most wanted to learn about in the southern state was its native son – Elvis Presley, born in Tupelo, Mississippi.  As part of that project, we visited various Tupelo museums where we learned about Elvis' musical inspirations, including the folk, country, gospel, and blues influences.
We also drove to the Crossroads, and visited  Morgan Freeman's Ground Zero Blues Club  and the Blues Museum along the Delta Blues trail, before heading to Sun Studios and Graceland.
On that road trip, and again on this one, it's been fascinating to discover the way music connects human culture across geographic and other boundaries, and to see how it is used as a tool for change.
Rock and Roll Educational Music Resources:
Go See It!
On the first day of our road trip, we left Albany, NY none too early, arriving in Cleveland, OH in time for a good nights rest at a La Quinta hotel. The next morning, we spent most of the day (10AM-3PM) at the Rock and Roll Hall of Fame before driving 1.5 hours to Toledo, OH where we sampled Hungarian Hot Dogs. Then, I drove another 3.5 hours to get to Chicago where we stayed two nights at the Essex Inn. I left the car in hotel parking, and we walked everywhere, spending one day at the Blues Festival and another visiting the Frank Lloyd Wright designed Robie House.
I think that I could spend a lifetime getting to know Chicago, and I will – bit by bit. Most recently, we returned for a brief Deep Dish Pizza foodie adventure.
Rock and Roll Hall of Fame and Museum
1100 Rock and Roll Boulevard  Cleveland, OH 44114
(216) 781-7625 |
http://rockhall.com
Essex Inn
800 South Michigan Avenue  Chicago, IL 60605-2115
(312) 939-2800 |
www.essexinn.com
Read Across America Road Trip of 2009:
You might like: