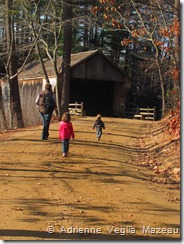 My family loves day trips.  We get a chance to break out of routine, escape for the day and usually recharge our batteries. Over Veteran's Day weekend we took a day trip to Old Sturbridge Village  in Massachusetts.  OSV is a living history museum comprised of over 50 buildings from the period of 1790 through 1840 that replicates a true New England town.  Only a few of the structures are actually from Sturbridge as most have been restored and moved from other areas in New England to create the Village. There are numerous trails to hike on, picturesque covered bridges and enough farm animals to keep the kids enthralled.
I love outings like this – especially this time of year.  As we approach the holiday season and my daughter is starting to ask "Santa" for everything in sight, I took advantage of our visit to Old Sturbridge Village to show her what life was like for those prior to movies On Demand, refrigerators and plush beds.  I think some of this sunk in as she seems to remember the the straw mattresses at night as she snuggles into her flannel sheets.
Tips for Visiting Old Sturbridge Village
When you first arrive at the Visitor Center, make sure not to miss the gallery space and the new exhibit "A Child's World" which explores childhood, through toys to fashion, during the early half of the 19th century.
Also in the Visitor's Center is Kidstory – an area created with little ones in mind and is best suited for kids under 8 years old.  Here the kids can "play in the past" and try their hand at milking a cow, planting a garden, working the general store and even dress up in time period costumes.
Tip: the exhibit is next to the Kidstory area. My 2 and 5 year old were not interested in the exhibit and my husband and I took turns walking through it while the other watched the kids in the Kidstory area. We did this area at the end of our visit in order to see the Village first and give the kids the downtime they needed prior to getting back in the car for the drive home.  This worked well for us.
Make sure you get a map and mark your must see areas.  The Village grounds are large and if your kids are young, like mine, their attention spans and tired legs may not make it through the entire Village.  We spent about 3 hours at Old Sturbridge Village and saw about 75 percent of the museum.  There are no paved walkways at Old Sturbridge Village so if you can, avoid bringing the stroller and opt for a baby carrier.  This will allow you more mobility to walk through the buildings and avoid getting stuck on the dirt paths.  My 2 year old walked with us and was fine.
Many of the buildings had costumed interpreters inside detailing what life was like in the specific dwelling.  Seeing costumed interpreters walking into "town" from the outer buildings at Old Sturbridge Village made me long for my Laura Ingalls Wilder reading days.  I always looked longingly at Laura and Mary's  lives in Walnut Grove (much romanticized version) – the dresses, the walks to school while hopping over creeks and even Nellie Olsen's family's store.  Being at Old Sturbridge Village truly makes you feel like you've slipped back in time.
Back to Old Sturbridge Village…
Some of the must-see areas are the craftsmen shops, including the tin shop and blacksmith.  The interpreters were all incredibly knowledgeable about the time period and New England customs that the whole family will learn a thing or two.
Old Sturbridge Village stages various demonstrations throughout the day so check the schedule when you visit.  During our visit kids participated in a Kid Militia, complete with mock weaponry,  a drill commander and drummer.  Make sure not to miss the playground near the entrance to the Village where kids can pretend to milk a cow, see how easy they have by experiencing an outdoor "potty" and slide through a mock chicken coop.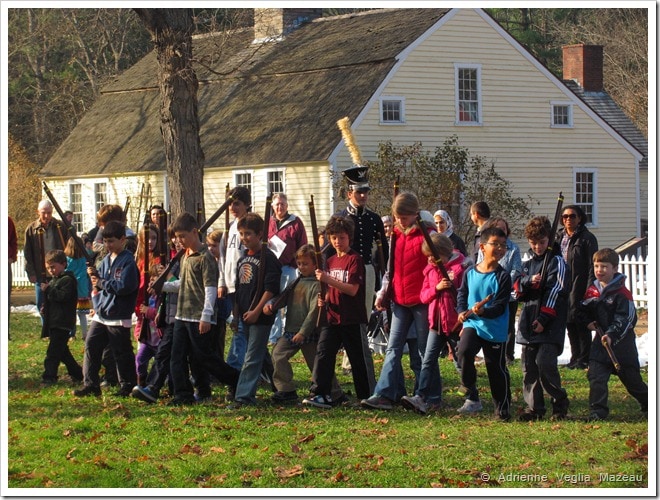 Lastly, a visit to Old Sturbridge Village would not be complete without a ride on one of the horse drawn stagecoaches, wagons or the riverboat.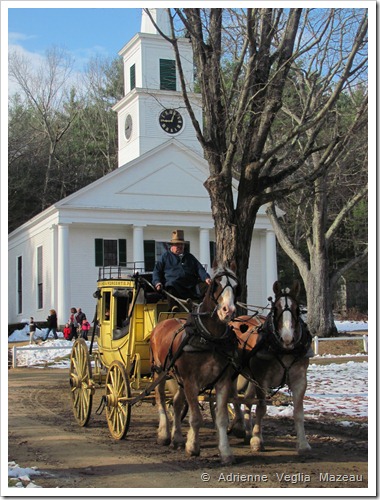 We opted for the Carry-All wagon which, although not historically accurate, it carried about 20 people with the help of two large Clydesdales… and this was free.   This ride takes you through one of the two beautifully restored covered bridges.  The stagecoach and riverboat rides require a small fee but looked to be equally picturesque.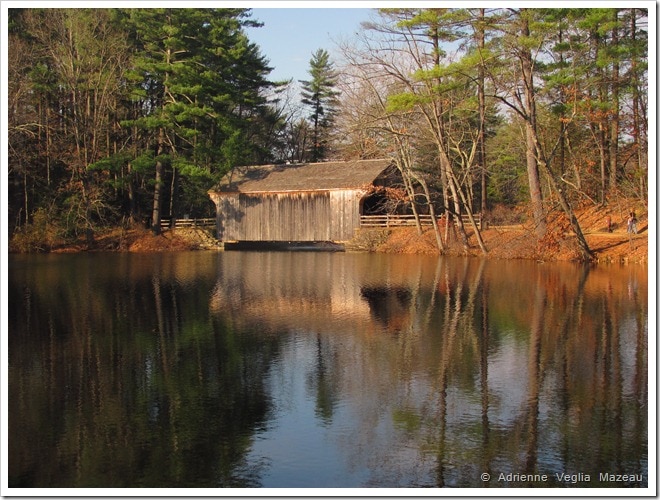 Dining at Old Sturbridge Village
There are several eateries at Old Sturbridge Village and plenty of picnic tables if you pack a lunch instead.   On Sundays the Oliver Wight Tavern holds a more elaborate buffet brunch ($20 per person).  There is also a Village Café in the entrance of the Oliver Wight Tavern that offers a lighter selection of edibles.  We opted for lunch at the Bullard Tavern which is located in the center of the Village and also the location for the stagecoach rides.  This was more cafeteria style and consisted of the usual mac n' cheese and chicken fingers along with more regional selections such as the clam chowder in a bread bowl, pot pies and roasted vegetables.  The food was decent, prices were reasonable and it's kid friendly.
Old Sturbridge Village is open year round though check the website as hours are limited during the winter months.  My family loved the historical aspect of the trip while also getting to spend a lot of time outdoors exploring the grounds.  A day trip to Old Sturbridge Village is an easy drive from the Capital District and one your family won't regret.
Go Visit!
Old Sturbridge Village 1 Old Sturbridge Village Road Sturbridge, Massachusetts 01566
http://www.osv.org/
1-800-733-1830 Admission: ($24/adults, $20/seniors, $8/kids 3-17)
A big thank you to Old Sturbridge Village for providing complimentary passes.