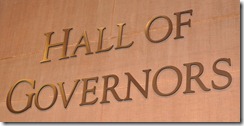 A recent visit to the New York State Capitol turned up an unexpected bounty. I went in search of the horse-drawn suffragette campaign wagon described in New York Women, but found a palpable buzz in the air at the NY Capitol as workers scramble to finish renovations and install new exhibits.
Right now there over a dozen different exhibits, above and beyond the architectural gem that is the New York State Capitol building, itself a designated National Historic Landmark.
NY Capitol Tours
Empire State Plaza Concourse
Since we parked in the Visitor's Lot at the Empire State Plaza, we walked past the concourse exhibits to get to the Capitol. Unlike some people I know, I don't get googley-eyed over cars, but the 1967 Lincoln Continental caught my attention. This particular model was lengthened by 34" to add rear-facing seats for Governor Nelson Rockefeller; and its luxury amenities included: air conditioning, radio, cassette player and television receiver, and a sliding privacy window.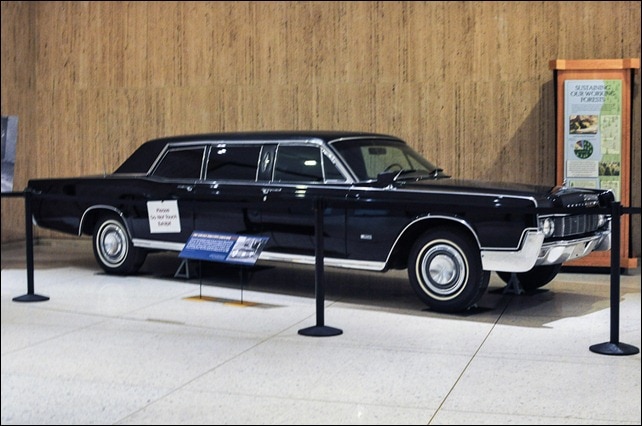 My parents had a similar Lincoln Continental, without the custom features, in Buenos Aires at about the same time that Governor Rockefeller kept two in New York – one upstate, and one in New York City. But in Argentina, an ostentatious Lincoln Continental was cause for kidnapping.
Capitol Fire of 1911
The City of Albany has seen a lot of ups and downs since it became the capital of New York in 1797, but one of the most tragic was the 1911 Capitol Fire – an event that took place within days of the infamous Triangle Shirtwaist Factory fire in New York City, and which led to reforms that placed once placed NY at the forefront of progressive states. Catch the display at the Capitol while you can for an introduction to these historic fires, but frankly, you will be more comfortable reading about them online on virtual tours of the Capitol Fire and of the The Triangle Shirtwaist Factory Fire and its Legacy.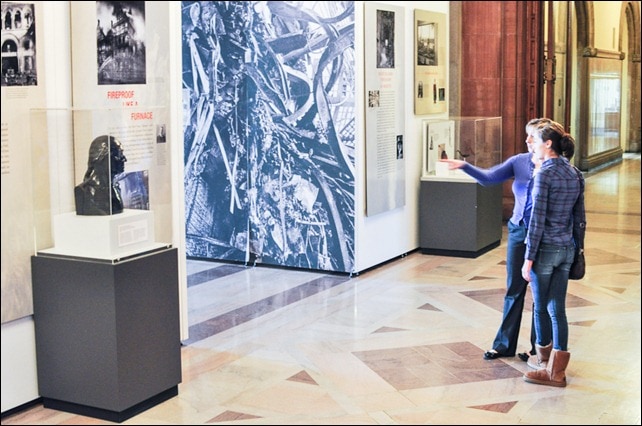 NY Capitol Restorations
As anyone who owns a house knows only too well, maintenance work is never done. In 1979, the U.S. Department of the Interior designated the Capitol as a National Historic Landmark. Since then, ongoing restoration projects have balanced the needs of state employees with the goal of returning the building to its 19th-century appearance.
Major renovations were completed recently – most notably in the Hall of Governors – but we passed one stained glass ceiling restoration still in progress.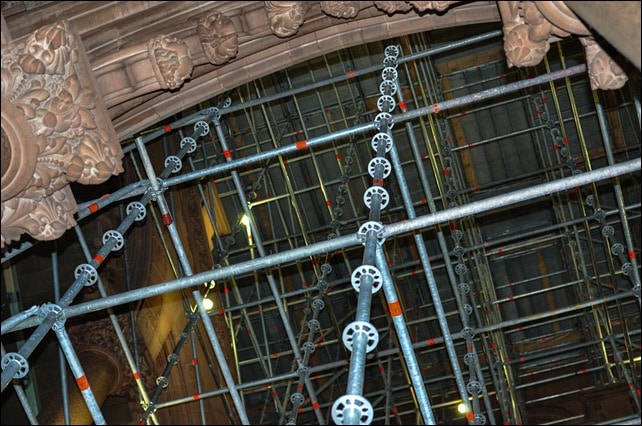 Hall of Governors
The Hall of Governors holds an underwhelming display of paintings of New York's illustrious leaders, more remarkable for what it doesn't hold – portraits of Cuomo, Senior or Junior.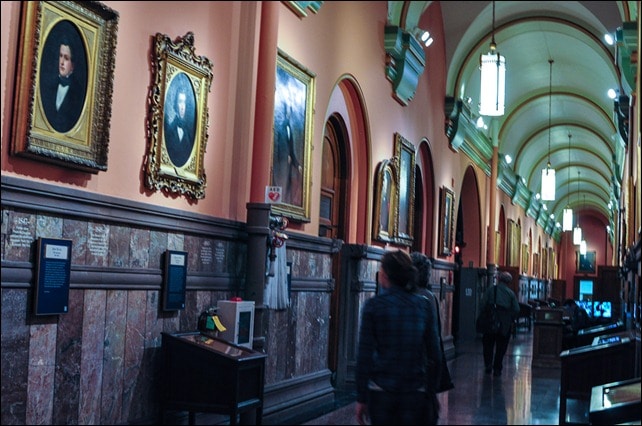 The hall is attractive, and great care has been taken to select exhibits that are of interest not only to historians, but also to students. Display cases are set below some of the former governors, and filled with artifacts from the period when they were in office.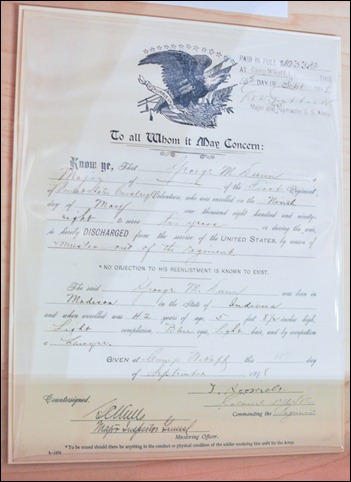 On our visit, we stopped to gawk at the original Honorable Discharge papers of one of Theodore Roosevelt's Rough Riders. And across the narrow hall, we peered into a display case dedicated to his younger cousin, Franklin D. Roosevelt, which held a book open to a page about his dog Fala's correspondence.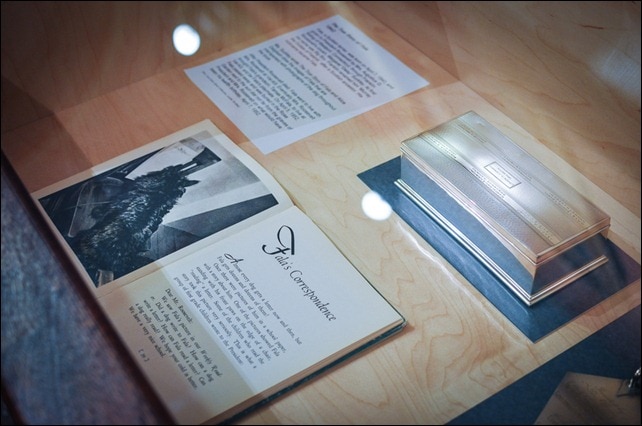 What I liked was that these exhibits are very accessible, and even photos are allowed since the artifacts are protected by a special Plexiglas that protects them from the harmful effects of light. Even so, they are rotated every 4-6 months to minimize potential damage.
African-American Experience in New York
You can visit the African-American Experience in New York exhibit to read the plaques citing some of the many accomplishments of African-Americans in New York, or you can read them all in the virtual tour. At the Capitol, you can peer at artifacts such as Louis Armstrong's trumpet in a Plexiglas case, but these are also in the virtual tour.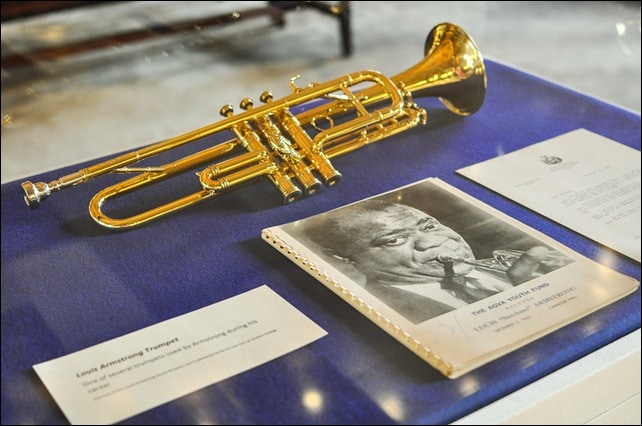 It seems to me that the only benefit to seeing the exhibit in person is that it's unlikely that you could get most kids to sit through reading this content online. In person, they'll at least look at some of the material before escaping.
New York Women
I really wanted to like the From Seneca Falls to the Supreme Court: New York's Women Leading the Way exhibit. Like the African-American Experience in New York, the story of our visionary leaders and pioneers is fascinating. So why can't exhibit designers do more than just chucking up some plaques and a few measly artifacts? The same artifacts seen a couple of years ago at the New York State Museum's Women's Suffrage Movement exhibit? In my opinion, this exhibit gets an "F" for effort.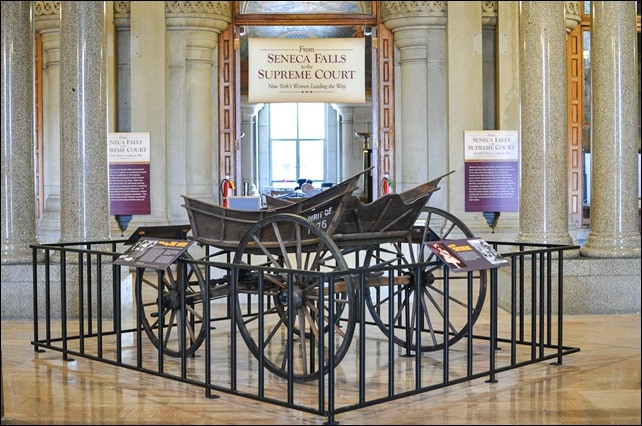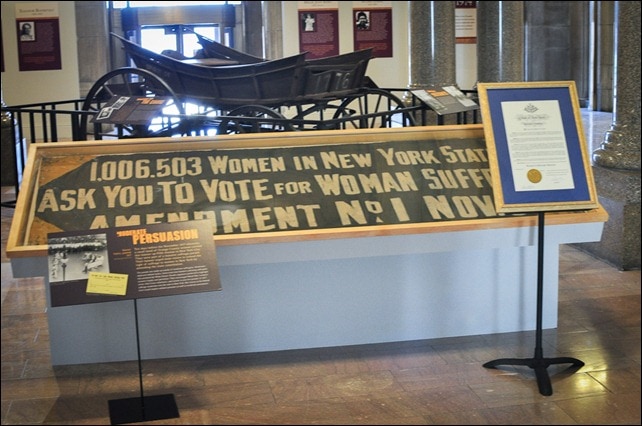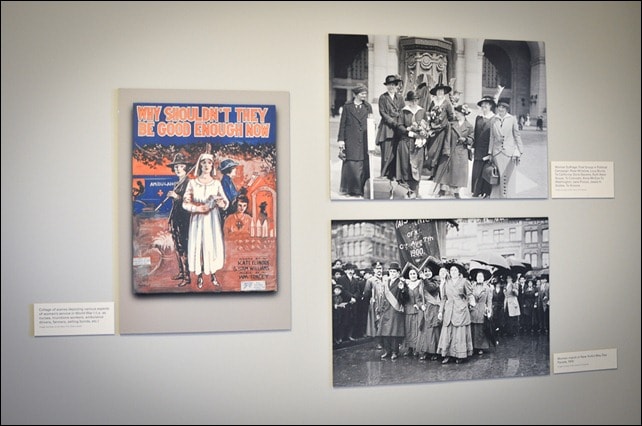 Go if you want to see the plaques in person, or you can read them on the virtual tour.
Take the Kids to the Capitol
Don't get me wrong. Do visit the Capitol and sign up for one of the tours. The building is a gorgeous architectural gem, and the historical tours are interesting (if not inspired.) It's that there is so much potential that is being wasted for lack of a a little effort and imagination.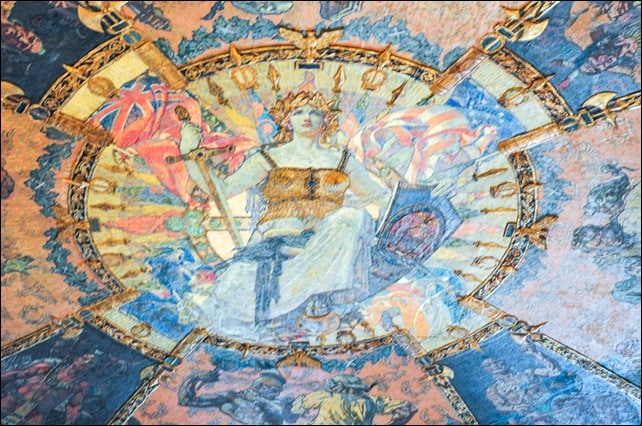 Suggestions for Improvement
The exhibits at the NY Capitol are very much of the look, but don't touch variety, which is sad because there is an opportunity here to awaken a curiosity and interest in history and civic engagement.
On the plus side, the online resources and virtual tours ensure that an educator could design a tour that would complement the exhibits to ensure a positive experience for the student. If one cared to expend that effort.
And audio tours are available, which can be accessed through smartphone apps. But I grew frustrated trying to use one that was supposed to pull up a video, but was stalled instead. So I can't speak to whether or not these add to the experience. I would like to think that they might.
Maybe it's too much to ask given present economic woes, but if we don't strive to do better, how will we get there? So I'm asking for dynamic historical tours for kids (and adults) that take advantage of the resources in the New York State Museum, so that they are complemented by what is available in the NY Capitol. Might I recommend looking at the many programs and classes available at the Newseum in Washington DC with kids for inspiration?
Find It!
New York State State Capitol
State St, Albany, NY 12223 Parking: Visitor's Lot at the Empire State Plaza, approx. $2/hour Website:
www.hallofgovernors.ny.gov
.
The New York State Capitol Tour Program:
You Might Like: