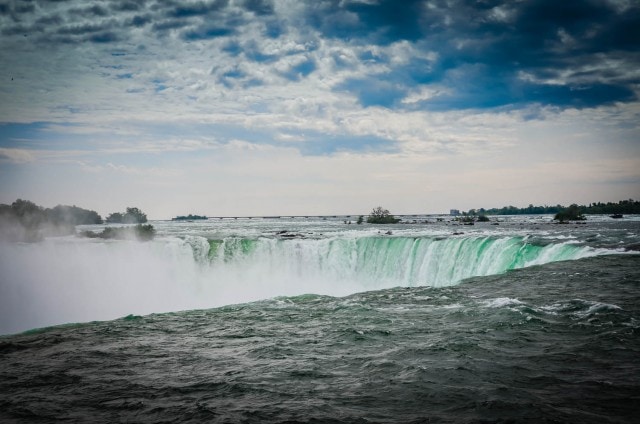 If you thought that the only way to capture great Niagara Falls photos was on a Maid of the Mist boat ride, think again. Having previously done the Maid of the Mist tour with kids on the New York side of the border, I wanted to experience the popular waterfall attraction in a new way. I got my wish, and then some, when TBEX, the travel media conference, partnered with the Niagara Parks Commission and Niagara Falls Tourism to plan a familiarization tour  on the Canadian side of the border that promised an "authentic Niagara experience from all angles: above, below, behind, and within!"
Table Rock Centre
My first glimpse of the falls was the most breathtaking, if only because it was surprising. Having visited Niagara Falls, as well as many other waterfalls, I wasn't expecting that first heart-stopping moment. But as we walked toward the Table Rock Visitor Center, tourmaline green sparks amidst foaming white waters held my gaze as the Niagara River dropped out of sight into the Horseshoe Falls.
Indoors, we experienced Niagara Falls virtually at Niagara's Fury, a 4D experience into its 10,000 year history. Standing at the center of a 360° screen, the temperature dropped 20°s and we were under attack from bubbles and foam as "snow" fell upon us while the floor tilted and shook below.  And while this was an awesome introduction to the mighty power of water, the virtual experience paled by comparison to the real-life Niagara Falls.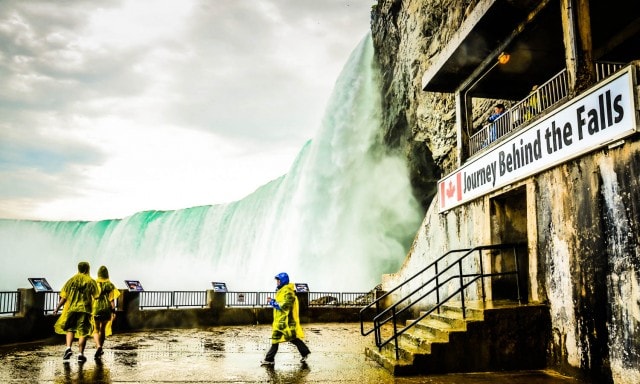 Journey Behind the Falls
When emerging from the tunnels below Table Rock Centre, I wasn't prepared for the blast of sound and fury. There I was at the base of the Horseshoe Falls where one-fifth of the world's fresh water–over 2,800 cubic meters of water–thunders over the brink every second. Just me, and about a dozen other yellow-plastic-suited tourists.
This is as close as you can get to this almighty force of nature without a barrel (and who wants to join the Niagara Falls daredevils anyway?)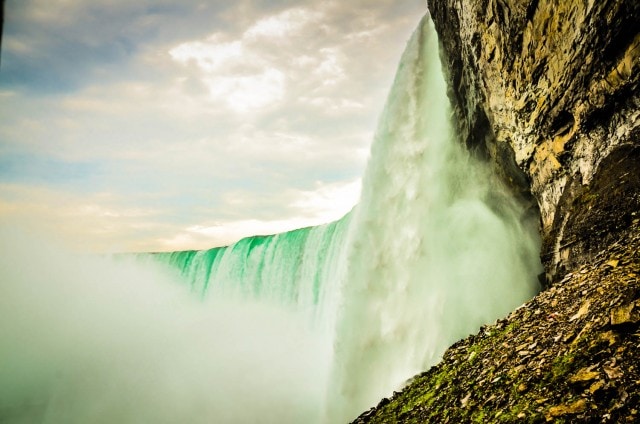 Elements on the Falls Restaurant
Back inside Table Rock Centre, I gazed upon Horseshoe Falls from a more restful vantage point–our table at the Elements on the Falls Restaurant. Although elegant enough to host celebrities such as recent patron actor Eric Braeden, best known as Victor Newman on The Young and the Restless, the dining room is casual enough for families in search of Chicken Nuggets. Parents will appreciate that although the Children's Menu includes all the usual suspects as well as adventurous fare, fresh ingredients from local farms ensure that everything is healthful and flavorful.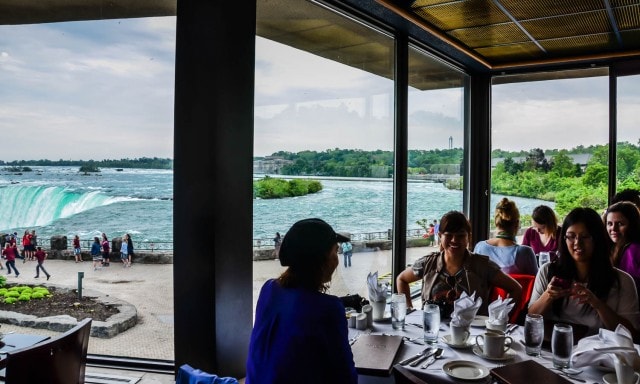 Skylon Tower
Leaving Table Rock Centre, our tour group went in search of an aerial view at Skylon Tower, where indoor and outdoor viewing platforms placed us 775 feet above the falls. I wish I'd thought to shoot in panoramic mode as that's the only way to truly do justice to the 360° perch.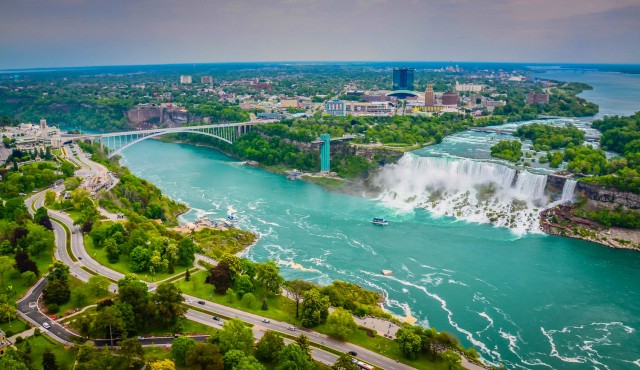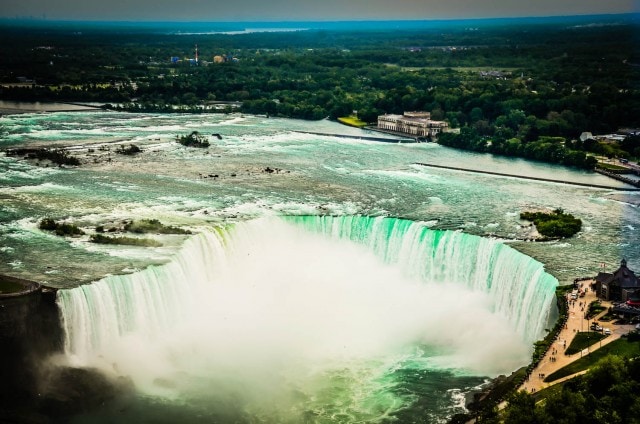 Whirlpool Aero Cars
On our way to Niagara-on-the-Lake, where we were to catch the Whirlpool Jetboat Tour, we stopped at one of the oldest Niagara Falls attractions–Whirlpool Aero Cars. Built in 1916 by  Spanish engineer Leonardo Torres Quevedo, the cable car and has been in operation since 1916, where it offers an excellent view of the Niagara Whirlpool that forms at the end of the rapids in the Niagara River's Great Gorge.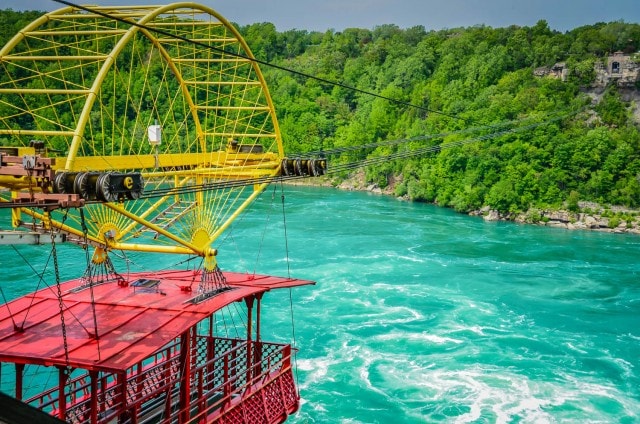 I didn't get a chance to ride the antique cable car (an omission that I'd love to rectify next time) but the observation deck did give me a chance to preview our final adventure of the day–boating into the belly of the beast, the Niagara Whirlpool.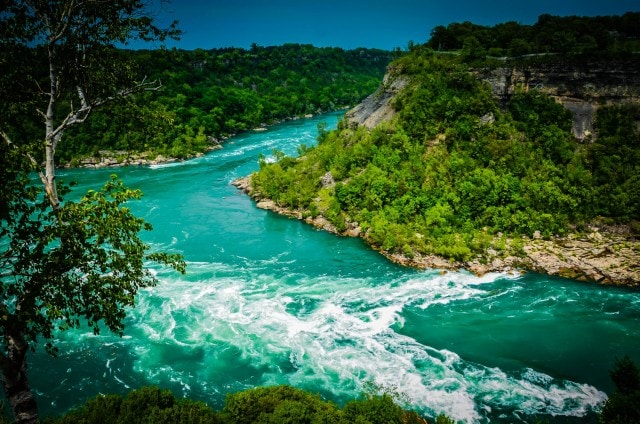 Whirlpool Jetboat Tour
Having ventured at, below, and above the Niagara Falls, there was nothing left except to go into the falls. Never fear, we didn't actually go into the falls, but it sure felt like it aboard a Whirlpool Jetboat. I wasn't prepared for this immersive experience. I thought that the ride would be similar to the Maid of the Mist, but the only similarity is that we were provided with coverups.
Although in this case, we were given multiple layers: fleece sweater, jumper, raincoat, and water shoes. We were also strenuously encouraged to leave behind cellphones, non-waterproof cameras, and anything else that would prevent us from holding onto the rails. But I thought they were just being careful, this was a boat ride, right?
Well, as it turns out, this was no boat ride. We would tackle Class Five whitewater rapids in a motorized vehicle, where I would get wetter than even on previous whitewater rafting trips. Sitting in the front row, I bore the brunt of freshwater waves. Water covered my legs up to my knees, and there were moments when I wondered when I might draw breath again. It was terrifying, exciting, and more of an adrenaline rush than I'd experienced in years.
[youtube]http://www.youtube.com/watch?v=_jQXW4q_kl0[/youtube]
Needless to say, I didn't get a chance to take photos aboard the Whirlpool Jetboat, although I was the lucky passenger to don the GoPro seen in the video footage. Having captured Niagara Falls photos above, below, and behind, I was content to leave the "inside" photos to the experts.
Plan to Visit Niagara Falls, Ontario
Start your visit at Table Rock Centre where you can save on the "ultimate falls experience" with an Adventure Pass that provides discounted admission to a number of Niagara Falls attractions. For more information about our tour, or to plan a trip, visit the following sites:
Getting to Niagara Falls, Ontario
Niagara Falls, Ontario is located 30 minutes from Buffalo, NY or 1:20 minutes from Toronto by car. A variety of public transportation and tour options are listed here.  Get around Niagara Falls via In-Park Transportation. If traveling from the United States, you will travel through a Border Crossing, detailed information and useful links can be found here.