MIT Museum – Visiting the MITERS, Computer Geek HQ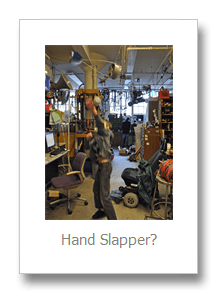 Recently my son and I serendipitously stumbled onto the lair of the MITERS, MIT's Electronic Research Society, a club for college students who like to build with computers and hand saws.
We were exploring Cambridge, MA while my firstborn attended Splash, a weekend program for middle and high school students that takes place annually on the college campus of the Massachusetts Institute of Technology. My eleven-year-old son was too young to attend the classes, and we were eager to check out the robotics display at the MIT Museum.
The robotics display exceeded our expectations. We found prototypes of robots engineered to meet a variety of challenges, from traversing inclines to precise surgery. And since every time we turned a corner, we found another source of wonder; we ended up going through every inch of the museum. Otherwise, we might have missed the MIT club altogether.
It's not easy to find the MITERS workshop. Located in the basement of the MIT Museum, behind the Tech Model Railroad Club display, there is a door that leads into a strange and wonderful room, crammed full of impractical inventions: a flying hand-slapper, a motorized shopping cart whose storage cavity is filled by its engine, and bicycles built for none, to name but a few.
Passing through that door is complicated. On the day that we visited the museum, we found several students in the workshop, busily tinkering with their inventions. We were fortunate, as the club room is only open for visitors when a MITERS "keyholder" is scheduled to be on hand. Luckily, they are a friendly bunch, more than willing to give guests a tour; but beware, they speak an alien tongue.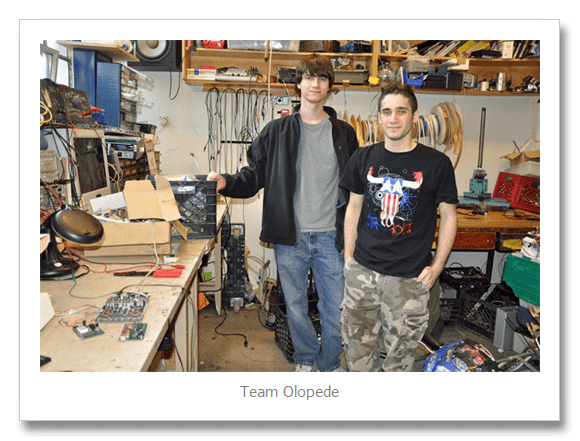 Meet Zach and Josh. They showed us their current project, Olopede, a startup business producing a line of DIY electronics kits that teach, I think. I pride myself on being tech-savvy, but these guys lost me when they started bandying words like Arduino platform, github, and 'black brick kits." I believe that may have been their point; these kits are meant to provide an introductory level option for DIY electronics enthusiasts who might otherwise be intimidated by the intelligent brick that drives many robots, including Lego Mindstorm NXT robots.
It was obvious that these college students were having a blast. We saw only a fraction of the MITERS' weird and wacky inventions, but there are quite a number to be found online. Check out Amy's unusual bicycles, a Musical Tesla Coil, and Luke's color organ to see how much fun these college students are having building gadgets.
And their joy is contagious. After our introduction to the MITERS, my son – who previously vowed that he would NEVER be an engineer, is now asking how soon he can attend MIT.
You Might Like: