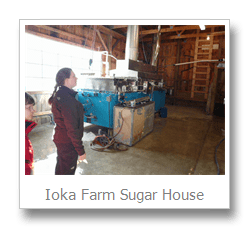 Bright, sunshiny days remind us that warmer days are right around the corner; and that means that sugaring season is upon us.
That's right, it's almost time once again to pull out the taps, bucket spouts, and sap bags.
Alternatively, for those of us less willing to set up taps on our trees, or less patient about the process of converting tree sap into golden maple syrup; it's time to plan a trip to one of the local sugar houses.
Mark your calendars: It's Maple Syrup Season in the Capital Region!
The Capital Region boasts many programs for learning about the sugaring process, and for tasting the sweet rewards.
Ioka Valley Farm Maple Goodness: Maple Syrup Tasting, Sugar House & Pancake Breakfast Calf-A –  Taste test the various flavors of maple syrup at Ioka Valley Farm, conveniently located near Jiminy Peak Mountain Resort.

Sugaring Off Sundays – See historic and contemporary sugaring demonstrations, and enjoy a delicious pancake breakfast coupled with traditional maple sugaring activities at the Farmer's Museum in Cooperstown, NY on March 3, 10, 17, 24,  and 31, 2013.
Thurman Maple Days – Three glorious weekends: March 9-10, 2013, March 16-17, 2013, and March 23-24, 2013, with the Annual Maple Sugar Party on March 9th, Sugarhouse tours, Demonstrations, and Family Fun. Pancakes with Jack Wax and Maple Cotton Candy, need I say more?
Maple Weekend – It's actually two weekends – March 16-17, 2013 and March 23-24, 2013 – where the public can visit free open houses in New York to see (and taste!) maple-syrup production.
Marvelous Maples –  This "hands-on" lesson, taught only in March, demonstrates the process of maple sugaring. Some basic concepts of forestry and tree identification are covered. Students see and participate in the entire sugaring process from sap to syrup, and taste the sweet result. The lesson encourages an appreciation of forest resources and an understanding of how people depend on, and affect, the natural environment. Five Rivers guided lesson held only during March, for more information please contact Five Rivers at (518) 475-0291 or e-mail at 5rivers@gw.dec.state.ny.us.
Backyard Maple Sugaring – Saturday, March 16, 2013 1:00 – 3:00 PM  Grafton Lakes State Park, Phone: (518) 279-1155
Further Afield:
American Maple Museum – Open Memorial Day to Labor Day in Croghan, NY, exhibits depict the history of maple syrup and sugar making techniques ranging from those used by the Native Americans to plastic tubing and stainless steel evaporators in use today.
Vermont Maple – Visit open houses at Vermont's traditional sugarhouses and/or attend the Vermont Maple Festival on April 26-28, 2013 in St. Albans, VT; maple is the official flavor of Vermont!
Tapping the Flavors of a Quebec Sugar Shack – Step back in time as you explore the cabanes à sucre in Quebec.
Maple Syrup Recipes:
DIY Sugaring:
Go See It!
The Farmers' Museum
5775 State Highway 80
Lake Road
Cooperstown, NY 13326 US
Contact: Visit www.farmersmuseum.org or Call (607) 547-1452
You Might Like: