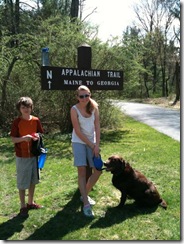 Finding a hiking trail in the Capital Region can be as simple as stepping into your back yard.  In fact, one of the reasons we chose our family home is that the wooded backyard abuts the forest trails under the power lines.  We got full-time luxury camping accommodations AND easy access to miles of hiking trails.
While the back trails are handy, I'm an explorer at heart.  I love to discover new places, especially those that are off the beaten path.  I don't know if I'll ever earn the right to be labeled an Adirondack Forty-Sixer, but over the years that we've lived in the Capital Region, my family has huffed and puffed its way through a lot of area trails. Along the way, we've picked up a few resources for finding hiking trails that appeal to kids.
Books On Capital Region Hikes
Even with the Internet explosion, we still count on books and maps to research hiking trails. Here are my top picks:
Hiking Help Online
Let The Hikes Begin
Before going for a hike, do read Hiking Safety Rules That Save Lives.
Here are our hiking adventures in the Capital Region:
And beyond the Capital District: