Holiday Events – Seasonal, and Just Plain, Fun Things To Do With Kids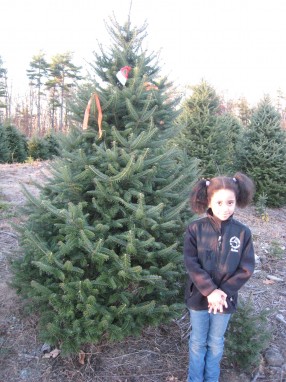 While it's been hard for me to remember that November is upon us this week during all these bright, warm sunny days, the early night time and ever-present Christmas decorations in retail stores keeps reminding me that winter, and its holidays, are coming fast.
Our family isn't religious, but we enjoy the holiday season and celebrate with decorations, lights and a Christmas tree. And baking. Lots of baking and eating of said baked goods, but that's a whole other post!
Along with eating and decorating, the holiday season gives ample opportunities for cultural and recreational experiences that are beyond the ordinary year-round ones. Here are a few that our family will be doing this year, and that your may enjoy as well!
Choosing a Cut-Your-Own Christmas Tree – This is the time we usually go and tag a fresh tree that's growing at our local tree farm, Veeder's, in Earlton. The drill is to traipse all over the acreage, checking out all the trees and how much they've grown since last year, and each family member makes their case as to why a certain specimen is, or is not, the perfect one for our living room. So far, we've avoided fisticuffs, but the negotiations can get…spirited. Which is much nicer to do in clear weather with no snow. Once we tag the tree, we then wait until after Thanksgiving to come back and cut it down, making it the very freshest we can get. Find a tree farm in your area at the Pick Your Own Christmas Tree website. Listings are organized by county, so scroll away!
Old Timey Holiday Customs – This weekend, Saturday November 12th and 13th, the Bronck House Museum in Coxsackie is having their annual Chilly Willy Winter's Eve festivities. A costumed guide takes visitors on a tour of the farm, and talks about preparations for winter life on the farm and celebrations of Martinmas, St. Nicholas and St. Lucia Days. Dutch and Swedish refreshments are served, and tours run at 11am, 1 & 3pm both Saturday and Sunday. The Bronck House is a 17th century Dutch Colonial home, the oldest home in the Hudson Valley, and houses a museum and the Greene County Historical Society.
Just Like in the Movies – The city of Schenectady hosts an annual nighttime holiday parade,
The 43rd Annual Gazette Holiday Parade kicks off at 5pm on November 19th, and runs from Schenectady County Community College up State Street, rain, shine, or snow!  It's one of the only nighttime holiday parades left in the country, similar to the one seen in the classic movie "A Christmas Story".
Speaking of Movies – The all-new Regal Clifton Park Stadium 10 & RPX in Clifton Park has a charity fundraiser going on next week to celebrate the grand opening of their theater complex at the Clifton Park Center in, you guessed it, Clifton Park. The big deal here is that from Monday, November 15 through Wednesday, November 17 the Regal is offering $2 Movies, $2 Popcorn, and $2 Soft Drinks with 100% of the proceeds going to charity! Check out the link for titles and schedules, which happen to include 3D movies as well.
Holiday Events
Looking for more ideas for family-friendly holiday events? We're starting an ongoing list (see below,) and we would love to get more suggestions. Tell us, what are some fun things to do with kids during the holidays? And while you're at it, where can we find the best Santa Claus in New York (don't tell me it's those guys in Speedos!)
"The Polar Express" Saratoga & North Creek Railway – November 18 thru December 28, 2011, Saratoga Springs, NY.
Holiday Ornament Workshop– November 19, 2011 at Crailo State Historic Site, Rensselaer, NY.
Nutcracker Tea – November 20, 2011 in the Hall of Springs, Saratoga Springs, NY.
Troy Turkey Trot – November 24, 2011 in Troy, NY.
Saratoga Turkey Troy – November 24, 2011 in Troy, NY.
Hannaford Capital Holiday Lights – November 25, 2011-January, 2, 2011 in Washington Park, Albany, NY.
Canadian Pacific Holiday Train – November 27-28, 2011 passing through various train stations in NY collecting for food banks.
Winter Walk – Saturday, December 3, 2011 in Hudson, NY.
Troy Victorian Stroll – Sunday, December 4, 2011 in Troy, NY.
SEFCU Holiday Tree Lighting & Fireworks Festival – Sunday, December 4, 2011, 1-6PM, Empire State Plaza, Albany, NY.
Santa Speedo Sprint – December 10, 2011 on Lark Street in Albany, NY.
First Night Saratoga – December 31, 2011 in Saratoga Springs, NY.
Twelfth Night – January 7, 2011 at Crailo Historic Site in Rensselaer, NY.
You Might Like: