As much as I love the pulsating neon lights of New York City's Times Square – even the noisy hustle and bustle – sometimes I want to be near the action – but not in it. That's why I was delighted to discover the Hilton Garden Inn Times Square.
Just a block from the theaters and 24/7 celebration of Broadway, the Hilton Garden Inn Times Square makes a visit to the city so easy and so pleasant.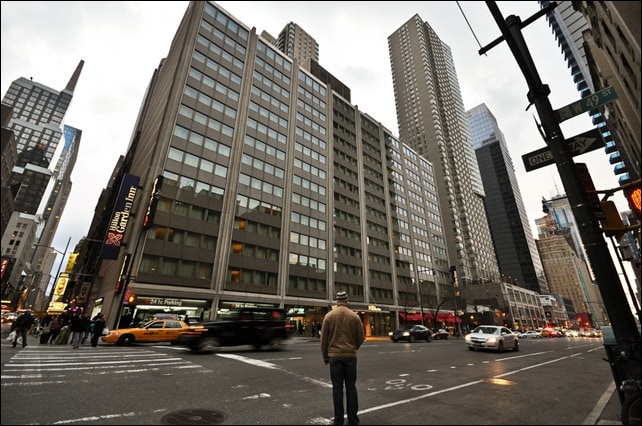 Parking In Times Square
This New York City stay started, like many do, with finding a place for my car. Parking in the city is rarely easy, or cheap, and midtown parking is the worst. But with a parking garage located next door to the hotel, it's as simple as it gets. Even better, hotel guests receive a discount ($10 off the $36/24 hour rate.)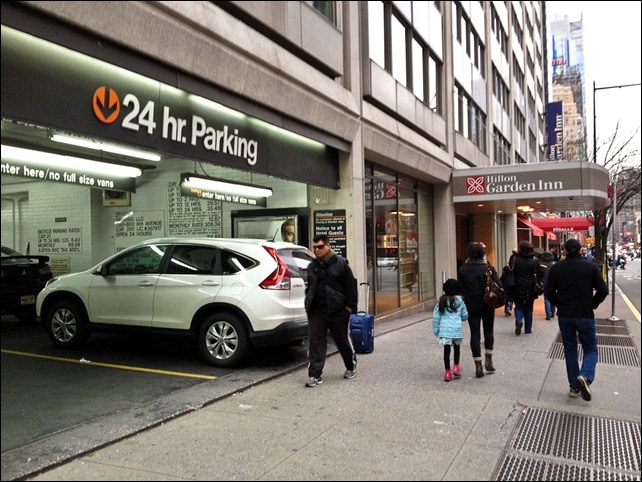 Allergy-Friendly Hotel Rooms
Ridiculous as it sounds, I look forward to hotel stays just to get a break from my allergies. At home, I wage a never-ending battle against asthma provoked by allergic reactions to my dog and Northeast trees. So it's a treat to stay at a hotel whose rooms are sanitized to PURE standards. As soon as I stepped in, I could breathe in the difference. My lungs seemed to expand just little more than usual, and I awoke better refreshed than I have in a long time.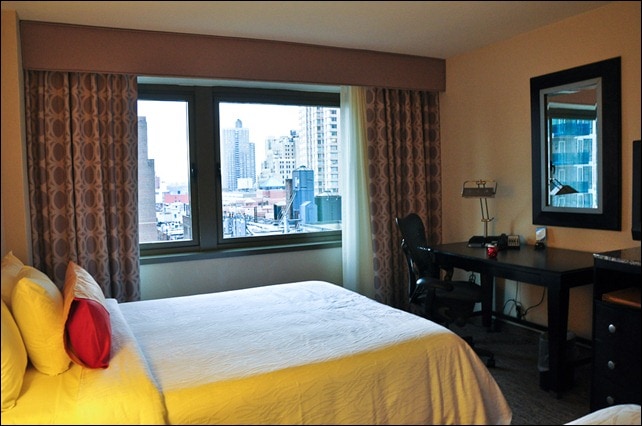 And the emphasis on a serene environment extends to the bathroom where hypoallergenic Neutrogena products are the standard amenities.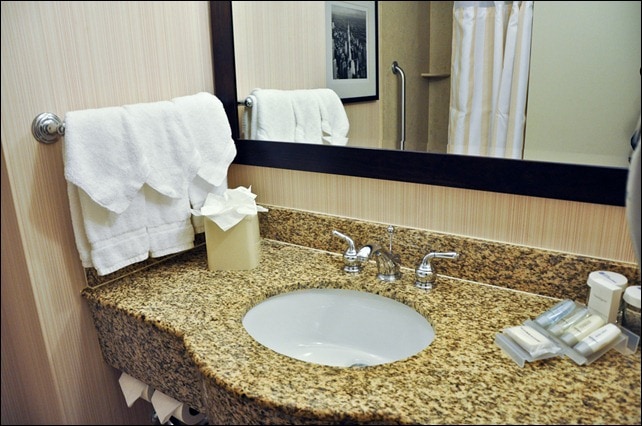 Other family-friendly amenities of note include free WiFi and a mini-fridge – stocked with free bottled water for Hilton Honor guests – as well as a microwave.
My son made himself right at home in the lobby. And I was pleased to discover a 24/7 pantry shop in the lobby in addition to the Pigalle Restaurant, which offers a late breakfast menu from 11:30am-4pm, with reasonable menu items. At $12.25, the Croque Monsier is practically a bargain for Manhattan.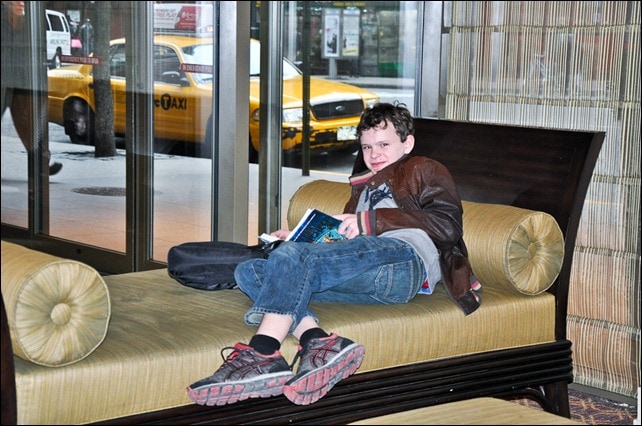 Location, Location, Location
Anywhere else, clean and comfortable accommodations would be unremarkable. But in its prime location – so close to all of the Times Square attractions – this Hilton Garden Inn stands out as one of the best affordable hotels in the city.
Across the street, just past a subway stop and a Starbucks, an Urban Plaza offers a tranquil spot for an impromptu bench-side picnic or a place for the kiddos to run off some steam.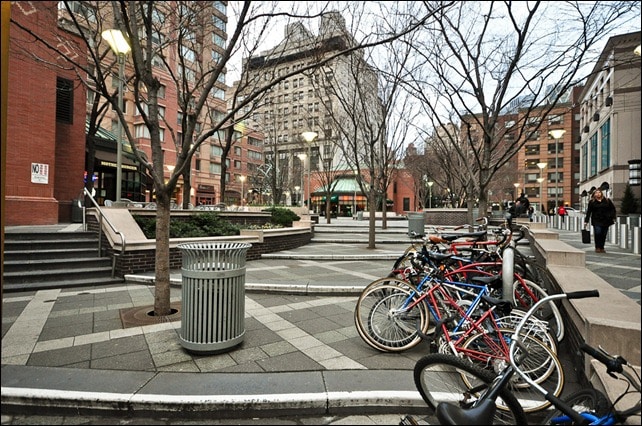 Around the corner from the hotel, just past the parking garage, there's a Cycle Café where you can check your email, grab a coffee, and rent a bicycle to tour the city.
If you walk two blocks south on 8th Avenue you can hop on a Gray Line Double Decker Bus Tour that will take you all over the city, on any of several themed excursions. And when you come back you can pick up your NYC souvenirs at the shops in front of the bus stop.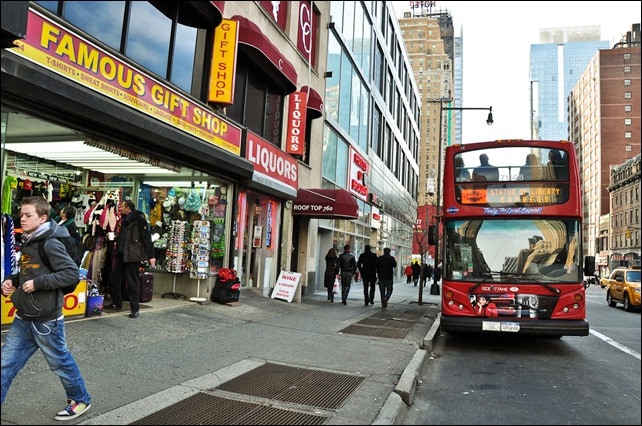 Or, head east for a block or so to land right in the heart of Times Square.
Discount Deal on New York City Sightseeing
One of the reasons that I chose to stay at the Hilton Garden Inn Times Square was to take advantage of the Museum Package which includes admission for two to the American Museum of Natural History (AMNH,) as well as coupons and discounts for a number of other NYC attractions such as Madame Tussauds, The Skyscraper Museum, BODIES…The Exhibition, Ripley's Believe It or Not® Times Square, Children's Museum of Manhattan, and a few area restaurants.
It's a good deal, especially for a first time visitor to the city, but it didn't turn out to be so useful for us. We were only there for one night, not enough time to go to all of these attractions. And the free admission to the American Natural History Museum didn't include entrance to the Beyond Planet Earth exhibit or the Space Show, both nonnegotiable items on our itinerary.
An even better deal for visitors planning a longer stay is the NYC Sightseeing Package (valid at Hilton Times Square, Hilton New York Fashion District, DoubleTree Suites by Hilton Times Square, DoubleTree by Hilton Metropolitan Hotel, Hampton Inn Manhattan Times Square North, Hilton Garden Inn New York/West 35th Street and Hilton Garden Inn Times Square) which includes a great rate plus a savings packet distributed upon check-in with coupons for the following:
Circle Line and THE BEAST.
World Yacht Dinner Cruise.
Madame Tussauds New York.
Helicopter Flight Services "New Yorker Tour."
On Location Tours.
Bike and Roll New York.
NY Waterway Tour.
Le Souk Restaurant.
Flute Bar & Lounge.
Veranda Restaurant.
Planet Hollywood.
Equinox Wall Street (14 Wall Street location only).
Antica Venezia Restaurant.
Bombay Palace Restaurant.
Big Daddy's Restaurant.
Duke's Original Roadhouse.
Top Button's Walking Shopping Tour.
This package is a great value and exclusively offered at these seven Hilton Worldwide hotels in New York City. Guest must request Plan Code "YW or YW1" in order to book the reservation.  Book your stay online at www.hilton.com/nyc-sightseeing or by calling 1-800-HILTONS and mentioning plan code YW or YW1.   One savings packet filled with the above discount coupons will be distributed upon check-in.  Available now through 12/31/12.
Find It!
Hilton Garden Inn Times Square
790 8th Avenue  (Corner of 49th Street) New York, NY 10019
(877) 782-9444 Website:
Hilton Garden Inn Times Square
You might like:
Disclosure: I received a nights' stay at the Hilton Garden Inn Times Square and the Museum Package for the purpose of this review. As always, my opinions are mine alone.