Hiking The Deer Mountain Nature Trail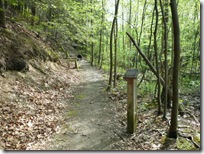 Someone had scribbled "Bridge is out!" on the entrance kiosk map, but we were curious. The Natural Areas of Albany County guide promised:
A brand new nature preserve…170 acres of protected wetland…two trails, one 1.5 miles round trip and the other 3 miles round trip…Solid wooden steps lead up the few steep slopes, with rope railings alongside…Signs identify trees and explain the wetland environment…well-made bridges over wetland…The trails are nicely cleared, without rocks and roots, and are easy to follow.
But, this guide was published in 1996, and a lot can happen in fourteen years.
On The Trail Today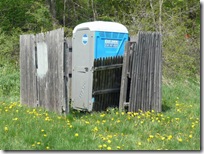 The entrance of the trails looks inviting. As promised, you'll find a "large and attractive parking lot and a kiosk with map of the area." There is even a port-o-potty, discreetly placed behind a screen, for your convenience.
Wooden steps and rope railings have held up well, and the educational signs are very informative. It's a lovely place, and you can see that a lot of care went into making the nature habitat accessible to the public.
However, nature has a way of taking over man-made structures, and in a wetland environment, well, you get lots of water, floods even.
Still, we figured that even with a bridge out, we wouldn't mind getting our feet wet to explore the trail. What we didn't count on was the murky, muddy nature of the wetlands. It was educational to get a first hand look at fossil fuel production, to see the primeval bog and decaying plant matter oozing into its natural state, but we didn't have 100,000 years to observe the inevitable result of a few gallons of crude oil.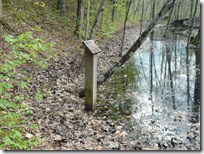 We were short on time and eager to get some exercise, so we marched on even as the trails disappeared under water. Little by little, we were climbing higher on steeply sloping banks and struggling to keep our feet out of the bog.
Yoohoo, our chocolate lab, was in 7th heaven wallowing in the mud, but between the putrid bog and bush-whacking through vertical slopes, we had enough long before the end of the short East Trail.
Deer Mountain Nature Trail
Where: Trail head is clearly marked with a kiosk at the end of Deer Mountain Village Road in Ravena, NY.
Directions: From Albany take Rte. 9W south to Rte. 396 (or the Thruway to Exit 22.) Follow Rte. 396 west to Rte. 101. Turn left (south) and go about 0.9 mile to Jarvis Road on the right. Take this for a mile and you come to Deer Mountain Village Road, a good gravel road. Turn right and follow it 0.8 mile to the parking lot.
Maps:
Terrain: Average
Distance: There are two trails, 1.5 miles and 3 miles roundtrip, but they did not appear to loop.
Caution:
Keep pets on leash. On our hike, we averted a potentially ugly incident between our very friendly retriever and a very aggressive dog by keeping both on leash on the trail.
These trails are not advisable during the hunting season, even though hunting is officially prohibited there, due to many adjoining private lands where it is allowed.