A Long Strange Trip Starts with the Grateful Dead in Cleveland
It's only fitting that our latest American road trip begins with the Grateful Dead.
The first time that I attempted to cross the United States with my children, I left my husband at home in early June, 2009 while I single-handedly drove my beloved Suburban on a two-month circuit of America's children's book settings. On that road trip, as on all our road trips, the journey began with songs for on the road.
And our first stop on both family adventures was at Cleveland's Rock and Roll Hall of Fame, this time to introduce my kids to the legacy of one of the most influential of America's bands – the Grateful Dead.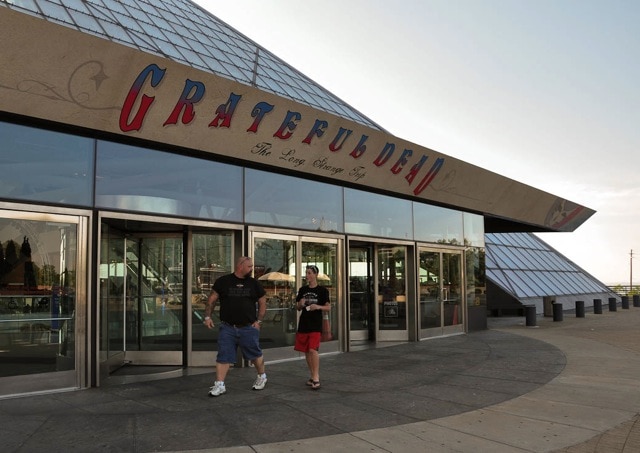 Just as it can be said that Rock and Roll is the blending of America's cultural heritages, brought together by first, train tracks, and later, open roads; then it can also be said that the Grateful Dead band was the very personification of Rock and Roll on the road.
"The band came together at a point when musical genres intersected in a way never  seen before. Outside the music, yet equally as influential, was a rising change in culture and an expanding consciousness of mind, spirit, and art."
On exhibit at the museum is the legendary McIntosh Sound System, made in Binghamton, NY, that was responsible for the acclaimed "Wall of Sound" which achieved a level of clarity rarely experienced at concerts.  Also on display were master tape boxes, gold records – such as the one awarded Europe '72 for sales of more than a million in less than 6 weeks, and song lyrics. I was struck by the simple, yellow, rule-lined paper that carried Sugar Magnolia's message.
My daughter was more intrigued by the splendid robe, whose sleeves are beautifully adorned by hand-painted marijuana leaves, that concert promoter Bill Graham wore as Father Time at the infamous New Year's Eve parties  at the Fillmore, Fillmore West and Winterland. While there are certain aspects of the Grateful Dead's history that I'm not psyched to share with my children, it's an important conversation – both for the musical heritage and the life lessons.
Originally called the Warlocks, before taking on a name culled from a folk tale about a traveler who does a good deed, the Grateful Dead came to be known for their tours across the country – and their legions of followers, Deadheads. I never followed them (like my brother and several friends) but I have fond memories of concerts at Madison Square Garden and New Jersey. The band was generous, allowing and even encouraging, bootleg concert recordings. Say what you will about Deadheads, they were all about peace and love.
Not a bad thing to keep in mind as I traverse the country, with kids in tow.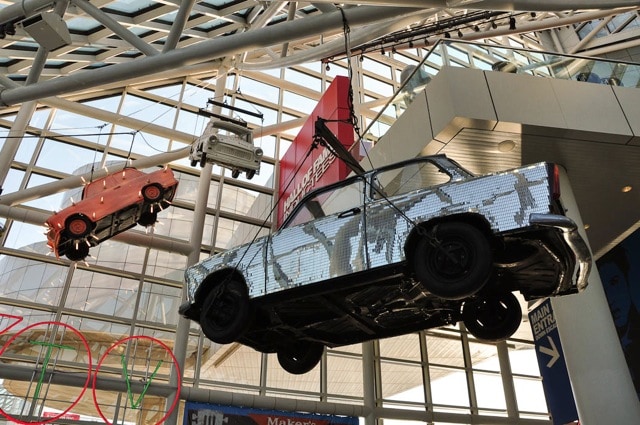 Find It!
Grateful Dead: The Long, Strange Trip exhibit opened at the Rock and Roll Hall of Fame in April, and will continue through December, 2012. In Summer, the museum is open every day 10-5:30, except on Wednesdays and Saturdays when it stays open until 9pm.
1100 Rock and Roll Blvd. Cleveland, OH 44114 216-781-7625
Where to Stay: Due to a busy summer weekend, we were unable to stay in downtown Cleveland. Instead, we stayed in nearby Beachwood at the Fairfield Inn & Suites where in addition to fresh, clean, and spacious rooms, we also enjoyed free WiFi, complimentary  breakfast, and an indoor pool with a 2-story water-slide.
Disclosure: Our visit to Cleveland was hosted by Positively Cleveland. 
You might like: