Graffiti – Introduce Kids to Street Art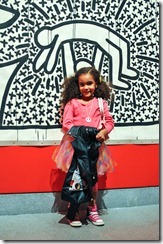 What is it about graffiti that gets people all hot and bothered? When I told friends that I planned to introduce my kids to street art on a long-ago visit to New York City, more than one mom thought I was crazy for suggesting that it's anything other than an urban blight, no better than discarded garbage clogging gutters.
Never mind that graffiti is an ancient art form that has been around longer than most civilizations; 9,000 year-old stenciled hand prints can still be seen at Cueva de las Manos in Argentina, while engraved names embellish more than a few ancient Egyptian temple.
Graffiti Is Communication
My kids' introduction to graffiti started out innocently enough, On a visit to the Communications Exhibit at the Liberty Science Center, we found that graffiti is included as one of the many forms of  "self-expression that enables that which makes us human, as it is a form of communication, which lets us share information, wisdom, hopes and even dreams."
It's fascinating to see the many ways that people communicate; the exhibit includes displays on: Chinese calligraphy, Incan Knot Numbers, Codes, Rebuses, and many more.  You can discover connections between environment and writing, explore the origins of language, or the biology of communication.  At the exhibit's end, there's even a large display covering digital communication, including a Citizen Media blogging kiosk. But quickly bypassing all the other educational displays, my daughter headed straight to the graffiti wall where she used digital "spray paint" to leave a "tag."
Graffiti captured her imagination in way that no other method of communication achieved. That's its power.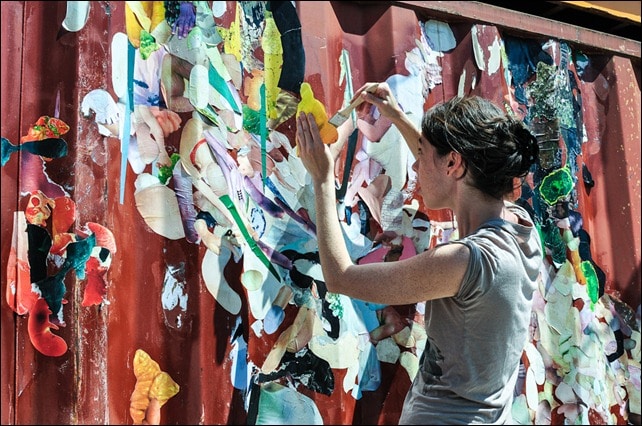 We learned that there is a wide variety of graffiti styles:
Tags – a writer's coded identity, usually created with one color, these were used to mark territory, and are now often used as signatures.
Throw-ups – More complex and unique than tags, they may include bubble letters, more colors, or other styles.
Wheatpaste – A mixture of flour and water is used to adhere posters to wall.
Pieces – Large paintings, often with 3D effects and more than three colors.
Afterwards, my daughter was gung-ho to look for graffiti in New York City, but it wasn't easy finding outstanding pieces.  At the time, there weren't any museums featuring graffiti art, although a Keith Haring exhibit is now on display at the Brooklyn Museum through July 8th and his "Crack is Wack' Mural is visible year-round on the upper end of Harlem River Drive. But I was able to share online photo galleries of Graffiti Art from all over the world that helped us understand that street art looks very different region to region, and even artist to artist.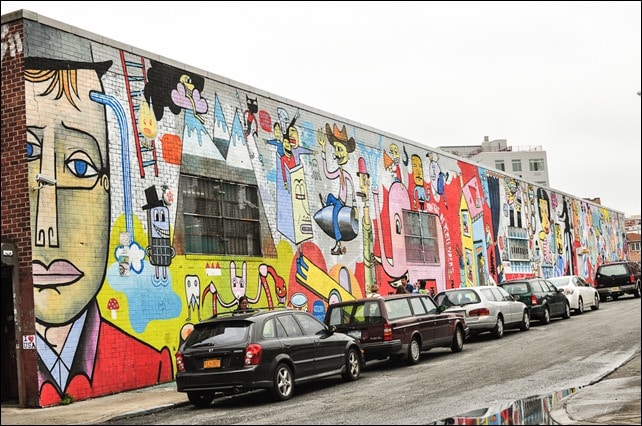 Animosity Toward Graffiti
What drives the animosity toward graffiti? Obi-Mom Kenobi says that, "As a nation, we have canonized the concept of private property. I know I would (instinctively?) be outraged if someone tagged my home, car or privately-owned business building." Amy Jussel, of Shaping Youth, who knows what it's like to "see, hear, and live all sides of this debate, daily" has a measured response to the conceptualization of graffiti as art:
As poetic as it may sound to have an artistic presence that lingers on in 'daring' bravado…it's not so sexy when it equates to the young kids asking inquisitively, 'mommy, is this playground still safe?' or 'what does F*** mean?' ya know?
Personally, I think it is the freedom of expression, the fact that graffiti is not governed by rules and regulations, that draws my daughter and I. Anyone can create Graffiti, although not all will produce a "piece." Just don't tag my car.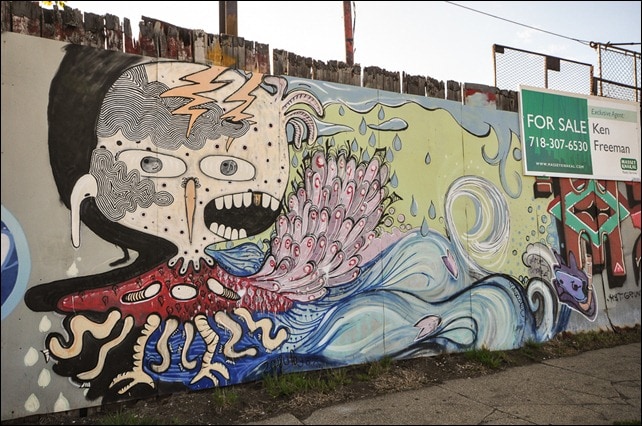 Where to find graffiti In New York City:
Levy's Unique New York Tours – Learn the history and role street art from graffiti to galleries on customized walking tours of New York City.
'Crack Is Wack' Mural – Located in the Crack Is Wack Playground on Second Avenue, 127th Street, and Harlem River Drive, within Harlem River Park, this Graffiti Art painted on a handball court has endured over twenty years.
5 Pointz – A warehouse turned artist studios, The Institute of Higher Burnin', is an outdoor museum featuring the art of famous and novice graffiti artists. See Long Island City Art Tour for directions and dining advice.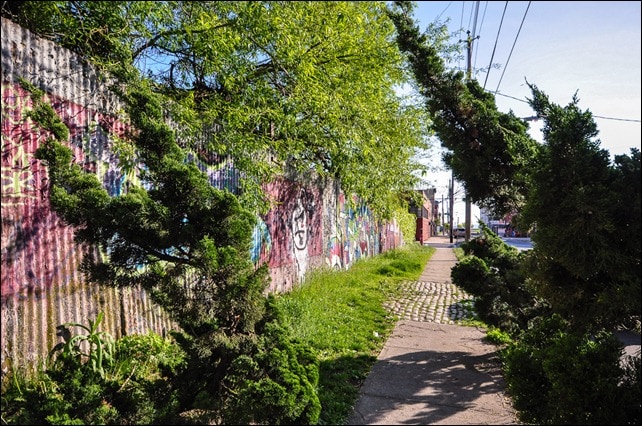 Graffiti Online:
Factory Fresh – The art gallery associated with the Bushwick Art Park is now closed, but the blog shows photos of the revolving street exhibit.
Wooster Collective – Showcasing graffiti from around the world.
Miami Graffiti – Images of graffiti in Miami, links up to resources around the world.
Art Crimes – Graffiti images from around the world.
Graffiti Creator – Flash application that allows you to create graffiti-style logos.
Graffiti Playdo – Wield a digital spray can in a game pitting Graffiti artists.
Big Bang Big Boom – wall-painted animation video by BLU
Go See It!
Liberty Science Center
Liberty State Park 222 Jersey City Boulevard Jersey City, NJ 07305 Phone (201) 200-1000 Hours: Monday – Friday: 9am – 4pm; Saturday – Sunday: 9am – 5pm; For hours after June 24,
click here
. Website:
http://lsc.org