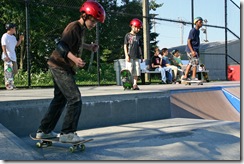 Ever since he got a new skateboard in California last summer, my son has been nagging me to take him to a skate park. I told him to just go outside and practice his skateboard skills in the neighborhood, but I knew better. Skateboarding on rough asphalt is no substitute for gliding on smooth concrete.
To celebrate Go Skateboarding Day AND the summer solstice, I took him and a friend to one of the few outdoor skate parks in the Capital Region, the Clifton Park Action Park.
It wasn't what I expected. Unlike parks that we've visited in other parts of the country, this outdoor skate park had a gatekeeper. There is a fee to enter, and you have to sign a waiver. On the plus side, the park is supervised.
For non-Clifton Park residents the park is pricey, even more expensive than the indoor Shelter in Albany, but with less skateboarding features. I paid $12 per kid for less than two hours of skating. There is also a season pass that I think is very affordable for Clifton Park residents at $60 for unlimited entrance April through October, but $180 for non-residents. Ouch!
Heading in, the boys were hesitant about entering the park. If you're new to skating, it can be intimidating to venture forth among all the hot shots spinning out aerial acrobatics. Not that there was too much of that at this park. The ramps just aren't that big.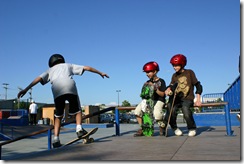 It's a low-key kind of place that's excellent for kids who are learning how to skateboard. There is plenty of room to spread out, and the boys soon found a quiet corner to practice. Within minutes, they were joined by a new young friend who showed them how to tackle the ramps.
While they were skating back and forth, quickly gaining confidence and skills, I headed to the bench just outside of the park where I could watch them through the mesh fence. If they were older, I could easily have left them there to go shopping next door at the mall. Older kids can make a day of it, taking a break to watch a movie at Clifton Park Center 8 or to eat at one of several dining options (including Chipolte.)
Our visit to the the skate park was well worth the price. I'm all for any activity that gets kids off the computer for some exercise. And, I recommend this park in particular. I liked the relaxed atmosphere, and the relatively safe course. Even the music was lively, without being overwhelming. The easy camaraderie was a plus, and being outdoors in the fresh air a bonus.
My son can't wait to go back (but I could do with less nagging!)
Where To Go:
Phone: (518) 371-6667
Located off Clifton Country Road (across the parking lot from the movie theatre.
Schedule and waiver forms are found on the Action Park website.
You might like: